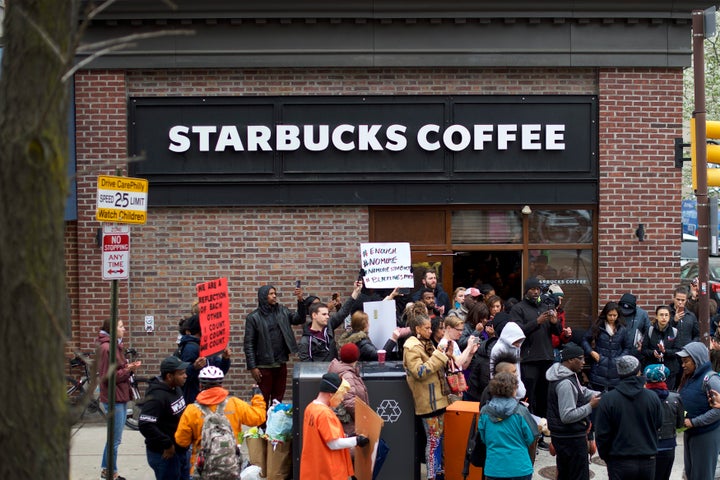 Moreover, it's a reminder that capitalism and gentrification and the systematic erasure of black flesh are at the core of this and other recent crimes against black men. It is time to address these issues alongside the plague of racist policing in America.
The responsibility for this incident lies with both the initial police call and the police officers who responded to the call. The store manager in this case was not only acting as the guardian of the Starbucks location, but of the whiteness of the space she managed. A black body at rest, not moving, not speaking loudly, asking to use the restroom, presented an existential threat. The "crime"? Not consuming. Ascribing malicious intent, the manager called the police, who promptly responded by arresting and jailing them ― stealing seven hours of their lives that they can never get back.
In the racialized space of capitalist gentrification, police are not only arbiters of the peace, they are the muscle of retail racism: You can only be in this space if you transcend your blackness by showing us some green dollars. Even then, there is no guarantee that green will transcend your black skin.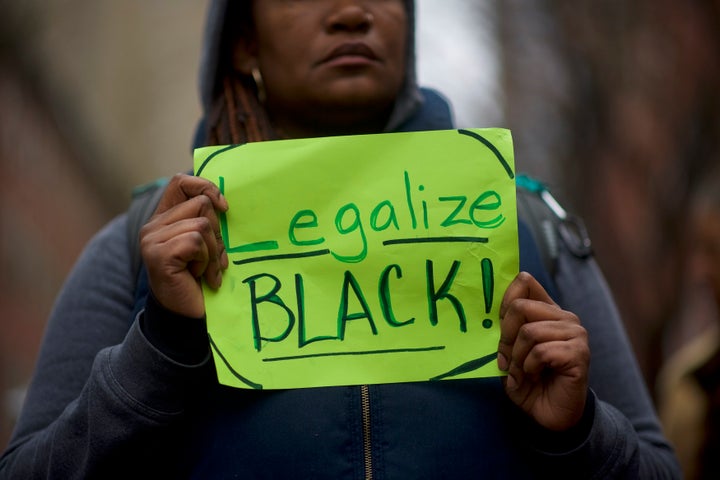 Just days before the Starbucks arrests, a mentally ill black man named Saheed Vassell was shot and killed by police in the rapidly gentrifying Brooklyn neighborhood of Crown Heights, possibly because some new white neighbors called the cops on him. His old neighbors knew him. But whoever called 911 saw him as an existential threat with a "gun" in his hand that turned out to be a metal pipe.
Gentrification is stripping people not only of their homes, but also of their dignity and their lives, and it is effectively whitening public spaces.
Spatial racism, the erasure of black faces in a predominantly white city, is in full effect in both Crown Heights and Center City Philadelphia. This racism demands that bodies that don't conform to a mandated "white" status quo can be redlined out of a space. This has happened in cities across America through geography, Jim Crow, sundown laws, or housing prices ― boundaries designed to keep black bodies out of white spaces ― even if those spaces have long been owned by black people. In Center City, the rapid influx of expensive stores and multistory apartment buildings and condominiums is turning what was once an ethnically diverse area into a retail and housing paradise for well-heeled young white families and retirees.
The Starbucks in question sits at a busy intersection where baby strollers and endless construction coexist. Multimillion-dollar condos, expensive apartments and refurbished brownstones line the surrounding streets, with ready access to public transportation. It is an easy location for a meetup. So I would expect the manager of the Starbucks had seen people meet there many times, let them use the bathroom, and let other patrons stay without buying drinks. For the two black men arrested, it would seem it was their skin color, coupled with their refusal to purchase, that kicked retail racism into effect.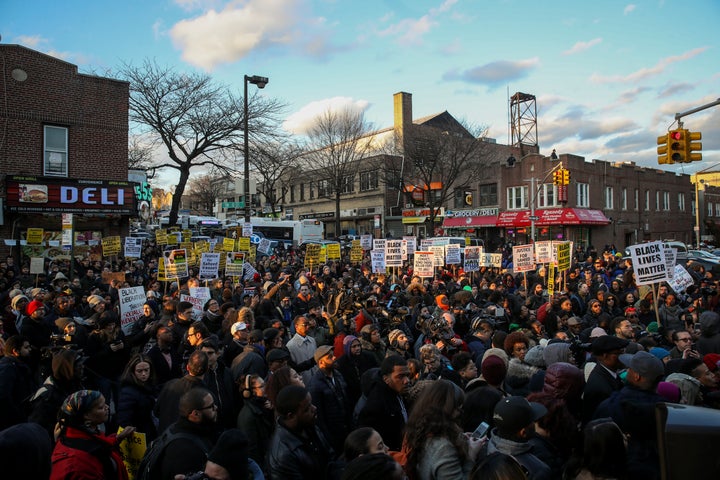 Now Starbucks, the city of Philadelphia and the Rittenhouse neighborhood are facing a whirlwind of protest and scrutiny because of this fear-based decision. Protests spurred by local community organizers have brought satellite trucks and police to the normally quiet neighborhood.
The Starbucks CEO has started a penitential tour, attempting to defuse the protesters' anger and limit the damage of the #boycottStarbucks campaign. Implicit bias training for managers, which the company has said it will conduct next month, is the least it can do if it wants to gain back the African-American patrons it lost.
The mayor of Philadelphia has condemned the arrest, while the police commissioner is standing by his officers ― despite the extra overtime he is now spending by sending police to monitor the protesters.
It is important to note that had it not been for other patrons who were white, this unjust arrest may have had a different outcome. White patrons who spoke up, challenging the arrest and filming the encounter, helped to make this situation public. Incidents of racial bias and implicit bias happen to African-Americans of every social class daily in America. White people seldom notice or dwell on these as they encounter the quotidian events of their day.
Starbucks is just another space in which black people cannot live their lives in America as whites do. Waiting for a friend at Starbucks while black should never result in an arrest. Countless white people spend hours working in coffee shops and sucking up free Wi-Fi by buying the cheapest cup of burnt coffee possible. Sometimes, they don't even buy one.
Perhaps there is some poetic justice in the fact that this happened in a Starbucks though. After all, a few years ago, Starbucks encouraged its baristas to talk to patrons about race in a campaign called "Race Together." Now Starbucks' new CEO, Kevin Johnson, finds himself in Philadelphia apologizing for a racist incident.
Anthea Butler is associate professor of religion and Africana studies at the University of Pennsylvania. Follow her on Twitter at @AntheaButler.
Popular in the Community