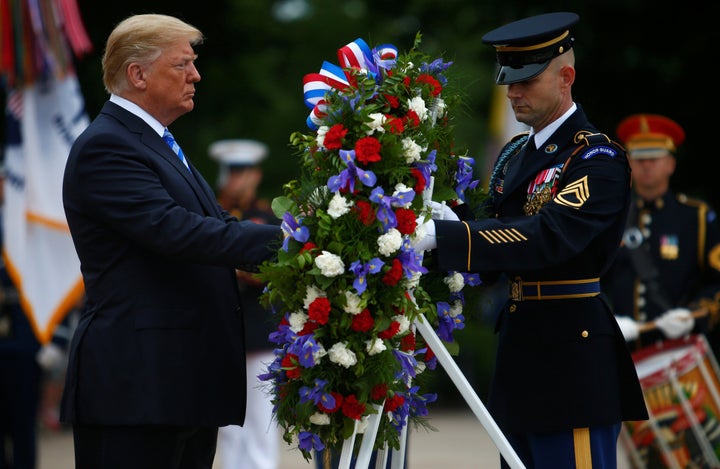 President Donald Trump never misses an opportunity to claim credit where none is due or to center himself among America's national rituals ― especially where the military is concerned. On Memorial Day, Trump tweeted praise for the nation's fallen soldiers, adding that those who gave their lives for America would be especially happy to learn that the economy was doing well under his administration.
Trump's promotion of compulsory nationalism and patriotism explains his support for the National Football League's new national anthem policy, announced last week and in direct response to the pressure he has put on the NFL.
The League will now fine a team if a player refuses to stand and show "respect" for the flag and anthem, while permitting players to stay in the locker room during the anthem if they choose. Exercising one's First Amendment rights by protesting racial inequality and police violence against black communities is acceptable, the NFL seems to think, as long as it's done off camera and out of public view. Mandatory displays of patriotism are now the name of America's game.
In response to the new policy, Trump told Fox News, "You have to stand — proudly — for the national anthem or you shouldn't be playing. You shouldn't be there. Maybe you shouldn't be in the country." Trump's deportation policy, it would appear, now includes dissenting NFL wide receivers and running backs.
The politics of race, nationalism and sports have rarely been as deeply interconnected as they are right now.
The politics of race, nationalism and sports have rarely been as deeply interconnected as they are right now. For years, conservative pundits and sports fans alike have cried that "sports and politics don't mix." Yet with each Trumpian intervention, pronouncements insisting on the separation between politics and the games we love to watch and play become less credible. Though sports have always been a key site for wider ideological battles over what it means to be American, few presidents have inserted themselves into disputes within and about sports as directly as Trump has.
Trump's actions last week ― his comments about the NFL's new policy and his pardon of the boxer Jack Johnson ― are not, as some might think, a diversion from "real politics." Rather, they are a prime example of Trumpian politics. First come the racially charged comments, which are followed by appeals to American exceptionalism and to the greatness of America. Then comes his attempt to present himself as deeply concerned with the plight of the dispossessed, particularly with African-American lives.
Whether through deliberate political strategy or nativist instinct, Trump understands that sports and politics are inseparable and can be useful for his political standing. Trump's attacks on the NFL players are effective and resonant with his overwhelming white political base precisely because sports and politics are so tightly intertwined. No public arena in American life so clearly conflates militarism and nationalism, while centering black bodies at labor, as the commodified sports spectacle of the NFL.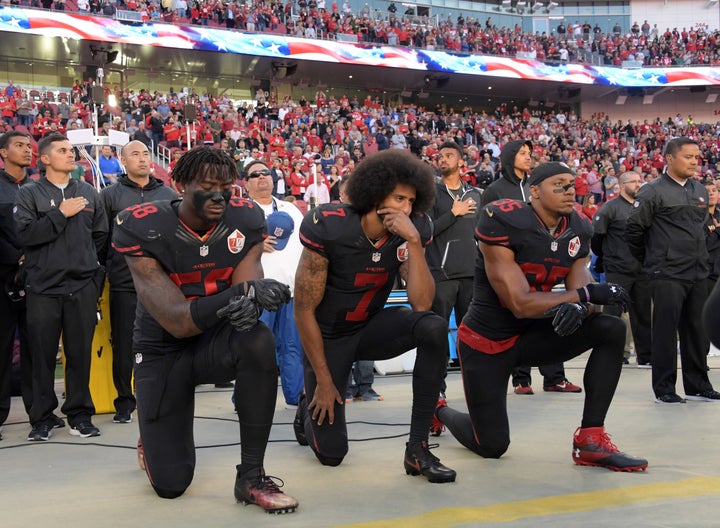 We should not be surprised that Trump ― "the First White President," whose run for the presidency can be seen as the negation of the first black president ― has targeted black athletes for months now. He has long questioned their loyalty to "the flag" and their right to keep their jobs if they do not agree to perform patriotism for pay on the field. In this sense Trump is merely voicing the concerns and anxieties of large sections of white America who have felt threatened by the power, status and rising social mobility of professional black athletes: "shut up and play," or rather now, "stand up, shut up, and play" being a way to make sure black athletes know their place.
Recall his words last September during a campaign rally in Huntsville, Alabama: "Wouldn't you love to see one of these NFL owners, when somebody disrespects our flag, to say, 'Get that son of a bitch off the field right now, out, he's fired.'" The crowd responded with chants of "USA! USA! USA!" That Trump would now question the citizenship rights of black athletes is the logical conclusion to his nationalist worldview.
Trump's pardon of African-American heavyweight champion Johnson ― only the third posthumous pardon in U.S. history ― should be seen in this light, too.
Trump was happy to point out that previous presidents, including Barack Obama, had failed to pardon Johnson when they had the chance but it was Trump who delivered justice. At the White House ceremony, Trump said the pardon "helps correct an injustice experienced by Jack Johnson. But it also reminds us of a racist past and how even today racist remarks and coded words are used to imperil African-Americans, especially black men, and to advance an un-American agenda."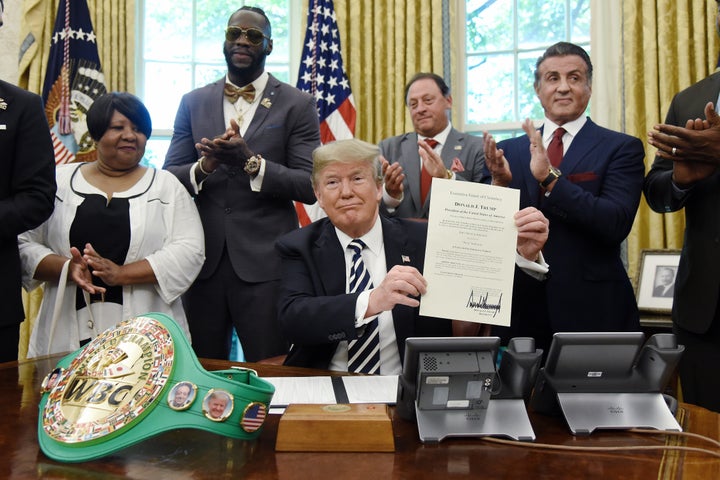 Johnson, we should remember, was charged with "white slavery" under the Mann Act of 1912 in large part because wider society could not believe that the white women in Johnson's entourage were there by choice. He must, they reasoned, have "enslaved" them and forcibly transported the women across state lines.
Trump, if nothing else, reveals the true political meanings and nationalistic dictates of American sports. Thus we can now say, with some certainty, that the calls for "national unity" are actually calls to cover up racial disunity. The calls to "stand and salute the flag" are really calls to step back and stop thinking about the state of the nation. The calls to "respect the troops" are actually calls to endorse the Department of Defense and State Department's policies and military adventures abroad.
Trump, if nothing else, reveals the true political meanings and nationalistic dictates of American sports.
However, communities of color have a longer, older tradition than the founding of America as a nation-state. That is a tradition of resistance, contestation and rejection of the idea that "the flag" and the anthem represent a universal America, free of class conflict and racial oppression. Consider the earliest resistant struggles of Native Americans, or African-American orator Frederick Douglass's bold declaration that "This Fourth of July is yours, not mine," and the black national anthem, "Lift Every Voice and Sing." These freedom struggles acknowledged that America's national symbols were in fact those of white America. Supporting this radical tradition by rejecting the compulsory nationalism of American sports events is surely the more truly patriotic act.
Ben Carrington teaches sociology at the Annenberg School for Communication and Journalism at the University of Southern California and is a Visiting Research Fellow at Leeds Beckett University in England. He is the author of many books, including Race, Sport and Politics.
Calling all HuffPost superfans!
Sign up for membership to become a founding member and help shape HuffPost's next chapter