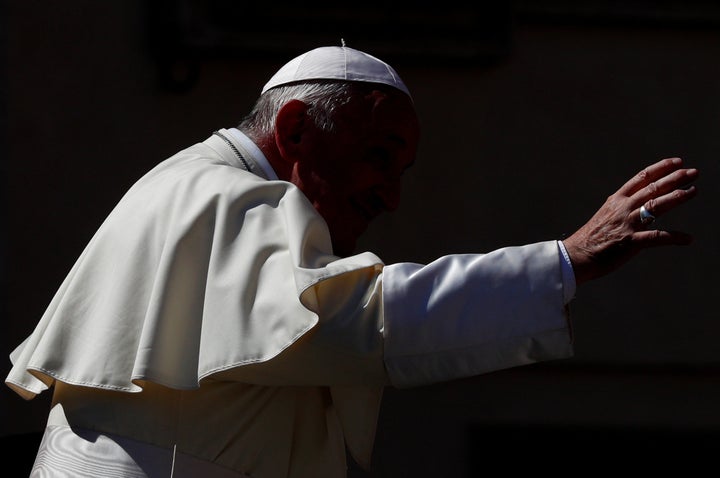 Indigenous communities are at the heart of the Catholic church; in the U.S., they represent one-third of the approximately 70 million Catholics. For these communities in the Americas, Catholicism is more than just a religion. It's a culture and way of life, one that respects liberation theology and activism.
Many of my happiest memories from childhood take place in Native and Latino churches. I was raised in the spiritual traditions of the American Southwest; my grandmother attended mass with her fellow members of New Mexico's Laguna Pueblo at the Mission San José de Laguna church. She washed laundry for a living and, in an era before government assistance, went without meals when there wasn't enough to feed her 10 children.

As a child, I always loved the cool interior of the church's thick, white-washed walls, the elaborately carved wooden doors, the animal skin adorning the altar and the sanctuary ceiling painted with Laguna symbols. For me, incense meant cedar and sage, and the "communion of saints" referred to my ancestors. An Eagle Dance was held outside the Mission before midnight mass on Christmas Eve. I slept on soft bosoms during church and could smell my aunts' sandalwood oil during the homily. I learned to love the rituals, my ancestral land and my family, which felt deeply interconnected.
Then, I grew older and learned the church's history: that the Missions we worshipped in were built on the backs of American Indian slaves. That conservative priests had long preached damnation for things like abortion and birth control. For the first time in my life, I felt conflicted about my family's Catholicism.
During my childhood in the 1980s, Mother Teresa of Calcutta visited Gallup, New Mexico. To this day, the Missionaries of Charity offer aid Gallup's oppressed, serving the Native population by running a shelter and soup kitchen. Like Sister Katherine Drexel, a wealthy heiress from Pennsylvania who was canonized in 2000, these nuns have long focused on the racial injustices in America, and their calling is common among women of the church.
"If my choice and inner conflict reflect those of other Natives and Latinos, it may be too late for the church to keep younger and more liberal generations engaged."
Individuals like the sisters of Gallup kept me (and I'm sure plenty others) in the church even after I started to feel conflicted. Today, they offer an alternative vision of what the Catholic Church could be. And they follow in a long tradition of historical luminaries like Archbishop Óscar Romero, Angela of Foligno and Bartolomé de las Casas who were willing to give their lives and wealth to help the poor and oppressed. Priests with a similar zeal for the apostolic life inspired my great-grandparents to move beyond the loss of their ancestral lands and their traditional ways of life. They lured them into adapting and trusting Westerners. They inspired them to find the grace to forgive.

Younger generations, too, wanted to forgive. We wanted to follow our grandparents' Native Catholicism. As did many liberal members of my generation, I once clung to the promises of Vatican II, a three-year assembly of Catholic officials that updated the church's role in a changing world. I wanted to attend family weddings and funerals with a clear conscious and go to mass with my parents when I visited home. I told myself it was my job to stay in the church and change what I didn't like from within. I prayed women would be able to join the priesthood. Coming from a matrilineal tribe made it easy to imagine women in power.
However, I stopped going to mass not long after our family moved to the Midwest for work. We initially attended Holy Infant church in Ballwin, Missouri, even though the culture there felt different. But when the most charismatic priest there was arrested for reportedly sexually abusing minors, our Sundays swiftly fell apart. The arrested priest ― the hip, young Father Vatterot ― taught in Catholic communities in Central America before coming to Missouri. I had to ask my children if he'd ever bothered them. I can't describe my relief when they said no.
Another sexually abusive priest emerged in our lives a couple of years later, this time in the Italian hometown of my children's father, where each had gone to school for one semester in the fifth grade. Father Pierangelo had been to dinner at my in-laws' house on numerous occasions. He liked to perform magic tricks for the kids. I chided myself for being unable to recognize him as a child predator.
"If my choice and inner conflict reflect those of other Natives and Latinos, it may be too late for the church to keep younger and more liberal generations engaged."
I'd long stopped attending church regularly by that point, but I still sometimes considered going to confession and making a return. After learning of Father Pierangelo's crimes, I knew I'd never formally belong to the Catholic Church again.
And if my choice and inner conflict reflect those of other Natives and Latinos, it may be too late for the church to keep younger and more liberal generations engaged. The Catholic faithful in the U.S. Southwest and Latin America began to leave the church in numbers at the start of the 21st century. Even with Pope Francis' recent support of immigration, LGBTQ rights and the Paris Agreement on climate change, millennials are horrified by the wrongs the church has perpetuated over centuries ― most recently, the sexual scandals that reveal its continued refusal to protect children.
This case in Pennsylvania involves six of 145 dioceses nationwide. It's unimaginable that all but two of the alleged predators may go unpunished due to the statute of limitations. It's also unimaginable that the Catholic Church has shown more sympathy for its fate than for the fate of their victims. The Bible says it's better for an individual who hurts children to tie a large millstone around his neck and jump into the water, yet the same men who preach the sanctity of innocence harm our little ones with impunity.
Today, I tell my children to approach the Creator without an intermediary. I'm born alone, and I die alone. No one can breathe the spirit of life in my body but me.
This doesn't mean I don't miss the church, though. I still walk over to the cathedral near my home in St. Louis to read the plaque with the Beatitudes. Blessed are the meek, it promises, for they shall inherit the earth.

I shudder to imagine what will happen to the Catholic Church that I and many other mestizo and indigenous people once loved if conservative factions in Rome succeed in ousting Pope Francis and undo the progress that's been made. It's hard to admire any Catholic leader who doesn't protect the innocent or see Jesus as a dark-skinned refugee born in a manger.
The church's only hope is to move beyond the truth and reconciliation committees, the special masses and the talk. Radical action must be taken. Women must be allowed positions of leadership in the church. Priests who wish to marry and have families must be allowed to do so. "Two-spirit" people must be accepted as full members of the community.
And most importantly, priests who commit crimes must be reported to the police immediately.
Deborah Taffa is an enrolled member of the Yuma Indian Nation and a descendant of Laguna Pueblo in New Mexico. She teaches creative nonfiction at Webster University in St. Louis and will be writing season three of the PBS series "America From the Ground Up." A Public Space fellow and an Ellen Meloy Desert Writer's Award recipient, her work has appeared in Salon, The Rumpus and other places.
Support HuffPost
The Stakes Have Never Been Higher
Popular in the Community