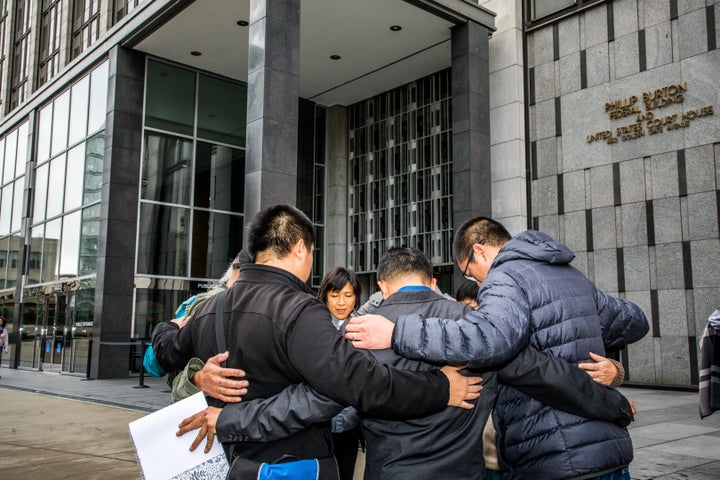 For Phann Pheach, Oct. 5 was supposed to be a day like any other. He was headed to work at a Southern California manufacturing company when U.S. Immigration and Customs Enforcement agents pulled him over and arrested him.
A day later and thousands of miles away, in Wisconsin, ICE agents knocked at Sothy Kum's door. In front of his wife, daughter and stepsons, Sothy was taken into custody. A few days after that, in California, Thear Sam went in for his annual ICE check-in, a routine appointment since he was released from immigration detention in 2000. For the first time in 17 years, he did not return home to his family.
These men — green-card holders, community members, beloved fathers, husbands and sons — had been unjustly arrested and detained by ICE, along with more than 100 other Cambodian immigrants. Most of these people, like Phann, Sothy and Thear, were legal permanent residents who came to the United States in the early 1980s as child refugees fleeing genocide under the Khmer Rouge regime. Some of them were born in Thai refugee camps and came to the U.S. without ever having set foot in Cambodia. The same country that welcomed them as child refugees is now turning its back on them.
"The same country that welcomed them as child refugees is now turning its back on them."
Many non-citizens in the United States have lived for years with final orders of deportation, complying with regular check-ins with ICE and trusting that, as long as they weren't found to be a flight risk or a danger to the community, they could live their lives in peace.
Phann, Sothy and Thear were among them. All three men had deportation orders because of a set of harsh laws passed in 1996 that expanded the set of convictions that lead to mandatory detention and deportation, including for legal permanent residents. These laws bar immigration judges from considering an immigrant's ties to their U.S. citizen family and their contributions to their community before ordering them deported.
In order for someone to be deported, the nation to which they are being sent must issue travel documents. In September, the Trump administration increased pressure on Cambodia to accept deportees, saying it would implement visa sanctions unless the country issued travel documents to Cambodian nationals in the U.S. The re-detention of Cambodian immigrants took place before the Trump administration, but since that announcement, the scale and intensity of "raids" like the ones that snatched up Phann, Sothy and Thear have increased, and hundreds of people have been detained.
""There were so many people in this small room that they'd have to take turns sleeping on the floor.""
"The conditions are horrible," says Lisa, Sothy's wife. "There were a whole bunch of Cambodians who were transferred at the same time, and there were so many people in this small room that they'd have to take turns sleeping on the floor. They had no pillows, no blankets. The toilet was leaking and they reported it to the correction officers. Their response was 'So sue us.'" Sothy, who has diabetes, was often denied his medication for up to three days. Detained immigrants have no right to a court-appointed attorney or even a free phone call. While immigration detention is civil confinement and not meant to be punitive, it often feels like punishment.
Sothy, Thear, and Phann's families have struggled to cope with this new reality and survive these uncertain times. "Everything that we planned for our future, it all just fell off," said Kily, Thear's wife. Thear was transferred several times while in detention, including to Texas and Louisiana, where he had to go without seeing his family until he was sent back to California. Phann's detention meant that on the anniversary of his father's death, he could only participate in the family's ceremony by calling his wife, Sopeant, and saying his prayers over the phone.
Detention of parents is also devastating for their children. Every Sunday, for six months, Lisa woke at 4:30 a.m. and drove nearly two hours to the immigration prison where Sothy was being held to see him through plexiglass. She brought their daughter Emma, who's still a baby. "I don't want these to be the first memories of her dad, seeing him through the glass on a phone," Lisa says. "I don't want her to remember this."
The concept of immigration detention was hard for Phann's 3-year-old son, Torenny, to process. On visits to the detention facility, he held his father's hand and asked him, "Daddy, can we bring you home now? Let's go home now."
""Daddy, can we bring you home now? Let's go home now.""
No person in immigration detention knows how long they will be locked up, and certain groups of non-citizens do not have the right to a bond hearing, which can in turn lead to prolonged or even indefinite detention. And, as was the case for the families of Phann, Thear and Sothy, no family knows whether detention will conclude with the person being released to go home, or whether it will lead to deportation.
On March 31, Phann received a pardon from California Gov. Jerry Brown (D), a major step toward being able to remain in this country with Sopeant, Torenny and his community.
Thear and Kily have petitioned Brown for a pardon in hopes of keeping their family together, and are waiting to hear back. Fortunately, on April 26, Thear was released on bond and returned home wearing a GPS ankle monitor. This is still a form of detention, but he is home and reunited with his family, and can continue to fight his case.
But on April 4, 43 people were deported to Cambodia, in what some reports are calling the largest deportation of Cambodians in U.S. history. Sothy Kum was one of them. He's going back to a country where he hasn't lived since he was 2. According to Lisa, before Sothy was detained, Emma would wake up and call for her dad. "She would call for her daddy, he would come to her and they would play," she said. "How do you explain to a 1-year-old why he's not coming?"
Liz Martinez is the director of advocacy and communications at Freedom for Immigrants (formerly CIVIC), a nonprofit working to abolish U.S. immigration detention. Nora Christiani and Nora Searle are second-year law students at New York University and student advocates with the NYU Immigrant Rights Clinic.
CORRECTION: An earlier version of this article misstated the date of Thear Sam's bond hearing. It was April 26, not April 24.
Popular in the Community