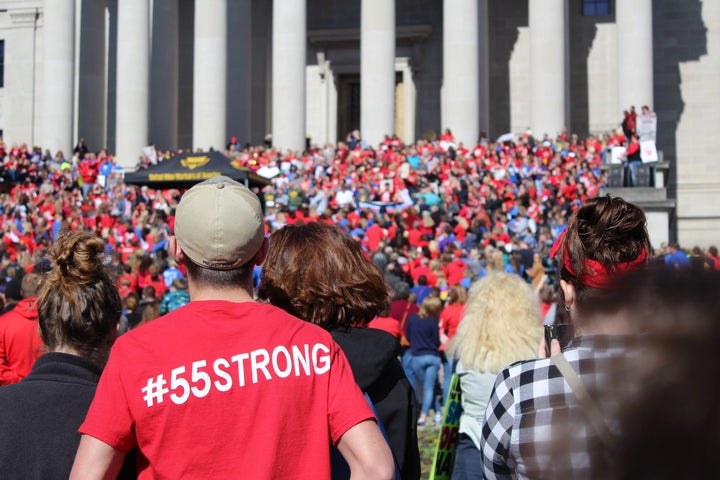 Last week, the teachers of West Virginia pulled off something remarkable. For the first time in 28 years, every teacher in the state went on strike, which has now shuttered classrooms in all 55 counties for six days (though they made sure that undernourished students wouldn't go hungry).
The teachers voted overwhelmingly to walk off the job to protest stagnant pay, particularly in the face of rising health care costs that eat into their earnings. Gov. Jim Justice (R) had just signed legislation that would give them a 2 percent raise in July and a 1 percent raise in the following two years — but teachers were unified in saying that wasn't enough. There hasn't been an across-the-board raise for teachers or other public employees in the state since 2014, and West Virginia ranked 48th out of all states for its average teacher salaries in 2016.
"I never dreamed 19 years ago when I started teaching that I would have to work a second job to provide for my kids," Rebecca Diamond, a second grade teacher at Kellogg Elementary School who also works as a cashier at Hardee's on the weekend, told HuffPost's Dave Jamieson. "I knew teaching wouldn't make [me] billions, but I thought it would be enough."
On Tuesday, Justice said he had reached a deal with the teachers' union that would give teachers and other school employees a 5 percent raise, while offering a 3 percent raise of other public employees. But teachers remained on strike and schools remained closed as of Thursday because the deal doesn't offer an immediate fix for the state employee health care program's shortfall—Justice instead said he would create a task force in July to look at the problem.
Whatever happens next, the teachers have already scored a victory with their strike: They've reminded us that teachers are not volunteers, they are workers. And, as workers, they deserve to be paid far more for the vital labor that they do every day.
Across the country, the average salary for a public school teacher is about $58,000 a year. That's nearly as much as the country's median income and certainly more than someone makes on the minimum wage, but not a whole lot more, given the credentials required. Public school teachers have to be certified and must have at least a bachelor's degree. About half of all public school teachers have a master's degree and over 60 percent have more than 10 years of experience.
In addition to instructing children, teachers must comply with state rules and regulations, and handle crowd control at school events. They also are often called upon to provide emotional support for their students and navigate families' wants and needs. They do this work in an environment with increasingly constrained resources ― in 29 states, funding is still lower than it was before the 2008 recession ―and higher demands, such as being asked to implement new initiatives like the Common Core curriculum with little extra training.
The work teachers do every day has a profound impact on shaping the knowledge and skills of the next generation, a generation who will grow up to be the country's workers, inventors, leaders, and even teachers themselves. Research has found that of all the factors that influence a student's education, teachers matter the most by far.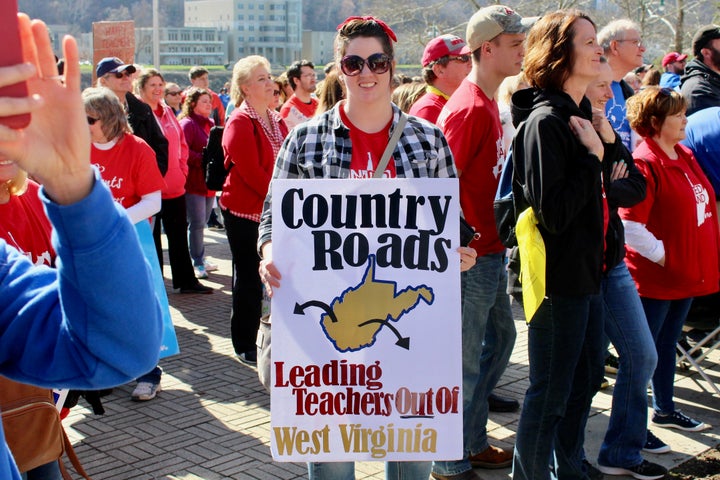 Yet when you compare teachers to other people with similar credentials, they are paid a whole lot less. Public school teachers make 17 percent less than other comparable college graduates. The more experienced teachers have it the worst, facing even larger pay gaps. And things have been getting worse, not better: teachers only suffered a 1.8 percent pay differential two decades ago. But while college graduates overall saw their pay increase between 1996 and 2015, teachers saw theirs decline.
The gap can't be explained by educators having fewer credentials or doing valueless work. So what can explain it? One big reason we pay teachers at a discount is that we think of their work not so much as work, but as service.
Specifically, their jobs have come to be seen as an extension of women's unpaid work. Elementary and secondary schools are teeming with women: Three-quarters of public school teachers are female. But in the more male-dominated field of academia, where women make up less than a third of professors, median pay is over $75,000 a year. On the other end, teachers in pre-kindergarten are paid far less than those who teach in K-12 education despite usually facing the same training and education requirements — and they are nearly 98 percent female.
In fact, teaching used to be a high-paid, high-status job when men held it. Then when women entered the field, the pay and prestige dropped. This is a phenomenon that has repeated over and over again — women push their way into a particular job, then the job starts to pay less — but it's pronounced in work that requires taking care of other people. Such jobs are seen as "women's work," which both lowers its status because women are simply valued less, and also connects it closely to the work women are expected to do at home for free.
So we tell ourselves that teachers enter this field and do this work out of the goodness of their hearts, not to earn a living. And it's true that teachers often care deeply about the work they do and the students they teach, going above and beyond the bare minimum of what their jobs require. The fact that the West Virginia teachers thought ahead and prepared extra backpacks full of food for their low-income students — so that the students would have not just food for the weekend, but the days they'd spend at home during the strike — speaks to that zeal. Some other teachers have even offered to work for free in the past in the face of budget shortfalls.
But teaching is still a job, and teachers and their families must live off of their salaries. A teacher's passion doesn't negate the fact that she deserves pay commensurate with her qualifications and importance. If anything, it should prompt us to reward the most passionate teachers even more.
That's particularly true if we want every child to receive a quality education. The dismal pay and low respect has prompted an exodus from the profession. West Virginia is facing its own teacher shortage as people leave the state, and the teachers who went on strike did so in the hopes of helping retain their colleagues. If we don't pay educators what they're worth, the talented ones won't stick around — or even bother to try it in the first place.
Teachers should be able to work for both love and money. The ones in West Virginia are fighting not just for a better deal in their own state, but to remind the country of what's at stake if we fail teachers everywhere.
Bryce Covert is an independent journalist writing about the economy. She is a contributing Op-Ed writer at the New York Times and a contributing writer at The Nation.
Support HuffPost
The Stakes Have Never Been Higher
Popular in the Community