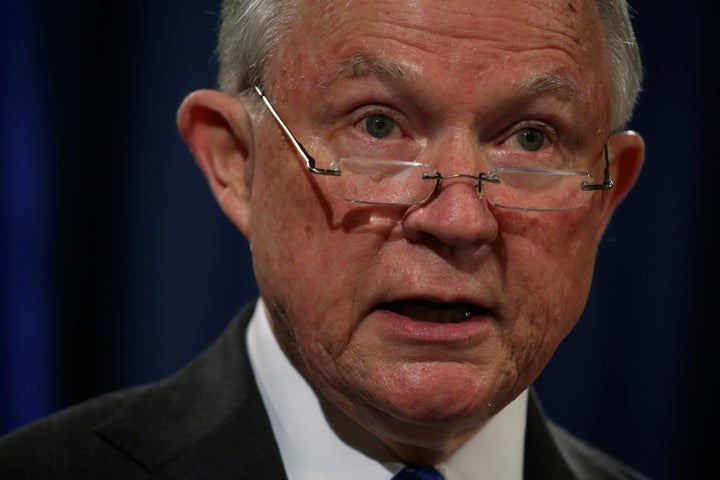 President Donald Trump's "unshackled" agents at Immigration and Customs Enforcement aren't the only villains terrorizing immigrants and refugees these days. Trump's legion of xenophobic allies are fighting the anti-immigrant crusade on several judicial fronts.
Judge Hanen previously blocked the Obama administration from expanding immigration protections for Dreamers and parents of U.S. citizens or legal permanent residents. His record is so anti-immigrant that ThinkProgress labeled him the love child of Kansas official Kris Kobach (America's No. 1 voter fraud conspiracy theorist) and ICE. For me, however, Hanen will always be the "Joe Arpaio of the federal judiciary."
The judge heard arguments this week on the future of the Deferred Action for Childhood Arrivals program, which allows certain Dreamers to drive, work and live a life temporarily shielded from deportation. In a move that's at odds with the Justice Department's Office of Legal Counsel, which considered the DACA to be lawful back in 2014, the U.S. government is not defending the program in court. The Mexican American Legal Defense and Educational Fund and other interveners in the case have taken over that responsibility.
Trump's legion of xenophobic allies are fighting the anti-immigrant crusade on several fronts and include some seemingly unlikely supporters: judges.
The likelihood that Hanen will toss DACA into the grinder is high. And even if his ruling doesn't end the program outright, it will likely force the U.S. Supreme Court to issue an emergency stay to "prevent one anti-DACA ruling from trumping three pro-DACA ones," which currently allow individual renewals of the program's protections to be processed and granted to eligible Dreamers.
Hanen, a district court judge and member of the judicial branch, will be ruling on broad federal policy. But the cases of individual immigrants lie in the hands of our nation's immigration judges, who are vulnerable, if not susceptible, to political pressure. America's immigration courts are nested within the executive branch ― specifically, under the purview of the Department of Justice, overseen by Attorney General Jeff Sessions, one of Trump's most obedient and immigrant-bashing disciples. 
The Trump administration is turning immigration judges into its own attack dogs and annexing them as part of its immigration police force. In what can only be classified as a deliberate attack on judicial independence, Sessions recently ordered the swift removal and replacement of an immigration judge in Pennsylvania who delayed the deportation of a Guatemalan man by asking for more information on the case.
The Philadelphia Inquirer described Sessions' removal of Judge Steven Morley as an attempt to "subvert" the judicial process, "undermine" Morley's independence, and impugn "his competence and integrity, all to obtain a particular outcome in the case." The National Immigration Lawyers Association, the union that represents immigration judges, filed a grievance under its collective bargaining agreement and called the re-assignment of Morley's case "outrageous."
What Jeff Sessions did in this case is nothing short of political posturing.
The Guatemalan man, who had arrived in the United States in 2017 as an unaccompanied minor, was ultimately ordered to be deported by Assistant Chief Immigration Judge Deepali Nadkarni, who appeared before the court via a video screen.
What Jeff Sessions did in this case is nothing short of political posturing. Why is he bossing around sitting immigration judges? Because he can. But it's not what justice for immigrants ― or anybody ― should look like.
We must recommit to pressuring Congress to fight the disastrous consequences of what Trump, Sessions and the rest of the current administration are inflicting on our nation. Either our elected leaders pass common-sense laws to reunite migrant families, protect Dreamers and address the moral and humanitarian crisis our country is facing, or who knows what will be the next horror that Trump unleashes on those of us seeking the American Dream.
In the meantime, let's hope independent federal judges ― such as U.S. District Judge Emmet Sullivan, who threatened to hold Sessions in contempt on Thursday and ordered a plane turned around so an immigrant could receive a proper, fair hearing ― can save us and the rest of the judicial system.
Juan Escalante is an immigrant advocate and online strategist who has been fighting for the Dream Act and pro-immigration policies at all levels of government for the past 10 years.
Calling all HuffPost superfans!
Sign up for membership to become a founding member and help shape HuffPost's next chapter