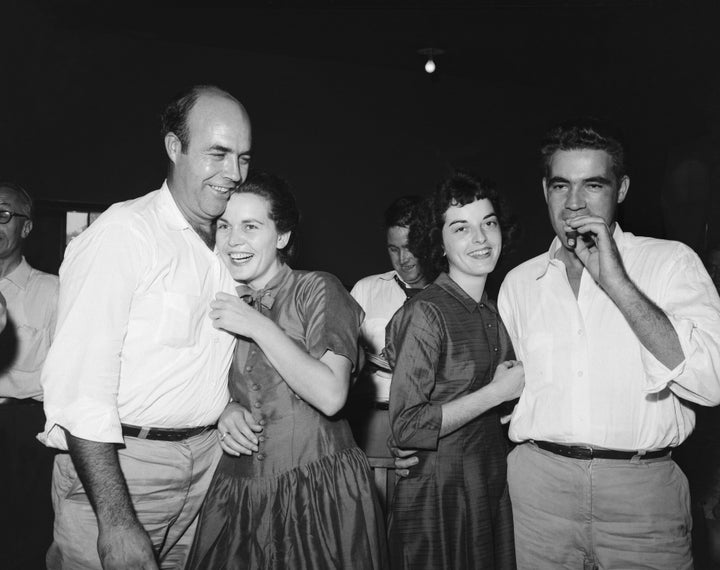 "In my opinion, the guilt begins with Mrs. Bryant." With those words Mrs. Mamie Till-Mobley lay the blame for her 14-year-old son's lynching in Mississippi on Carolyn Bryant, the white woman who testified in 1955 that Emmett Till made an advance on her.
Till's lynching was a spark that helped ignite the civil rights movement. And until recently, historians widely agreed on this point: Emmett Till did what Bryant accused him of and, in doing so, violated a social more of the Jim Crow South, unjust as those mores were and appalling as his punishment remains. In other words, they believed Bryant. As historian John David Smith told PBS in 2003, "Till crossed the line of white propriety; he committed what whites considered a betrayal of racial lines. Till insulted Bryant's wife and insulted the very bases of white racial control and hegemony." Or so Carolyn Bryant claimed.
Now in her 80s, Bryant has changed the story she told under oath. In 1955, she said Till whistled at her, grabbed her by the waist and "verbally threatened her." But last year, she told Duke University Timothy Tyson "that part's not true." In Tyson's book, The Blood of Emmett Till, Bryant is quoted as saying that "nothing that boy did could ever justify what happened to him."
"Nothing that boy did could ever justify what happened to him."
Last week, the Department of Justice reopened the case of Till's murder, although it's not clear this action is related to the revelations about Bryant's false statements in court. DOJ officials said that they have "new information," but did not specify what it was. Some speculate that Bryant — who now goes by Carolyn Donham — could face charges. If she does face legal consequences, it will diverge from the norm in instances like this, in which a white woman turns her social power into a lethal weapon directed at black and brown people.
A quick rundown of just a few of the white women who have made the news recently for calling the police on black people going about their business reveals that pattern. The Philadelphia Starbucks barista whose name was not made public, left the company in a "mutual decision," with no legal consequences nor reparations to the men who were falsely arrested. There's been no legal action taken against Jennifer Schulte (aka, BBQ Becky), despite calls by Oakland activists that she be held accountable for her call to police. Allison Ettel (aka, Permit Patty) who called police on an 8-year-old black girl selling water, resigned from the cannabis company she founded but has not faced any legal repercussions. And Sarah Braasch, the white Yale University student who called police on a napping black Yale student, Lolade Siyonbola, has reportedly deleted her social media accounts ― but there have been no formal sanctions from the college or law enforcement for her call to the police.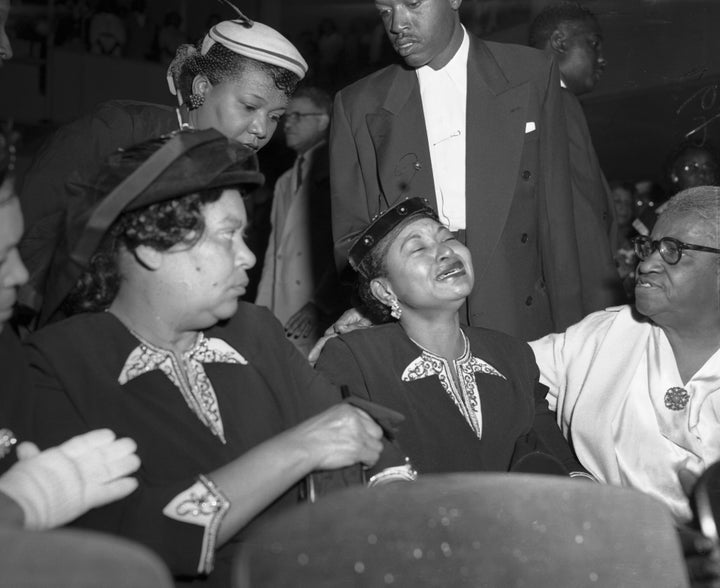 To be sure, white women are not the only threat to black people going about their business. After all, in 2014 it was a white man who called the Beavercreek, Ohio, police and told them someone was walking around inside a Walmart pointing a rifle at customers, including children. The man, Ronald Ritchie, had lied on that call. When police arrived and encountered John Crawford III, a black man who was holding a BB gun he intended to buy; police shot and killed him. The cops who shot Crawford were never indicted. Crawford's family called for some action against Ritchie for his deadly "crank call" to police, but he's suffered no consequences.
Regardless of gender, white people are more likely to see such resources as the 911 emergency apparatus, campus police or store managers as at their disposal. And our society is geared to believe the stories that white people tell, especially white women.
When Carolyn Bryant pointed her finger at Emmett Till and falsely accused him of approaching her with sexual bravado, she did so within a structure that was geared to believe her story over his. She brought the full force of the white supremacist power structure down on him. Her false accusation ended his life as surely as if she had tied that 75-pound cotton gin fan around his neck.
As white women, our stories float in on a cloud of false assumptions about white innocence and inherent feminine goodness. The result is that our stories are more likely than most to be believed. In the Jim Crow South and beyond it, many were quick to believe Bryant's account ― and as late as 2003, a well-meaning historian could look at Till and see a 14-year-old who "insulted the very bases of white racial control and hegemony."
"When Bryant pointed her finger at Till and falsely accused him of approaching her with sexual bravado, she did so within a structure that was geared to believe her story over his."
Given the white supremacist constellation of those holding power at the DOJ and the White House, it is a good idea to exercise extreme caution before giving in to jubilation at the thought of justice for Emmett Till. For example, there's still no federal law against lynching, although a bill was just introduced ― in 2018 ― would make it a federal crime. Meanwhile, as writer Jamil Smith observed about the Till case, "I doubt that we'll see [Attorney General Jeff] Sessions ordering the arrest of a white Southern lady in her eighties."
A debate already has emerged on social media about whether Carolyn Bryant Donham deserves forgiveness or not, but it is too soon for that. Forgiveness is earned by telling the truth and reckoning with the harm caused. That requires letting go of the myth of white innocence. In The Fire Next Time, James Baldwin wrote that it is "not permissible that the authors of devastation should also be innocent. It is the innocence which constitutes the crime."
The lynching of Emmett Till was a heinous crime. In the words of Emmett Till's mother, "The guilt begins with Mrs. Bryant."
Jessie Daniels is a professor at The City University Of New York and the author of the forthcoming book, Tweetstorm: The Rise of the "Alt-Right" and the Mainstreaming of White Nationalism.
Popular in the Community