Will Nancy Pelosi have the votes to become the next House speaker? It certainly seems so, despite a lot of smoke and bluff from her detractors.
For starters, it is dawning on the newly elected House Democrats, most of whom are progressives, that the hardcore anti-Pelosi opposition is comprised of men who want to push the party to the center.
The hashtag #FiveWhiteGuys nicely sums up what's at work. The white guys in question are Reps. Seth Moulton of Massachusetts, Tim Ryan of Ohio, Ed Perlmutter of Colorado, Kurt Schrader of Oregon and Bill Foster of Illinois. They want a party that has more appeal to the middle.
But the 2018 election was all about grassroots energy, women's leadership and Democrats running as pocketbook progressives flipping House seats. So, why would the Democratic caucus want to displace a leader who is effective and progressive, as well as female?
Anyone who closely follows House politics knows that Pelosi is the most skilled Democratic leader since Tip O'Neill, maybe even better. That's why the Republicans keep demonizing her.
Pelosi was brilliant holding the caucus together under President Barack Obama to get the Affordable Care Act passed, and even more brilliant in opposition, making sure the Republican Congress didn't kill it. She was superb at organizing the caucus last year so that not a single Democrat broke ranks and voted for the Trump tax bill, as dozens had voted for Bush and Reagan tax cuts.
Pelosi was also masterful at keeping Democratic House candidates focused on bread-and-butter issues such as health care, prescription drug costs, Social Security, jobs and wages, and making sure that Democrats did not fall into the Trump trap of leading with identity politics.
Thanks to this strategy, not only did at least 37 Democrats flip Republican House seats ― many of them in improbable places ― but several African Americans took Republican seats in majority white districts by staying focused on pocketbook issues. When the history of Trump's downfall is written, one of the most dramatic and ennobling aspects of November 2018 as a turning point will be the fact that several Trump districts voted for black progressives for Congress.
The anti-Pelosi movement is a mashup of opportunism on the part of a few wannabe leaders, such as Moulton and Ryan, combined with a dose of ageism, sexism and defensive tactical moves by a few Democrats who won in conservative districts. There are 10 incoming freshmen who felt they had to take the Republicans' Pelosi attacks off the table during their campaigns by pledging not to support her.
But this past week, Pelosi demonstrated just how astute a politician she is. She understands the desire for a generational shift and for younger members to assume more leadership positions.
Politico reported Friday that Rep. Pramila Jayapal of Washington state, who is expected to co-chair the House Progressive Caucus next year, met with Pelosi and won a commitment that caucus members would have more seats on major committees. Jayapal, previously uncommitted, gave Pelosi a full endorsement. She described the centrist effort to displace Pelosi as "the opposite of what the election really told us."
The end game of this farce will come in two parts. The first will come on Nov. 28, when Democrats elect their new leader. Pelosi will likely win this vote overwhelmingly.
Then on Jan. 3 comes the vote for speaker. The 10 newly elected House Democrats, in theory, could be joined by the swath of centrist incumbents who have previously said they will not support Pelosi. That adds up to more than 20 Democrats who have said they will not support Pelosi.
If you work out that arithmetic statically, and assume that Democrats eventually have 233 or 234 seats, the defection of all those declared against her would leave Pelosi short of the 218 she presumably needs to be elected speaker. But that's not how this is likely to play out.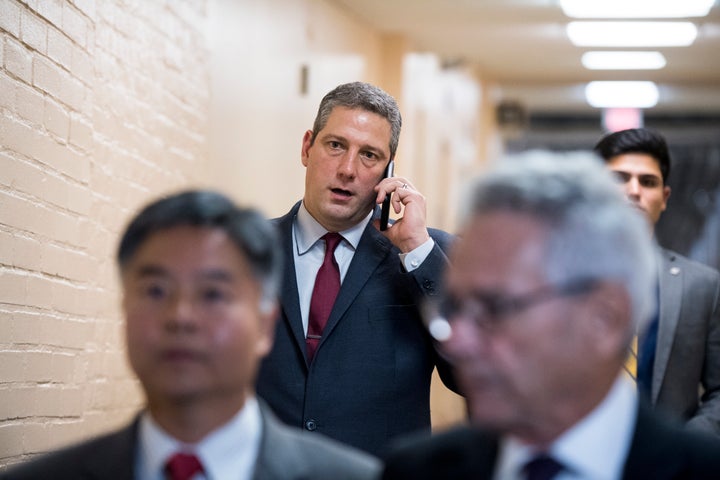 After Pelosi is overwhelmingly elected as Democratic leader, the pressure will be immense on wavering members not to allow a Republican to be elected speaker. And even if several vote against Pelosi, or vote present, she can be elected speaker with fewer than 218 votes.
This has happened before. In 2015, John Boehner was elected speaker with 216 votes. So was Newt Gingrich in 1997.
Let's say that Democrats end up with 234 seats and Republicans with 201. It's inconceivable that anti-Pelosi Democrats would vote to make Republican leader Kevin McCarthy the speaker. The greater likelihood is that Democrats opposed to Pelosi will vote present. Assume that 20 Democrats vote present and all Republicans vote for McCarthy. Pelosi still wins 214 votes, to McCarthy's 201, and becomes the next speaker.
The anti-Pelosi forces hope that a bandwagon effect creates a groundswell of support for some other candidate and Pelosi will step aside before the vote. Their problem is that the bandwagon is going in the opposite direction, as Pelosi solidifies her support.
The other problem is that there isn't anyone else with Pelosi's stature, skill, or popularity in the caucus. The only member who has announced a possible run for the job is Rep. Marcia Fudge of Ohio's 11th District. Fudge is African American, as well as a member of the House Progressive Caucus.
If she does run for leader, Fudge would split the Black Caucus and the Progressive Caucus, though Pelosi would have the overwhelming support of most members of both. It is a testament to the sheer cynicism of Moulton, a leading member of the centrist New Democrat Coalition and critic of the party left, that he is promoting Fudge, a flat-out progressive, as an anti-Pelosi stalking horse.
Democrats are famous for snatching defeat from the jaws of victory. They have just succeeded in winning one of the most important midterm elections in American history, creating a firebreak to contain Donald Trump. At the moment of their triumph, many are turning to the Democrats' favorite weapon — the circular firing squad.
It is a tribute to Pelosi's leadership and tactical genius that she is likely to save these Democrats from themselves.

Robert Kuttner is co-editor of The American Prospect and a professor at Brandeis University's Heller School. His new book is Can Democracy Survive Global Capitalism? Follow him on Twitter at @rkuttnerwrites.
HuffPost's "Her Stories" newsletter brings you even more reporting from around the world on the important issues affecting women. Sign up for it here.
Popular in the Community