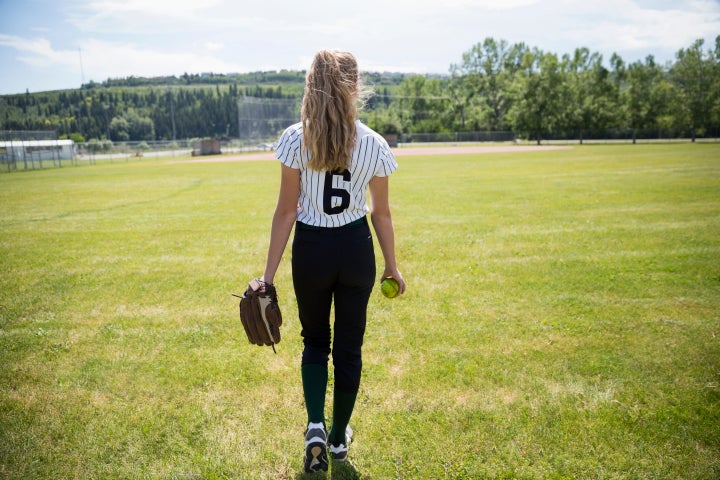 Earlier this month, Secretary of Education Betsy DeVos released newly proposed Title IX regulations regarding how schools should handle reports of sexual harassment and violence. When they are formally put into place, these guidelines will narrow the definition of sexual misconduct so fewer cases fall under Title IX's umbrella.
It would also make schools responsible only for harassment or violence done on campus or at school-sanctioned events (so not at off-campus fraternity houses or apartments.), and restrict whom someone must report to at a college in order to initiate a formal investigation. And these new regulations would encourage a higher standard of evidence.
Those most concerned about students who are accused of harassing or harming others are cheering what they see as a strengthening due process and the rights of the accused. Survivors and their advocates are concerned this will make it harder to report and so discourage people from doing so. Also, this is a financial advantage for universities who will have less legal liability (DeVos appears to care very much about protecting institutions over and above students.)
"DeVos' proposed guidelines will mean less incentive for protecting the welfare of student-athletes in the face of preserving the overall interests of an athletic department."
As someone who has reported on campus sexual assault and sports over the last five years, it's hard for me not to read over these proposed regulations and think immediately about what this will all mean for college athletics. Anyone who cares about mitigating abuse and the enabling of it within collegiate athletic departments should be very worried.
There is recent data that suggests student-athletes are more likely to be involved in Title IX cases than other students. You have to wonder what DeVos' changes mean specifically for student-athletes who are themselves victims of sexual harassment or violence at the hands of another student-athlete.
Sports play such a large role on university campuses. Student athletics regularly involve huge amounts of money and they have their own media machine always looking for content. When the issue of campus sexual assault discussed, it is often when it involves a student-athlete. Think of Baylor, Minnesota, Michigan State, Tennessee, Florida State, Texas A&M, on and on.
"I meet at least three female survivors that have been raped by another athlete at every single school I go to," Brenda Tracy told me. Tracy, founder of Set The Expectation and a rape survivor whose attackers included Oregon State football players, spends much of her time visiting and speaking with sports administrators and student-athletes about changing the culture of departments and encouraging programs to work toward eradicating sexual harassment and violence.
She believes these proposed guidelines will not foster "any type of a culture for survivors so they can come forward and report," which will especially be true in athletic departments.
A 2014 congressional report found that one-fifth of universities allowed their athletic departments to oversee cases that involved student-athletes. And this was under the Obama administration's guidelines, the ones that DeVos' administration and advocates for the accused thought went too far.
At the time, Kate Fagan wrote a piece for espnW in which she talked about the specific problem in collegiate athletic departments: "That 20 percent number in the congressional report is chilling, as athletic departments (as well as colleges in general, of course) have competing interests," she wrote. "Yes, they're charged with protecting the welfare of student-athletes but also with protecting a very lucrative brand. Too often, their commitment to the former is sacrificed for a preservation of the latter."
Now, when DeVos' proposed guidelines go into effect, it will mean less incentive for a commitment to protecting the welfare of student-athletes in the face of preserving the overall interests of an athletic department.
"It's already hard enough for a female athlete to navigate the process," Tracy says. Athletic programs, she says, train athletes to think of it as a family. And so, "Everything stays within athletics. If you have a problem in your class, you find a tutor in athletics. If you get a parking ticket, go to this person in athletics. So, it's already hard enough to report against another athlete, because you're basically betraying the family, right? You're causing a problem."
"No one wants to be the next Baylor or Ohio State or Michigan State."
Cody McDavis, a former Division I basketball player at the University of Northern Colorado and an advocate for survivors of sexual violence, told me these proposed regulations "compound on an issue of non-accountability in collegiate athletics" by "further insulat[ing] that non-accountability. There's an elephant in the room, but it's just being put under the carpet in a fairly obvious way."
The NCAA doesn't care enough about this issue to do anything (they certainly didn't punish Michigan State). What they have done has no teeth.
McDavis says sports needs to get this right, though. "It drives a lot of the cultural mores," he says, so sports "can be a beacon of a lot of good things, but they can also be one of a lot of bad things."
If the Department of Education and the NCAA are not going to help mitigate sexual harassment and violence within athletic departments, what can someone do? Well, first, these are proposed regulations. The public can comment on them beginning on Nov. 29. End Rape on Campus and Know Your IX have partnered to create Hands Off IX that explains how to participate in the process.
For sports specifically, McDavis has a petition "calling on the Power Five Conference Commissioners — the most influential conferences in the NCAA — to immediately ban student-athletes with a history of violence." Tracy says fans, alumni and donors should go directly to their schools and advocate for policies that protect the safety of the campus and of student-athletes.
And the media has to keep reporting and we all have to keep sharing these stories. Universities might not like being legally liable but they might just hate bad PR more.
No one wants to be the next Baylor or Ohio State or Michigan State. It's our job to tell them: So don't be.
Jessica Luther is a freelance journalist, an author and a co-host of the feminist sports podcast "Burn It All Down."