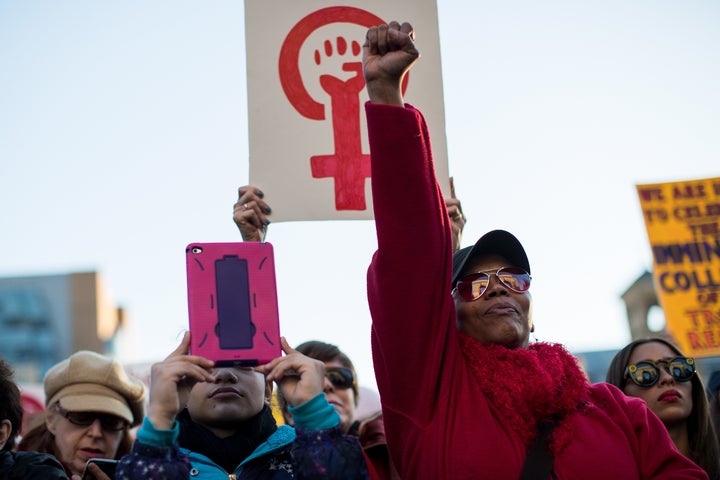 Twenty-six years ago, the election cycle of 1992 was deemed "The Year Of The Woman" by the press and the public alike. Following the controversial Senate confirmation hearings for Supreme Court nominee Clarence Thomas marked by the sexual harassment allegations made against him by Anita Hill, a then-record number of women sought election in the Senate.
The matter of parity for women and men in high public office is not a project of a single year ― or even a single generation. After all, we are talking about rearranging an ancient pattern, namely men's leadership of the public world. That takes time.
Over two-and-a-half decades later, we're seeing another uptick in women seeking elected office, and some publications are calling 2018 the next year of the woman. But has much really changed for women since 1992? While women's congressional representation has tripled since the fall of 1992, today women are just 20% of all members of Congress and 11 states have no women representing them in Washington. In fact, gender disparities persist across all levels of office in 2018.
With history as our guide and nearly 50 years of experience evaluating women in politics, CAWP is continuing to heed Mandel and Gertzog's caution in this year's midterm election. Amid claims of another "year of the woman," it's unlikely that the notable increase in women's candidacies will translate into unprecedented gains in women's representation after Election Day.
"If electoral results don't live up to predictions that a tidal wave of women will enter public office, the narrative could too easily become about the failure of women candidates."
Here are a few reasons why. The rise in women's candidacies is concentrated among Democrats, while women remain a small proportion of Republican candidates nationwide. Reaching gender parity in U.S. politics will require increased representation of women in both blue and red districts.
Also, the majority of Democratic women candidates are running as challengers to incumbents ― whose re-election rates have been consistently above 80% for over 50 years. And even with record-setting levels of candidacy, women are less than one-quarter of all candidates for the U.S. House this year.
It would be easier (and far more fun) to join the chorus of voices heralding a sea change in the gendered distribution of political power this year. But it would also be irresponsible, and potentially harmful to women's progress in the long run. That's why our approach to forecasting women candidates' success in 2018 should be to under-promise and over-deliver.
If women candidates upend conventional wisdom on Election Day and prove our caution overstated, the post-election narrative will focus on women's victories in spite of difficult odds. An against-all-odds narrative will help to make the case for women's candidacies in future cycles, enhancing women's recruitment and inspiring women's engagement. Moreover, it will raise the question of what women could achieve if the odds were more fairly in their favor.
In contrast, if electoral results don't live up to predictions that a tidal wave of women will enter public office, the narrative could too easily become about the failure of women candidates. Women will have under-delivered on over-stated promises of success.
This conclusion places the blame for gender disparities in representation on women instead of on the entrenched political systems and patriarchal structures that have long worked to their disadvantage. Moreover, blaming women for any losses risks ignoring the necessary steps toward reaching gender parity in government. Yes, an important step toward more women winning is more women running. But that first requires creating the conditions that make candidacy feasible, desirable and worthwhile for women.
"No single electoral year will get rid of persistent barriers to women's representation."
Making candidacy desirable for women requires that the press, the public and political organizations get the story right in 2018. By framing women's progress in November as inevitable instead of hard-earned (which it will be), the focus will shift to women's losses as the novel, more interesting story to tell. That story has the potential to dampen women's enthusiasm to take on similar challenges in their own districts or states. If we want to see women take advantage of the political opportunities that will come in 2020 and 2022, we can't afford to have them drop out of the candidate pool due to disillusionment within one election cycle.
Do the ostensibly rare conditions that fostered women's success over two decades ago match the realities of the current electoral environment? In many ways they do. In both years, men's bad behavior and clear reminders of women's underrepresentation provided the impetus for selecting and electing women candidates. Due to redistricting, there were more open seat contests in 1992 than in 2018, but the number of open and competitive seats is inching up this year, providing women key opportunities to capitalize on these potentially advantageous conditions.
But identifying any single year as a "year of the woman" is problematic. By focusing on an unlikely confluence of factors as necessary to yield victory for women candidates, we risk perpetuating the idea that women's political success is an anomaly, and not the result of hard work and sustainable institutional change. We also risk masking the long-term structural factors that continue to impede widespread success for women across election cycles.
Under-promising on the number of seats women will win in 2018 reflects a recognition that no single electoral year will get rid of persistent barriers to women's representation. As Mandel and Gertzog reminded us, that kind of change takes time.
Debbie Walsh is the director of the Center for American Women and Politics, a unit of the Eagleton Institute of Politics at Rutgers University. She has been a leading expert on women and politics for over three decades.
Support HuffPost
The Stakes Have Never Been Higher
Related
Popular in the Community