When Donald Trump Jr. was interviewed by the Senate Judiciary Committee in September of last year ― a conversation that mostly focused on the infamous June 9, 2016, Trump Tower meeting in which Russians were supposedly going to offer dirt on Hillary Clinton ― he claimed to know "very little" about talks to establish a Trump Tower in Moscow. He claimed to be "peripherally aware" of the negotiations, but said he did not know of Trump lawyer Michael Cohen's outreach to the Kremlin seeking President Vladimir Putin's help on the deal until that news had been reported by the press.
Perhaps the president's son was playing word games in sworn testimony to the Senate. But his claims seem inconsistent with a detail from Cohen's latest plea agreement.
In a letter to the congressional intelligence committees sent in August 2017, Cohen had falsely contended that he "did not brief [the elder Donald Trump] or any of his family" on the Moscow deal, save for three briefings to Trump himself. As his latest statement of the offense lays out, Cohen now says that he did brief Trump's family members within the company about the project. And The Wall Street Journal reported that Don Jr. was included on emails about the project.
"Don Jr.'s exposure may extend well beyond the perjury charges that Trump advisers reportedly worry he could face for lying to Congress."
Cohen's statement of the offense describes lying about the Trump Tower deal to "give the false impression the Moscow Project ended before 'the Iowa caucus and … the very first primary,' in hopes of limiting the ongoing Russia investigation."
At least for the purposes of Don Jr.'s congressional appearance (the only public transcript of an investigative interview that addresses the topic), that effort to mislead had its desired effect. By sending his letter to the intelligence committees last August, Cohen established his lies before Don Jr. testified before the Senate Judiciary Committee on Sept. 7, 2017. Perhaps as a result, Judiciary Committee staffers didn't challenge the claims by the president's son that he knew very little about the deal.
So Don Jr.'s claims to the committee regarding the Moscow project remain uncorrected, along with a number of other statements that we now know to be false. For example, contrary to his claim that no other foreign nationals offered or provided assistance to the Trump presidential campaign (as the Russians had done), a group from the Middle East ― including Israeli, Saudi and United Arab Emirate nationals ― had offered social media manipulation services at another Trump Tower meeting he attended. Don Jr.'s claims that there was no follow-up to the June 2016 meeting with the Russians are also belied by later testimony and documentary evidence provided to the same Senate committee, which showed that the intermediary who set up the meeting, Rob Goldstone, made extensive efforts to set up a second meeting after Trump won and probably had direct contact with the president's son in doing so.
This likely explains the multiple reports ― going back as far as August of this year and expressed more urgently in the wake of the midterm elections ― that Trump fears that special counsel Robert Mueller will seek to indict his son.
But the substance of Cohen's new plea suggests Don Jr.'s exposure may extend well beyond the perjury charges that Trump advisers reportedly worry he could face for lying to Congress.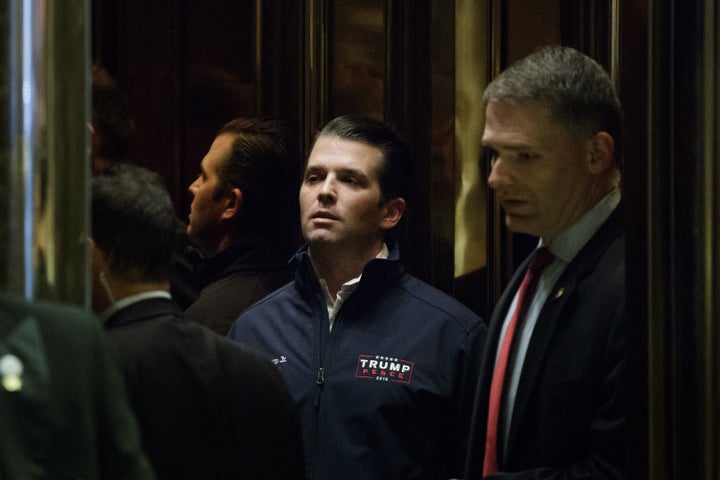 A key part of the negotiations over the Moscow Trump Tower deal, according to Cohen's plea, involved the pursuit of a meeting between Trump and Putin. As early as Jan. 21, 2016, Putin's office was responding to Cohen's requests for assistance with the real estate deal. On May 4, Cohen laid out how any meeting between the two leaders should be deferred until Trump had sealed the Republican presidential nomination. Cohen envisioned traveling to Russia himself before the Republican National Convention in July in a discussion with businessman Felix Sater, who was trying to broker the tower deal, but said that Trump's meeting with Putin should take place "once he becomes the nominee after the convention."
That puts the other efforts to work toward a meeting between Trump and Putin ― including those involving the National Rifle Association and campaign staffer George Papadopoulos ― in a significantly different light. Trump had a financial incentive, in the form of Putin's support for a big real estate deal in Moscow, to pursue such a meeting.
More importantly, it puts the June gathering at Trump Tower in New York in a dramatically different light. The email that Goldstone sent to set up the meeting included a line describing his offer of dirt as being part of other Russian support for Trump. The dirt he was offering, Goldstone asserted, "is part of Russia and its government's support for Mr. Trump." That email means one thing if ― as Don Jr. claimed ― he didn't really know that his father might gain a huge real estate development by sidling up to Russians. It means something entirely different if Don Jr. knew, as Cohen's plea strongly suggests he did, about ongoing discussions regarding the Moscow project that relied on the support not just of Russian bureaucrats, but of Putin himself.
Furthermore, the timing laid out in Cohen's plea hints that there may be an even closer tie. In the immediate wake of the Trump Tower meeting, at the end of which several attendees believed that Don Jr. had promised to consider eliminating Magnitsky Act sanctions against Russians if his father got elected, Cohen and Sater finalized a trip to St. Petersburg, where Cohen expected he might meet Putin. "From on or about June 9 to June 14, 2016," the plea deal says, Sater "sent numerous messages to COHEN about the travel, including forms for COHEN to complete." Something happened at the last minute to change Cohen's mind. On June 14, the same day The Washington Post revealed that Russians had hacked the Democratic National Committee, Cohen met Sater in the lobby of Trump Tower and said he would "not be traveling at that time."
At least in Sater's mind, the Moscow project was always connected to the presidential election. "Buddy our boy can become President of the USA and we can engineer it," Sater emailed Cohen in November 2015. "I will get Putins [sic] team to buy in on this, I will manage this process."
With Cohen's negotiations to set up meetings with Putin in the background, the case that Don Jr. was discussing a deal in which Russia would provide dirt and facilitate a real estate project in exchange for sanctions relief gets far stronger.
Mueller's not there yet, at least with the information he's made public. But with Cohen's plea, he's inching closer to laying out a complex conspiracy in which Russians offered stolen emails and real estate in exchange for sanctions relief, with the president's son at the center of everything.
Marcy Wheeler is an independent journalist writing about national security and civil liberties. She writes as emptywheel at her eponymous blog and is the author of Anatomy of Deceit. Follow her on Twitter at @emptywheel.

Popular in the Community