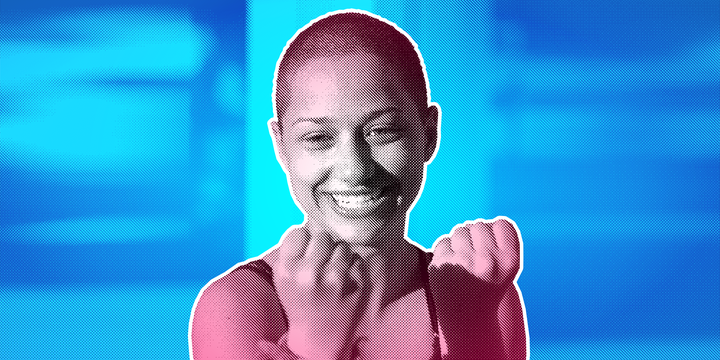 This year, when I walk in the New York City Pride March with my children, I will be surrounded by my heroes.
Our LGBTQ communities have endured over 75 direct attacks by the Trump administration, including ongoing efforts to ban transgender soldiers from serving in the military and the revocation of nondiscrimination protections for transgender youth at school.
Throughout these attacks, I haven't been able to stop thinking of my two children. They were born at a time when equality and acceptance of LGBTQ people was moving forward, and are now facing a government that is more hostile and dangerous to their family than ever before ― and a society where acceptance of LGBTQ people is slipping.
The 2018 edition of GLAAD and The Harris Poll's Accelerating Acceptance Report, which measures American attitudes toward LGBTQ people and issues, showed a decline in acceptance for the first time since we began issuing the report four years ago.
But despite these setbacks, one thing is brightly certain: Our nation's youth are rising to the challenge of our present moment and showing us a way forward.
We first saw this in a profound way in Parkland, Florida, where the brave students of Marjory Stoneman Douglas High School took charge of the national conversation about, and resistance to, the shameful lack of gun control in this nation. These students led the way, too, in naming the disgraceful and adamant refusal of the Trump administration to do anything to address this violence.
A mere two weeks after the Parkland shooting, President Donald Trump repeated his claim that the 2016 Pulse nightclub shooting could have been avoided if someone present had a gun. In actuality, an Orlando police officer was armed and working security at Pulse that night and went into action to stop the gunman. Rather than move the conversation on gun violence forward in any meaningful way, Trump chose merely to recycle the inaccurate and irresponsible National Rifle Association talking points that are incredibly harmful to LGBTQ people.
A powerful counterweight to this deadly political inertia emerged in Emma Gonzalez, a bisexual Cuban-American senior at Stoneman Douglas, who from day one of the tragedy has been demanding that the lives and safety of her fellow students around the country be our nation's top priority. And the nation heard her voice and paid attention.
In the wake of this tragic loss of life and the inspiring calls to action from Parkland students like Emma, GLAAD's campus ambassadors wrote a poignant open letter to Congress calling for gun reform. These ambassadors, a volunteer network of LGBTQ and ally college students, told lawmakers: "We have accepted the responsibility to speak in the face of injustice and refuse to be silenced."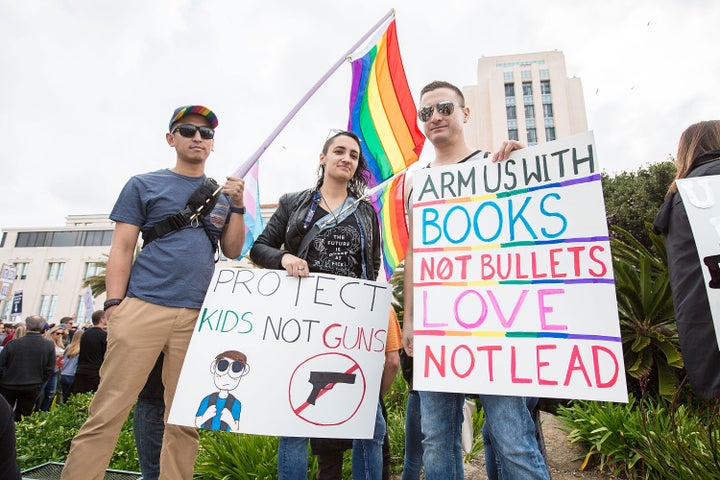 Weeks later, when I took the stage at the March for Our Lives rally in Los Angeles, my 9-year-old daughter was standing with me, along with two of those brilliant campus ambassadors who had signed the gun control letter to Congress. At that moment, I couldn't help thinking that my daughter was witnessing history, as well as much-needed leadership from people not that much older than herself. She was watching these young people change the world. We all were.
Today, GLAAD is proudly launching our Amp Your Voice campaign to help empower young LGBTQ voters nationwide to turn out in the midterm elections while also speaking up against anti-LGBTQ policies and legislation on both the local and federal level.
In the months and years ahead, we all need to empower LGBTQ youth with the tools and resources they need to amplify their voices, to vote and to encourage their peers to do the same. LGBTQ youth and young voters will be leading the charge to stop state and local anti-LGBTQ bills and ballot initiatives, and to encourage pro-LGBTQ legislation and nondiscrimination protections instead.
In this year's New York City Pride March, GLAAD's campus ambassadors and staff will be carrying signs ― on gun control, immigration, police violence, LGBTQ rights, voting rights and all the issues that are compelling them to action in 2018, 2020 and beyond. Because while this is about political change, it is also a powerful movement, and one that cannot be ignored.
I will be there too, surrounded by these young people who are my heroes, and showing my own children the power that they possess to change the world around them with messages of resistance, equality, acceptance and love.

Sarah Kate Ellis is the president and CEO of GLAAD. Follow her on Twitter @sarahkateellis.
#TheFutureIsQueer is HuffPost's monthlong celebration of queerness, not just as an identity but as action in the world. Find all of our Pride Month coverage here.
Calling all HuffPost superfans!
Sign up for membership to become a founding member and help shape HuffPost's next chapter