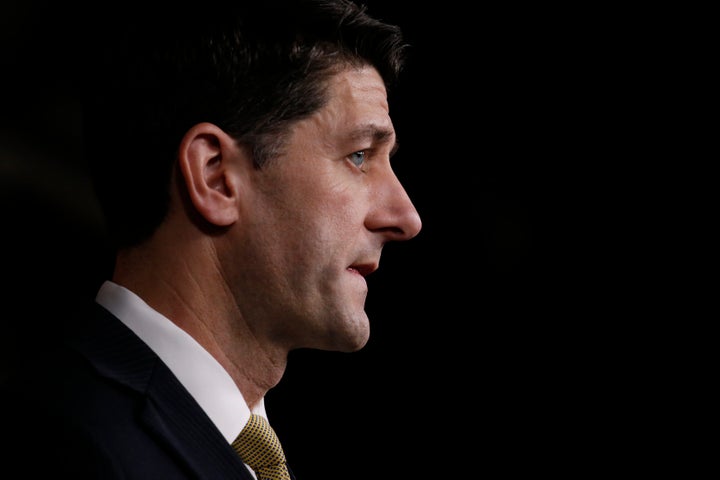 As Trump's erratic presidency continues to spike the stress levels of a majority of Americans, Ryan has picked the path of least resistance and abandoned the sinking ship that is the House Republican caucus.
But sure enough, undocumented immigrants and Dreamers in 2018 continue to face an alarming amount of attacks from Trump, the Department of Justice and a supercharged deportation force whose abuse goes mostly unchecked ― all while Ryan and Republicans in Congress turn a blind eye and talk nice.
Paul Ryan's record on immigration as speaker of the House is incoherent at best.
In 2016, he went on CNN to express his disdain for then-candidate Trump's anti-immigrant platform. At the time, Ryan believed that rounding up 11 million undocumented people would not work and that the American people would not like to see what the government would "have to do to the country" to accomplish that goal. And yet, when faced with the choice of upholding American values or caving to a xenophobic politician, Ryan ultimately bowed his head and kissed Trump's ring, indicating he would not stand in the way when the Trump administration deported business owners, veterans and parents of U.S. citizen children.
Paul Ryan's record on immigration as speaker of the House is incoherent at best.
Of course, this should not come as a surprise to anyone. Back in 2015, The Washington Post's Greg Sargent detailed how Ryan "went out of his way to reassure conservatives" that "Republicans will not enter into any bipartisan compromising with Obama on immigration reform." (This is from a man who still hasn't put forth any significant immigration legislation since President Barack Obama departed the White House in early 2017.)
Ryan developed that position when he received a host of criticism from the anti-immigrant wing of the Republican Party, led by Iowa's racist Rep. Steve King, pushing aside decades of work he had conducted on immigration, including "working behind the scenes" on the failed 2013 comprehensive immigration reform effort. In 2014, Ryan published a book in which he urged members of his party to reach out to minority voters and advocate for "thoughtful immigration reform." And let's not forget that Ryan worked very closely on immigration dating back at least to 2009.
Alas, the same Ryan whom my boss at America's Voice, Frank Sharry, knew as an "outspoken and tireless defender of immigrants and immigration" and who believed that "immigration was a central pillar to the American experiment" is no more. In fact, Ryan has been missing in action for so long that even the promise he made to Angelica on live television rung hollow for many of us who still have daily panic attacks about when our DACA protections, drivers licenses and work permits will expire.
If he hopes to retire with an ounce of dignity and respect, then he should listen to the vast majority of Americans who want to see Dreamers protected.
If enough Democrats join Denham in his resolution, we could see the House actually take up the DREAM Act, the more centrist USA Act, an anti-immigrant poison pill by Rep. Bob Goodlatte (R-Va.), and a bill of Ryan's choosing, rumored to be Trump's extremely anti-immigrant "four pillars" legislation.
Ryan holds the keys to this potential immigration debate, as the Queen of the Hill strategy would require his ultimate approval. So if he hopes to retire from Congress with an ounce of dignity and respect, then he should listen to the vast majority of Americans who want to see Dreamers protected against the claws of Trump's deportation force.
Unfortunately, if his past actions are any indication, Ryan will do nothing. He will continue being a spineless disappointment and go down as a speaker of the House who had no courage to stand up to Trump and stand for what is right in the face of the slightest criticism from members of his own party.
Just look at what Ryan told my friend and fellow Dreamer Adrian Escarate, who had the opportunity to share his story with the speaker ahead of this year's State of The Union address:
"I met speaker Paul Ryan hours before the SOTU in his Capitol Hill office and in an almost boastful tone he told me not to worry; that the legislative process might be ugly, but that they will protect Dreamers because it was something he's been working on for a while."  
I am happy to see you will dedicate more time to your family once you leave Congress, Speaker Ryan. I will do the same, because Dreamers will not and cannot "rest easy" about our future or the future of our families in the U.S. under Trump.
But one last thing, Paul. As you get ready to launch a worldwide search for your spine or prepare a potential bid for president, don't dare write any books or give any speeches about how you regret not helping Dreamers during your time as speaker. Nobody will care nor believe you, because you will go down in history as an opportunistic Trump-enabling Republican who couldn't put his country or morals first, and no amount of rebranding will change that.
Juan Escalante is an immigrant advocate and online strategist who has been fighting for the Dream Act and pro-immigration policies at all levels of government for the past 10 years.
Calling all HuffPost superfans!
Sign up for membership to become a founding member and help shape HuffPost's next chapter