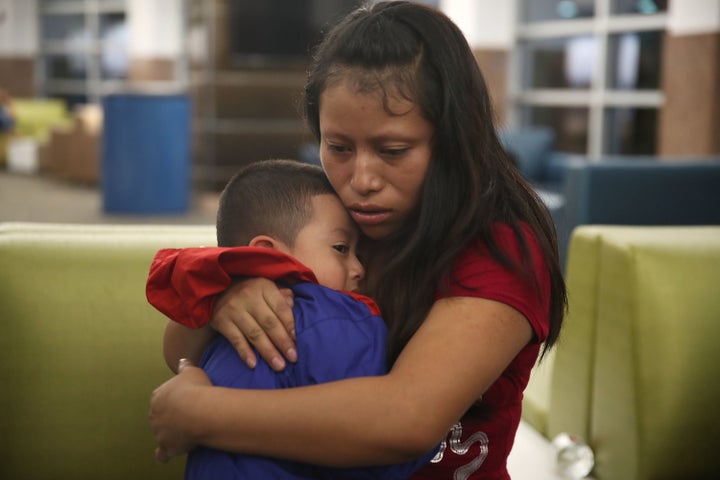 Americans have watched, read and heard about the cruelty of President Donald Trump's family separation policy over the past couple of months, but to see it in action is a completely different story. This week I've had a front row seat to the turmoil that immigration detention and family separation has had on immigrants who risked their lives to escape violent conditions in their home countries.
I've been in Phoenix, more specifically in a small room in the basement of a downtown Phoenix building. The space, a makeshift office for seven volunteers for a nonprofit organization, is covered with educational posters displaying numbers, the letters of the alphabet, the days of the week and the months of the year. The shelves are lined with school supplies, which tells me the room is a classroom for young children ― immigrants and refugees who have recently arrived in the United States, primarily.
The separation of migrant families has been the figurative ground zero of Trump's soulless immigration policy, and in that basement office, migrants are greeted by staffers and processed for reunification before paperwork is handed to my small office. The role of the team I'm part of, mainly composed of volunteers and staffers from the immigration advocacy group FWD.us, take that paperwork and book a night at a nearby hotel room and a flight that will take migrants to their U.S.-based family members and loved ones. No immigrant passing through these doors will need to take multiple buses to reunite with their children or families.
Comments like "I didn't think good people existed anymore" are common among the migrants recently released from detention. But that worry is quickly turned around as a network of local and national organizations distribute donations, supplies, meals and other basic necessities to immigrants who have been cleared for reunification.
There is no talk of political parties, politics or even politicians in this family reunification operation. There isn't even mention of the president or his unshackled Immigration and Customs Enforcement agents. The only palpable thing across the various volunteer teams is a silent acknowledgment that the immigration policies Trump's administration has implemented are having real-life consequences for the well-being of people who are simply seeking a better life ― here, in the land of the free and home of the brave.
"Noticeably absent are the federal agencies that created this problem."
The bulk of the funding for this entire effort has come from donations made to the Flights for Families campaign, along with the support of faith-based organizations, national and local immigration advocacy groups and private donors. Noticeably absent are the federal agencies that created this problem by intentionally separating children from their parents without a cohesive plan for how to match or reunite them.
Watching children and parents shuffle down the hallway (many of them carrying few to no belongings and showing little to no emotion), then seeing them off to board a flight that will take them to a U.S. relative is a transformative experience. The last words these families often tell volunteers before they venture out into the vastness of this nation they hope to someday call home? "Thank you for caring about us."
Some of these families are going to nearby states like Utah. Others, as far as Rhode Island. Regardless of where their travels take them, immigrants and their families often undergo a transformative experience ― for the better. Their faces reflect a small yet mighty sense of hope, renewed by every volunteer they've encountered since their release from detention. That, of course, is a reward to everyone aiding these families here in Phoenix.
But another, very different kind of transformation is occurring with regard to how this country deals with immigrants and refugees. And this transformation is for the worse. Trump ― and his anti-immigrant and racist policies ― are still unleashing fear and terror on migrant families.
On Thursday the Trump administration once again missed a court-imposed deadline to reunify migrant children with their parents. And it would be easy to dismiss this as just another of Trump and his incompetent staff's bumbling failures. However, the underlying reason for all this administration's immigration policies is simple: brutal and unforgiving cruelty toward any kind of foreigner.
It's hard to overstate how refreshing and eye-opening it is to see the direct impact everyday Americans are having on these migrant families ― plunged into the darkness and cold by Trump, then rescued and brought into the light by volunteers and organizations from every corner of the United States.
As I stare at my iPad screen in the small makeshift office where other volunteers are processing intake forms for recently arrived families, I'm reminded my time in Arizona is coming to an end. However, I am reassured that no matter what this administration throws at us ― as immigrants, community or country ― there will always be kind and generous people working out of makeshift offices to ensure our country remains a welcoming and caring place for everyone.
Juan Escalante is an immigrant advocate and online strategist who has been fighting for the Dream Act and pro-immigration policies at all levels of government for the past 10 years.