Fists raised to "Lift Every Voice and Sing" is how my school kicked off football games, basketball games, convocations and graduations — you name it.
It was routine to hear the song right after "The Star-Spangled Banner" at many of these events. But even those who were only visiting Howard University could tell the difference in the posture of students and alumni when someone sang the black national anthem. There's a sense of pride and belonging that renders a special connection to our history and culture in the lyrics.
The black national anthem always resonated with me more than "The Star-Spangled Banner," but I took for granted hearing it so regularly. It had been a few years since I'd witnessed this song performed publicly. So when I stood amid a sea of mostly white festivalgoers alongside two fellow Howard grads at Coachella, I was surprised by the tears falling down my cheeks as Beyoncé sang "Lift Every Voice and Sing" not 10 minutes into the show.
I'm not sure if it was because the song was coming from the lips of the greatest performer alive or if it was a combination of the show's elements incorporating the culture of historically black colleges and universities, but I was overcome with the same emotion I felt when I found myself, unapologetic blackness and all, at the mecca, Howard University.
After one semester at my beloved HBCU, I recognized what I was missing when looking at my identity. Pre-Howard, I was conditioned to always juxtapose my blackness against the concept of whiteness, not fully understanding how powerful it is to appreciate my background outside the context of oppression. That limited me to a very narrow and monolithic view of what blackness can be.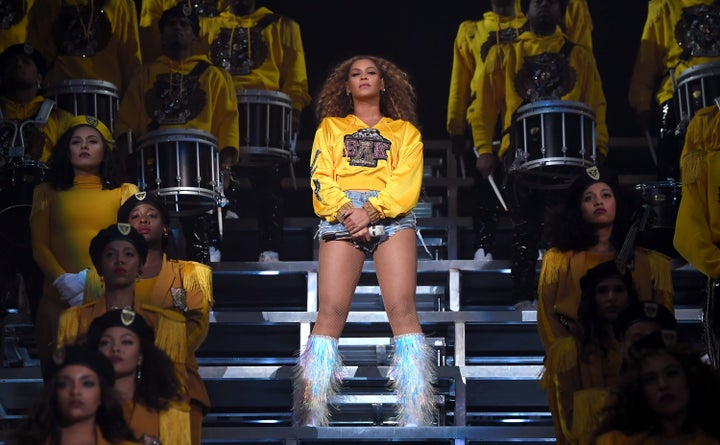 Contrary to popular belief, HBCUs do prepare students for the real world, and they do a damn good job at it.
But black colleges show their students the beauty and expansiveness that blackness already is on its own. For me and others who shared this mindset, Howard, Spelman, Morehouse, NCAT, Hampton, Fisk and any of the more than 100 other HBCUs are pivotal. Not only do they center blackness in academia (even my math classes would turn into black history lessons at times), but they also provide spaces for their students to be fully embraced by faculty and their peers alike, fostering a sense of community and mentorship.
Even outside the classroom at HBCUs, we're free to unlearn the toxic ideals white supremacy taught us about our blackness. We're free to embrace the diversity among the African diaspora, debunking the myth that we are monolithic. We're free to heal from the microaggressive trauma we face in white spaces. And we get to do so while leaving code switching behind and not having to worry about grubby white hands and stereotypes intruding on our hair and lives.
And contrary to popular belief, they do prepare students for the real world, and they do a damn good job at it.
Many folks, both black and nonblack, believe that HBCUs are inferior to predominantly white institutions in academics, size, networking opportunities and career development. This couldn't be further from the truth. All while defying stereotypes about our blackness, our intelligence and our drive, HBCUs have been community pillars in catering to students with faculty and other staff members who embrace diverse cultural experiences and with stellar degree programs that offer students a chance to get real experience in their field of study. For me and for the vast majority of others, attending an HBCU was never a last resort or back-up plan. It is the top choice for educational, social and cultural experiences you won't find anywhere else.
HBCUs aren't perfect, but they are necessary. It is up to us to destigmatize and support these schools to ensure their survival.
These things are no secret to alumni. That's why homecomings at HBCUs are always a big deal. It's a pilgrimage back to the schools that nurtured them and reminded them they matter.
So when Beyoncé came out with a drumline and dancers from various black colleges, a Divine Nine–inspired faux Greek organization and the gift of thickness ― accompanied by a swag surf, at that ― it felt like home. Her performance was done in such a sophisticated and artful way that made an important statement about how we should be revering HBCUs. Bey even punctuated her performances by announcing her donation of $100,000 in scholarship funds for eight HBCUs.
Beyoncé's mom, Tina Knowles Lawson, shared an Instagram post explaining why her daughter decided to make the show so blackety black, despite Lawson's fears that people wouldn't get it:
"[Beyonce] said that her hope is that after the show young people would research this culture and see how cool it is, and young people black and white would listen to LIFT EVERY VOICE AND SING and see how amazing the words are for us all and bridge the gap. She also hopes that it will encourage young kids to enroll in our amazing Historically Black Colleges and Universities."
Beychella wasn't just a show. This was a record-breaking exhibition to remind us of the gems we already have in our communities that uplift, empower and reaffirm to us that we matter.
We have our own Wakanda. We have our own Beychella. We have our own black utopias in HBCUs.
Despite the love we showed for the fictional HBeyCU, real, beloved black colleges and universities are in danger and need just as much of our love and support. For decades, many of these these schools have been in dire financial trouble. Unequal state funding and student enrollment have led to many schools closing their doors or losing their accreditation. And though the 2018 omnibus spending bill may help current and future students secure more funding and resources and although student enrollment saw a spike in 2017, huge issues ― including low-income students' securing enough financial aid to continue their studies ― still loom. Like any school, HBCUs aren't perfect, but they are necessary. It is up to us to destigmatize and support these schools to ensure their survival.
"Lift Every Voice and Sing" will play once more this weekend as Howard University celebrates its 150th commencement ceremony with the king of Wakanda himself (also known as Chadwick Boseman) delivering the keynote address. It's hard for black folks to make a place for ourselves in the world, and oftentimes, we look to fictional worlds for a place to call home. But we have our own Wakanda. We have our own Beychella. We have our own black utopias in HBCUs.
In a world that consistently tries to tell us that we don't belong ― at predominantly white institutions, at the workplace, at Starbucks ― the purpose of HBCUs remains relevant. But judging from the societal myths and financial burdens plaguing many of these schools, many of us have forgotten how important these spaces are.
That message shouldn't be overlooked.
Taryn Finley is the editor of HuffPost Black Voices.
Calling all HuffPost superfans!
Sign up for membership to become a founding member and help shape HuffPost's next chapter
BEFORE YOU GO