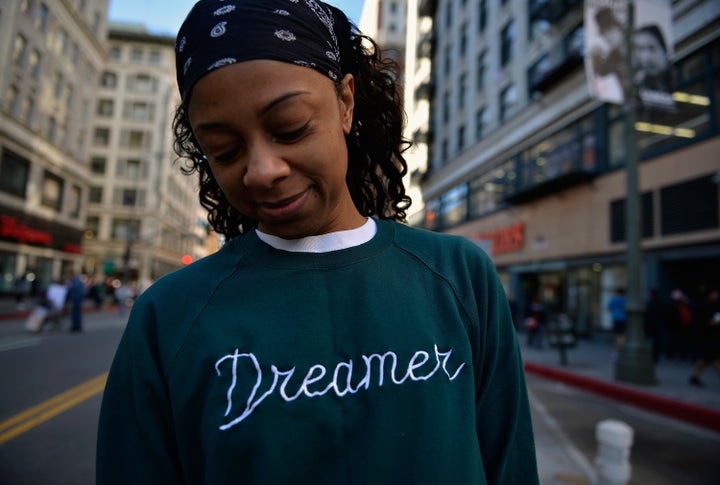 "So ICE has our information. How long until we can expect them to come for us?"
Yvette, a 22-year-old Mexican immigrant living in Michigan, was scared. Since the day Yvette (not her real name) was granted protection under the Deferred Action for Childhood Arrivals program in 2013, her life had gained some stability. She was in college. She was working part time and was legally able to drive. She had access to health services. And, perhaps most importantly, she was not burdened by the stress and fear that any day, she could be deported.
Her question landed heavily in the room of DACA recipients gathered in a university classroom shortly after President Donald Trump moved to end DACA in September. They were there to reflect on their futures amid rapidly changing immigration policy: What happens when we can once again be forcibly removed from the country?
As the president and legislators use DACA recipients as a bargaining chip in their immigration reform debates, the 800,000 DACA recipients like Yvette must attempt to go about their lives wondering if they will again become targets for deportation.
A growing body of research has demonstrated the detrimental health impact of the immigration enforcement system in the U.S. When communities believe that arrests by Immigration and Customs Enforcement are increasing in a certain area, immigrant families avoid obtaining medical services ― something that clinicians across the U.S. noted in a recent Kaiser Family Foundation report, and that our own research in Michigan has found. This means that immigrant families often have to choose between risking deportation and receiving vital services such as prenatal care, diabetes management or immunizations.
"Immigrant families often have to choose between risking deportation and receiving vital services such as prenatal care, diabetes management or immunizations."
The perpetual threat of deportation also has been shown to take a toll on the body. The latest research shows that immigrants who fear deportation have higher systolic blood pressure and body mass index ― both risk factors for cardiovascular disease ― than those who do not fear deportation. Similarly, research in Los Angeles shows that undocumented immigrants had higher blood pressure than documented immigrants. The stress caused by the immigration enforcement system also exacerbates immigrants' chronic diseases and leads to poorer management of these diseases.
It is not only undocumented immigrants who experience the vast negative health consequences of our immigration enforcement system. It is estimated that for every two deportations in the U.S., one child who is a U.S. citizen experiences poorer health due to the removal of a primary caregiver or financial provider. U.S. citizens born to undocumented parents are twice as likely as other young citizens to lack health insurance coverage, often due to barriers in accessing Medicaid and the Children's Health Insurance Program.
The negative health effects of immigration enforcement are not new in the Trump era. Indeed, former President Barack Obama was dubbed the "deporter in chief" for the record number of deportations that occurred during his administration. However, immigration enforcement tactics under the Trump administration have exacerbated these negative health effects.
"Less than 40 percent of children with undocumented parents visited a doctor in the past year."
With the protection of DACA, people like Yvette can avoid the myriad negative consequences that come from being the target of aggressive deportation practices. But research released in the last year shows that the health consequences of immigration enforcement can extend even to DACA recipients and other members of their communities. DACA recipients often live in "mixed-status" families ― families that include some combination of citizens, undocumented immigrants and visa-holders — and their family members can still be targeted, detained, and deported.
The lives of DACA recipients will be affected by the immigration enforcement system as long as this current system remains intact. Ultimately, to protect the health of both those with DACA protections and the millions of other undocumented individuals in the U.S., we need family-focused comprehensive immigration reform as a long-term solution.
In the short term, the end of the DACA program stands to create an additional 800,000 undocumented immigrants ― an additional 800,000 individuals whose health is powerfully shaped by the threat of deportation. Congress must act and the president must sign a clean DREAM Act ― unattached to other elements of immigration reform ― to avoid this brewing public health crisis.
Paul Fleming is an assistant professor and William Lopez is a postdoctoral fellow at the University of Michigan School of Public Health, and they are co-directors of the Research Lab on Immigration Policy & Health Inequities. Dr. Lopez is currently working on a book that details how an immigration raid impacts a Latino community.
Related