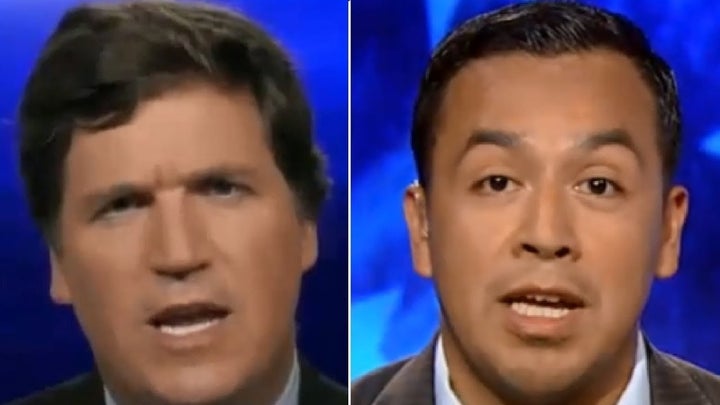 Carlson was decrying the mayor's move, saying it would result in lawlessness and render federal agencies helpless. I explained to Carlson how ICE really works and that the agency will still have access to the information it needs to target undocumented immigrants charged or convicted of serious crimes.
As is usually the case when confronted with inconvenient facts, Carlson quickly turned to my own immigration status as a way to attack my statements. "You're here illegally!" he said before laughing, "I don't know what 'chutzpah' is in Spanish, but for you sitting here illegally, and we're not reporting you or having you taken out by force."
That exchange wasn't unlike the many other times I'd appeared on the network. Whether it's questioning my intelligence, my legal credentials or accusing me of having no respect for U.S. laws, Fox News consistently resorts to ad hominem attacks against me to cover up its shoddy arguments.
It's better that Fox's viewers hear me share my story than for their right-wing hosts to tell their inaccurate version of it on my behalf.
After each interview, some of my supporters (including family members) understandably text me or comment on Facebook, wondering why I repeatedly go on Fox News and subject myself to such insults.
"You presented credible evidence, but you are never going to convince Tucker or his racist viewers," a friend texted me.
"Why do you even bother going on FOX 'news' propaganda?" a person commented on my Facebook page.
Another wrote, "All [Tucker Carlson] did was disrespect you. Stay away from Fox and go where your voice matters."
I've gone to places where I am not welcomed before. During the 2012 presidential election, I attended Republican rallies deep in South Carolina to challenge candidate Mitt Romney's opposition to the Dream Act — federal legislation that would have provided a path to citizenship for undocumented immigrant youth. I was even detained by Secret Service in Texas and arrested in Iowa for confronting 2016 presidential candidates (including Donald Trump) on immigration at the conservative Iowa Freedom Summit.
Each time, I was shoved, cursed at and escorted out.
I don't go on Fox News programs and to tea party rallies to change the minds of politicians like Trump, hosts like Carlson, or other individuals on the extreme right. I go because my presence allows me to tell my story ― and to visibly affirm to the nation that all immigrants deserve dignity, even in the most hostile of spaces.
The law (and even facts and statistics) can be debated to the point of utter discord. Our stories, however, are powerful enough to serve as a bridge. They connect us to one another and help independents, moderates, progressives and even some conservatives who haven't had similar experiences to better empathize with the undocumented parent working hard to provide for his or her family, with the Dreamer who is working two or three jobs just to pay for part-time college courses, or with the horror of being separated from your child.  
Fox News consistently resorts to ad hominem attacks against me to cover up its shoddy arguments.
As Trump continues to deploy draconian policies to separate immigrant families, my presence on Fox News changes the dynamic of the conversation and forces Americans to confront the humanity of the issues they are talking about.
If courageous men and women could sit at an all-white restaurant counter to challenge racism or march for the right to vote even at the risk of losing their lives, I can certainly go on Fox News and tolerate a few insults to remind the nation that our immigrant neighbors are deserving of the equal protection of our laws.
On-air Fox News hosts are fanatical performers ready to cater to their viewers' far-right ideology. Off-air (and politics aside), most of these hosts are actually pleasant people who choose to be a voice in our country's political discourse. I, too, choose to be a voice when I go on conservative news shows.
Walking into a space where I am seen and treated as a second-class citizen is intimidating. I sometimes even question whether I am doing more harm than good.
Despite this, I remain committed to showing the nation that all of us stand as equals regardless of our immigration status. I am not here to stay in my comfort zone or simply preach to the choir. These shows will go on with or without me; if people like me chose to boycott the network, Fox would just find other, probably less-honest guests who would fill our seats. It's better that Fox's viewers hear me share my story than for their right-wing hosts to tell their inaccurate version of it on my behalf.
So the next time you see me with Tucker Carlson or on any other Fox News program, know I'm there for a reason ― even if that means enduring a few insults in the process.
Cesar Vargas is a civil rights attorney and national advocate for immigration reform.
REAL LIFE. REAL NEWS. REAL VOICES.
Help us tell more of the stories that matter from voices that too often remain unheard.