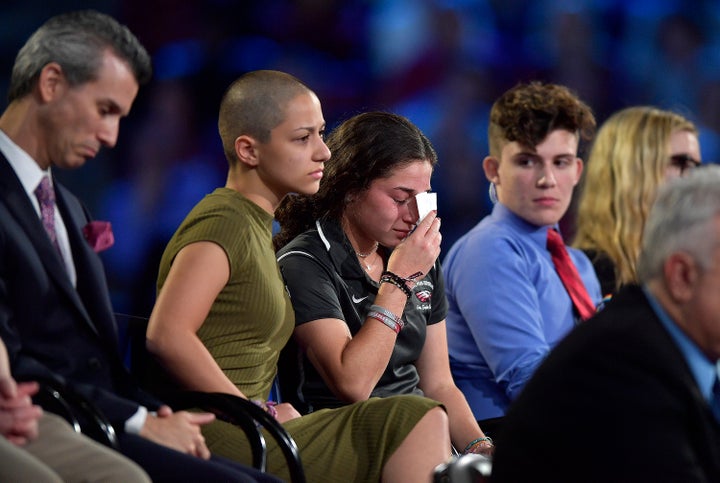 In the last week, I've watched the students of Broward County bravely stand and share the horror of surviving a mass shooting and of watching their friends and classmates die.
I wasn't surprised by their activism and ability to move the national conversation, because I know these students. My organization, the Center for Policing Equity (CPE), has engaged students, educators and administrators throughout Broward County for more than a year and a half. We're working to reduce racial disparities in school discipline and improve academic outcomes for every student countywide. My team speaks with district leadership frequently.
Many of these students are great kids: future leaders, elected officials, scientists and police officers. The world should listen to them. The nation should be proud. Just days after surviving a shooting, they were speaking truth to power and demanding not just answers, but action. I was impressed by their maturity and moved by their grace.
But amid my admiration, I cannot help but think about other students CPE has worked with who have not been heard, do not seem to fill the nation with pride and have not yet been gifted the resources that can manifest young leaders' dreams. Those students live in Broward County, too.
CPE began working in that Florida school district because, despite its best efforts, it had one of the highest racial disparities in school discipline in the nation. The process of removing students of color from school for minor classroom disturbances is called the school-to-prison pipeline. Expelled or pushed into juvenile detention centers and jail cells, these young people often have their lives derailed by harsh disciplinary measures.
While Black students made up only 40 percent of district enrollment, they comprised almost 70 percent of out-of-school suspensions. Black students were three times more likely to experience out-of-school suspensions than their White counterparts.
Students who are not in school have fewer opportunities to learn and feel like they control their outcomes; and they are consequently more likely to commit—and be targeted by ― violent crime, particularly gun violence. But when they are shot, it's more likely to be off campus, connected to crime and away from the media's attention.
While the nation comes together to support the students in Parkland, Broward County's other vulnerable students have little to no chance of being heard. And, much like their Black and Brown counterparts in other schools' cities, their voices are not celebrated in the national conversation.
Four years ago, we set up camp in St. Louis and Baltimore; the police departments in those cities invited us, because they wanted to do better by their communities. Shortly thereafter, shots rang out in Ferguson, and a young man in Baltimore died in police custody; a national uprising of high school and college-aged leaders engulfed both cities.
These leaders were reeling from gun violence inflicted both by police and members of their community. The students of Baltimore and Ferguson, along with many Black and Brown students all around the country, faced off against monied unions and entrenched forces in American politics. And, like their peers in Florida, they too spoke truth to power, demanding not just answers, but action.
But there were not think pieces in national media about the strength of our children following Ferguson. Few celebrities donated to their cause.
The nation overwhelmingly agrees on the need to limit access to guns, and observers are drawing hope from the passions of students in Florida. Meanwhile, the demands of students in Baltimore no longer garner headlines. An April 2017 NPR story reported that Baltimore youth still lived in fear of gun violence, both by police and their neighbors.
"We're still fighting for the basics," 19-year-old Samirah Franklin told NPR. "You know, most young people in Baltimore City can't walk down the street and go to a rec center and have quality recreation in a safe place and that kind of thing."
News from Ferguson, unfortunately, shows more of the same. Ferguson activist Josh Williams now describes life as a "living hell," because he was incarcerated for what he insists was peaceful protest.
"This country has a long history of ignoring Black and Brown voices ― in fact, we bear a shameful legacy of robbing non-White children of the very protections of childhood."
We must not diminish the anguish, hurt and resolve that Marjory Stoneman Douglas students are demonstrating in the wake of a tragedy. And there are other voices to whom we must listen better. Our nation has been engaged in selective hearing for too long.
Our children have so much to teach us. When they sound the alarm on problems adults have failed to fix for generations, the least we can do is listen. When children act out in school, the least we can do is figure out why and give them the tools to succeed. This country has a long history of ignoring Black and Brown voices ― in fact, we bear a shameful legacy of robbing non-White children of the very protections of childhood. By failing to listen to our most vulnerable children when they cry out, we risk missing the next crisis for even the most comfortable child.
Parkland was reportedly named the safest city in Florida last year. Seventeen of its children are now dead. What are we prepared to suffer next at the cost of failing to listen when Black and Brown children cry? How many lives will we lose before we give them our attention? Might we have prevented this very shooting if the nation gave schools more resources for its most vulnerable students—including the shooter who had been expelled from the school he would later terrorize?
My greatest hope in this moment is that, while students band together to shape their futures, they will also learn to listen to each other—better than their parents do. The voices in Parkland are powerful, but how many tragedies could we prevent if we listened earlier and to the students dealing with our nation's harshest realities every day?
This country is wrestling a terrible number of crises that will shape several generations to come. But I remain encouraged. Because, if there is anything the last couple of years suggest to me, it is that children can fix the problems adults have too long ignored.
Phillip Atiba Goff is a Professor in Policing Equity at John Jay College of Criminal Justice and the co-founder and president of the Center for Policing Equity. Dr. Goff is a principal investigator for the first national database on racial disparities in police stops and use of force. He is a Senior Research Fellow at the Thurgood Marshall Institute at NAACP Legal Defense Fund.
Popular in the Community