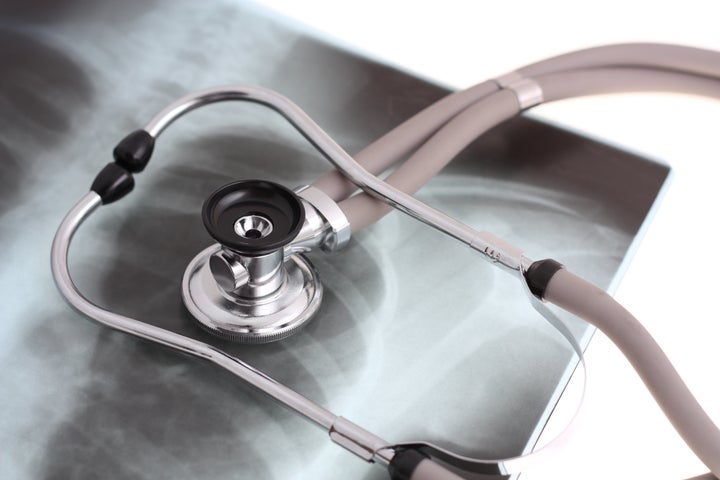 On this World TB Day, we as a global community have a choice: We can either chip away at the problem or we can insist that our leaders take direct aim to stop TB.
I believe that we are becoming part of a movement that says, "It is TB's time."
We saw the beginnings of this global movement at the historic meeting in Moscow last November, when Russian President Vladimir Putin in his keynote speech expressed his personal commitment to ending TB in Russia. And just last week, Indian Prime Minister Narendra Modi reaffirmed his government's commitment to end TB by 2025 and stressed the need for all partners to come together to reach this goal.
World leaders are showing real commitment toward eradicating this deadly disease and for the first time ever, they will gather to specifically focus on TB as we head into the U.N. High Level Meeting (UNHLM) on TB in September. For those of us who have participated in the U.N. High Level Meetings on AIDS, we have seen how bringing leaders together around one issue is a very powerful motivator for action. And there is no doubt action is needed.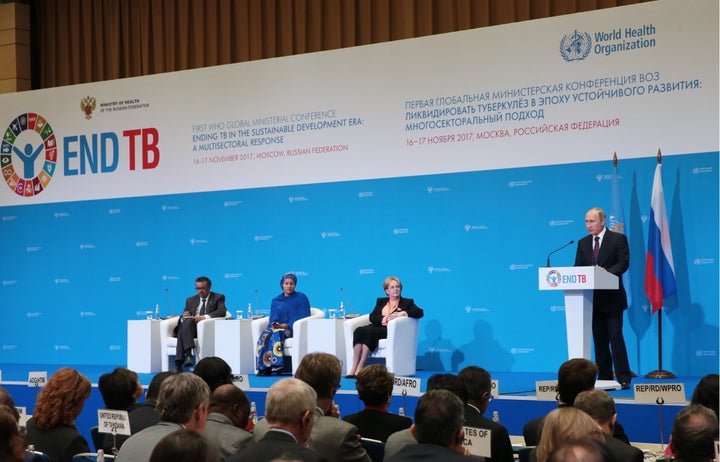 According to the World Health Organization (WHO), approximately one-third of the world's population carries the TB bacteria, with about 10.4 million of whom developing "active" TB each year. Globally in 2016, an estimated 600,000 people developed drug-resistant TB (MDR-TB), and an estimated 4.1 million new cases of TB have not been officially reported. Moreover, only one in five cases of MDR-TB began treatment, while most who are eligible for preventive treatment are not receiving it.
More than 95 percent of TB cases and deaths occur in low-and middle-income countries, particularly in Southeast Asia, Africa and the Western Pacific. TB primarily affects adults during their most productive years, greatly impacting the livelihood of families while also threatening already vulnerable economies in developing nations. Of the estimated 10.4 million new cases of TB globally, a million are found in people living with HIV. More than 1,000 people infected with HIV die every day from TB. As the former U.S. Global AIDS Coordinator and the current U.N. Special Envoy on TB, I can attest to the fact that HIV/AIDS and TB are true partners in crime.
The spread of this disease is a global crisis that's beginning to hit close to home. No one is immune to TB. It is airborne, highly contagious and knows no borders. And with the growing challenge of MDR-TB or TB-HIV co-infection, TB could spread quickly with a tremendous impact on all Americans. In 2017, 97 cases of MDR-TB occurred in the United States.
I have my own prior history with TB. When I was a young doctor, I was diagnosed with latent tuberculosis. I was fortunate. I was diagnosed, the active disease was ruled out and I received treatment with Isoniazid for six months, which successfully rid my body of the disease.
This is not the case for everyone. Some people remain undiagnosed. Some find the regimen too difficult to follow or, particularly in the developing world, too expensive. Others become resistant to the drugs they are using. And while we now have improved treatment options for latent TB, we must get better at delivering them to patients in need.
"Our heads of states hold the keys to unlocking the stranglehold of TB."
As we head toward the UNHLM on TB, I am honored to be co-chairing the Lancet Commission on TB, which is working to issue recommendations on how to put the world on a path to defeating the disease. The commission is focused on four areas for action. First, we must ensure implementation of evidence-based strategies to combat the disease. While the world is in need of new tools and innovations, we must continue to build on what we already know is working to prevent, detect and treat TB.
Second, it is critical that we invest in TB research and development. Treating the 10.4 million people with TB around the world, and the approximately 4 million who are undiagnosed or untreated, means aggressively fostering innovation, research and development. While we are seeing promising development results, current tools simply cannot address the growing challenge of MDR-TB or TB-HIV co-infection.
Third, significant resources must be dedicated to implement strategies to end TB. The disease is among the most cost effective health interventions. The commission is reviewing data to provide guidance on country investments for health and finance ministers.
Finally, we must address the serious social, financial and clinical barriers to care that undermine TB control efforts – and include civil society in the discussion. It is my hope that the commission's report will provide a roadmap for countries as they tackle their TB epidemics.
It is also my hope that between now and the UNHLM in September, all who care about ending TB use their voices to demand that their leaders act. We have the cure for TB – now we need the will. Our heads of states hold the keys to unlocking the stranglehold of TB. Some have recognized the problem and are taking steps to reduce the incidence in their countries – but more countries must step up to the plate.
We are at a moment. We have waited years – some of us decades – for this moment. Let us seize it and build a TB-free world once and for all. It's TB's time.
Ambassador Eric Goosby, MD, is the U.N. Secretary-General's Special Envoy on Tuberculosis.
Popular in the Community