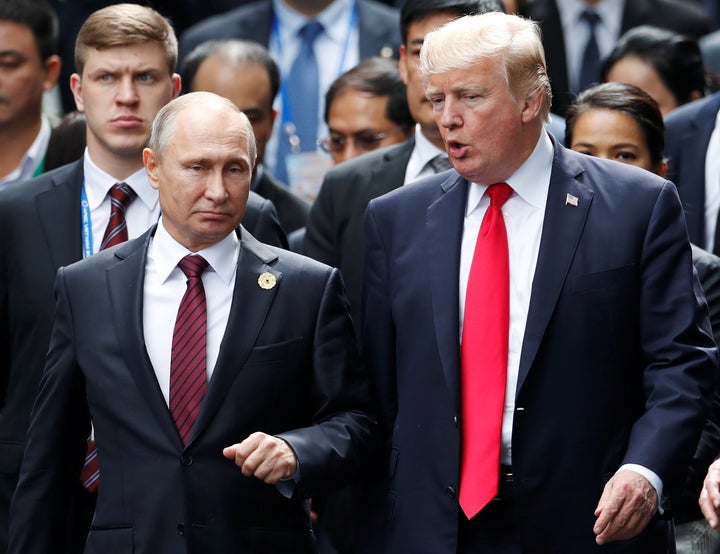 On Monday, President Donald Trump will meet Russian President Vladimir Putin in Helsinki. This summit ― their first bilateral meeting ― is unlikely to produce a significant shift in U.S.-Russia relations, but it will be symbolically important for both leaders.
For Trump, this meeting, like the one last month with North Korea dictator Kim Jong Un in Singapore, offers a chance to be seen making progress with a leader with whom other statesmen, including former President Barack Obama, had problems. Putin, for his part, is looking to ease tensions with the U.S. while underscoring to Russians the respect that he has won with his aggressive foreign policy.
The practical goal of the summit for Putin is an agreement to begin normalizing U.S.-Russia relations. This is what Konstantin Kosachev, the chairman of the Foreign Affairs Committee of Russia's Federation Council, suggested in a recent interview. Recent research by the well-respected Russian polling agency Levada Center shows that the Russian public is also in favor of such a course of action. A majority of Russians have negative feelings toward the U.S., but most also want an end to the hostile rhetoric between the two countries and see avenues for productive cooperation.
But the Russian desire for reconciliation comes with a catch: Russia wants respect, even as it moves toward rapprochement. Many Russians believe that their nation is treated unfairly by the international community, held to a different standard and denied the respect it is due.
The Russian desire for reconciliation comes with a catch: Russia wants respect, even as it moves toward rapprochement.
The image of Russia as a besieged fortress ― surrounded by foes with only itself to rely on ― has long had resonance among Russian citizens. This is the result of historical experience, and it is a long-standing trope in Russian political rhetoric.
After Russia invaded and annexed Crimea in 2014, the U.S. and European states imposed a series of sanctions, and the argument that Russia was being singled out and targeted became especially convincing. Many Russians believe these responses were unjust, and that they punished Russia for actions similar to unilateral military interventions undertaken by Western states. 
Putin has famously called the collapse of the Soviet Union "the greatest geopolitical catastrophe of the century." Russia lost its near-abroad empire, suffered through a decade of socio-economic chaos and was sidelined from a key role in major international events like the war in Kosovo.
While Russians recognize that the world is unlikely to return to the bipolar configuration of the Cold War era, many welcome Putin's aggressive stance toward Russia's neighbors as evidence that the former superpower is reasserting itself on the world stage. While Russians want a resumption of normal relations with the U.S., they also want their country to be treated as America's equal.
Since assuming office, Trump has time and again spoken about his desire for a good relationship with Russia and his personal willingness to work with Putin. In recent comments, Trump said that he saw Russia as a "competitor," rather than a friend or foe.
The image of Russia as a besieged fortress – surrounded by foes with only itself to rely on – has long had resonance among Russian citizens.
These kinds of statements help shore up support for Putin at home and worry American allies. While Trump respects Putin's leadership style, European powers see him as a "spoiler," a state leader interested in fostering discord ―  supporting right-wing political parties, influencing elections and authorizing covert actions against spies ― in order to tilt the structure of international relations in his favor.
Putin has been able to turn his aggressive foreign policy into a ratings boost at home, and he may use any positive comments by Trump emerging from Helsinki in the same way.
Beyond putting on a mutual show of respect, Trump and Putin may also use the summit to discuss some topics on which they agree. They may commiserate over their shared displeasure with the North Atlantic Treaty Organization. Trump has been highly critical of fellow members of NATO for not paying their share for mutual defense. Putin has often criticized NATO for its expansion eastward following the collapse of the USSR, and he benefits from any visible divisions within the alliance.
Trump and Putin are likely to talk about Ukraine. Earlier this year, Trump reportedly told G7 leaders that Crimea belongs in Russia because of the preponderance of Russian speakers there. This understanding of Russian identity ― that it extends to all Russian speakers ― is one of the pillars of the Kremlin's efforts to justify its annexation of the peninsula. The president of Ukraine, Petro Poroshenko, is certainly worried about what could emerge fro the talks in Helsinki, writing in an Op-Ed for The Financial Times that "based on our agreed approach of doing nothing on Ukraine without Ukraine, I wish Mr. Trump well in his effort to bring Mr. Putin back into line."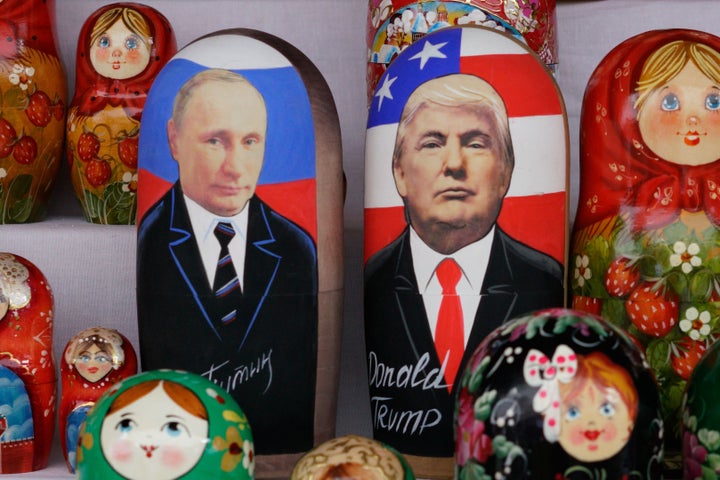 Last but not least, the two leaders are bound to talk about Russia's meddling in the 2016 U.S. presidential election. Trump had already promised to pursue the topic before leaving Washington, but the subject gained new traction after the indictment by a Washington grand jury of 12 Russian nationals on Friday.
In the past, Trump has very readily accepted Putin's denials of interfering in the election. His personal trust in Putin is baffling and stands in stark contrast to findings by U.S. intelligence agencies, which confirmed Russian cyberattacks during the campaign and resulted in new sanctions.
The White House and Trump supporters are already playing down the significance of the indictments, calling the hacking "alleged." Yet the investigation's focus on the actions of members of the Russian military intelligence agency makes Putin's previous claims that any cyberattacks were the work of individuals rather than the state far less sustainable.
If pressed, Putin may rebut Trump's questions by asking to see proof of a connection to the Russian government. However, no one should hold their breath for any frank admissions from Putin or hard questions from Trump in Helsinki.
While it is unclear what Trump can gain from the Helsinki meeting, Putin will undoubtedly use the meeting to furbish both his domestic and international legitimacy.
Yana Gorokhovskaia holds a Ph.D. in political science. She is a postdoctoral research fellow in Russian politics at the Harriman Institute for Russian, Eurasian and Eastern European Studies at Columbia University.
Calling all HuffPost superfans!
Sign up for membership to become a founding member and help shape HuffPost's next chapter