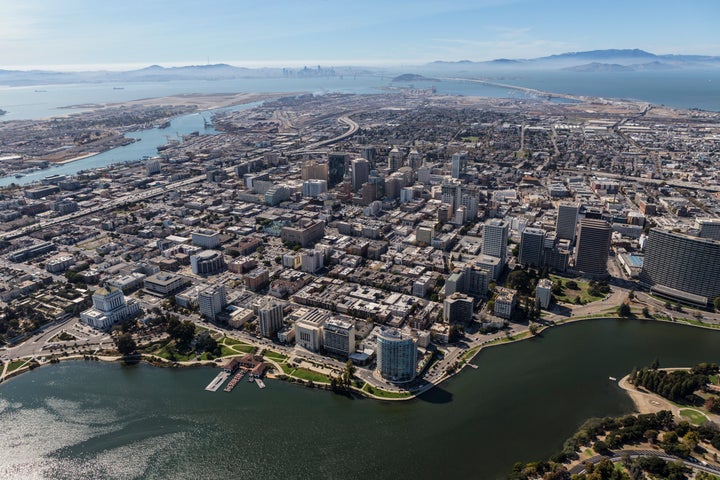 For many small businesses, a landlord's decision to sell up is the end of the story, another dream displaced by the pressures of speculation and gentrification. Not so for Hasta Muerte, an independent coffee shop in Oakland, California.
After a year spent transforming the former gambling spot into a vibrant community space, complete with giant murals covering the walls outside, Hasta Muerte's seven co-owners opened their doors to the largely Latinx Fruitvale neighborhood last November.
The shop ― which briefly tasted controversy when it refused to serve a uniformed police officer in February ― didn't only provide a new coffee spot for local residents, it also hosted film screenings, political discussions and pop-ups for other neighborhood entrepreneurs.
Then came May 24. The corner storefront Hasta Muerte rented and the two apartments above it were up for sale, and an offer of nearly $1 million was already on the table, with massive rent increases or eviction potentially just around the corner.
Hasta Muerte, however, had an ace up its sleeve in the form of a contract provision it had negotiated that granted the co-owners the right of first refusal should their landlord decide to sell.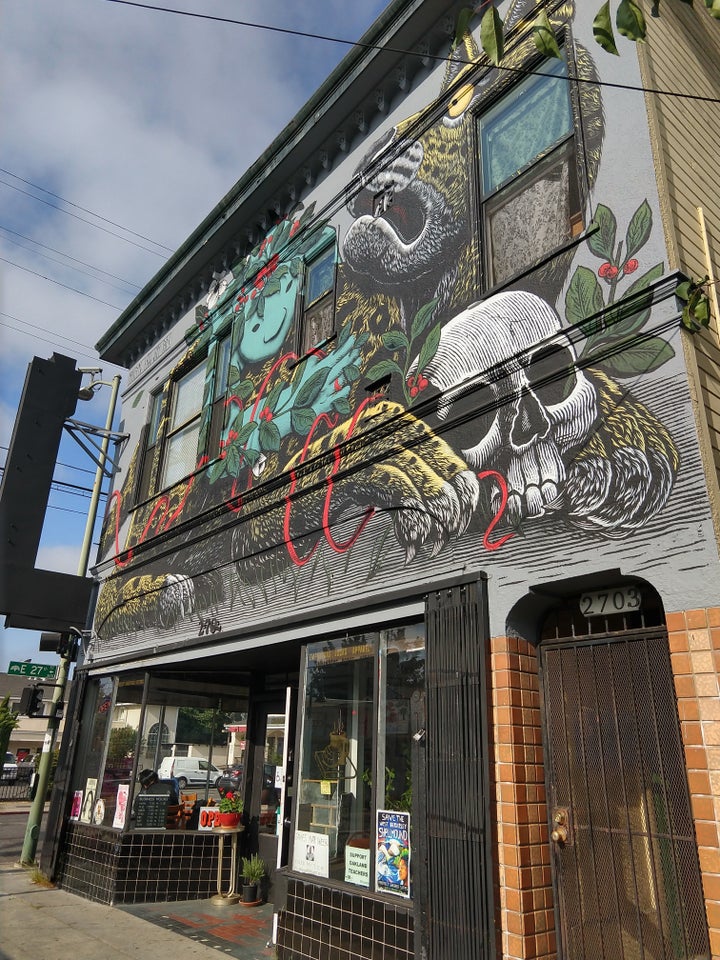 With two days to exercise this right, and just 45 days to come up with the money to match the $960,000 offer the landlord had already received, this was only the most temporary of reprieves.
But it was enough. Hasta Muerte contacted the Oakland Community Land Trust ― one of a network of nonprofits that acquire and keep land in trust for the long-term benefit of low-income communities ― and, together with a successful crowdfunding campaign, the organization helped raise the money needed to keep the local business and affordable housing at 2701 Fruitvale Ave. part of the neighborhood. With the building now owned by the land trust, it is off the private market.
The American real estate system is programmed to strip control from communities like Fruitvale. Instead of being organized to meet people's need for housing and community space, this system is driven almost entirely by the pursuit of speculative profit.
When these high profits can't be realized, neighborhoods suffer the consequences of disinvestment ― crumbling infrastructure, vacant houses, increased crime. And when the tide changes, capital floods in and, along with it, the threat of displacement as speculators race to make a quick buck. Hasta Muerte's landlord was able to get nearly a million dollars for a property purchased five years earlier for just $328,000. For low-income communities, and especially communities of color, this cycle can end up repeating over multiple generations.
Community land trusts, like the one in Oakland that supported Hasta Muerte, help overturn this racially and economically unjust system by throttling down speculation-driven growth in property prices. For instance, a community land trust might buy some real estate and retain ownership of the land while selling the housing on that land to a family at an affordable price. In the process, the land trust might give the family the right to sell the property on, as long as it did so at an affordable price.
While the focus of most of the estimated 225 community land trusts in the U.S. is on creating permanently affordable housing, some also support multiuse properties and spaces for neighborhood businesses such as Hasta Muerte.
The groundswell of interest in community land trusts in communities threatened by displacement comes from their ability to put residents in the driver's seat. These residents can identify where needs are most acute.
In Oakland right now, this means helping stabilize access to affordable housing for the city's black and brown communities, where small-scale multiunit buildings that provide much of the city's affordable rental properties are falling prey to the ongoing wave of speculation driven by big tech across the bay. The Oakland Community Land Trust hopes to be able to build up the resources and infrastructure to help tenants purchase these buildings instead.
While Hasta Muerte ― in addition to seeking help from Oakland's land trust ― was able to turn to its community of supporters to raise money directly toward purchasing its building, it's not going to be possible to crowdfund our way out of the larger crisis around affordable housing and community space.
Oakland Community Land Trust, for instance, is therefore working with partners across the Bay Area to try to get local jurisdictions to adopt laws that would make the right of refusal clause Hasta Muerte had in its lease the rule, and not the exception. In Washington, D.C., similar legislation has helped hundreds of residents save their homes by buying their buildings.
Ten years ago, the financial crisis showed just how bad an idea it was to leave an unregulated market in charge of our housing supply. In the midst of what could be another disastrous real estate bubble pushing rents up and communities out, community land trusts have the potential to help build stable, healthy and equitable neighborhoods. Such models for community control aren't perfect, and to make them work at scale will require aligning substantial resources and policy support. The good news is that communities seem ready for the challenge.
For more content and to be part of the "This New World" community, follow our Facebook page.
HuffPost's "This New World" series is funded by Partners for a New Economy and the Kendeda Fund. All content is editorially independent, with no influence or input from the foundations. If you have an idea or tip for the editorial series, send an email to thisnewworld@huffpost.com.
Popular in the Community