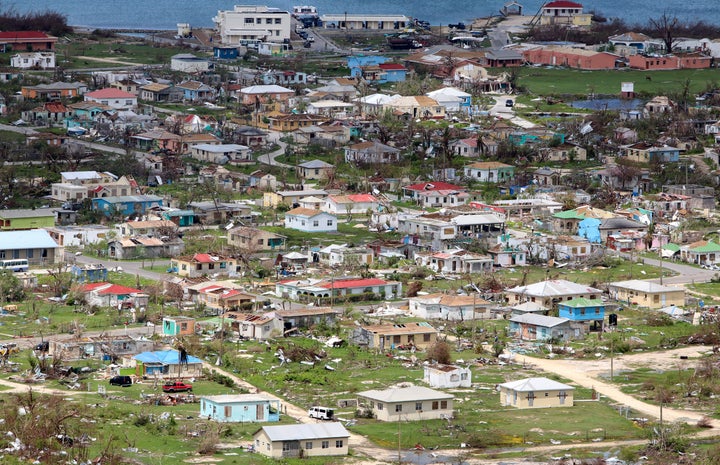 Picture a male frigate puffing up his red chest. Listen carefully for the drumming sound meant to draw the attention of the female. They share sleek black feathers across their body and expansive wings, but she has white on her chest. Now picture thousands of them doing this mating dance, perched on the limbs of mangroves jutting out of the water in Barbuda's Codrington Lagoon. Entry is typically by small boat, quietly, since this sanctuary is a low-impact but popular tour stop on the 62-square-mile Caribbean island. As a resident of Antigua, Barbuda's larger sister island, I have visited that living postcard a handful of times. But last year the frigates almost completely disappeared after Hurricane Irma ravaged their nesting area in the lagoon.
While some still debate the real danger of climate change, we in the Caribbean have felt the wrath of storms increasing in frequency and size. In 2017, one of the warmest years on record, the hurricane season was a reckoning like none we had ever experienced. There was no letup. In the wake of hurricanes Irma and Maria, very few in the Caribbean were left untouched. Dominica, St. Martin, St. Bart's, Turks and Caicos, the British Virgin Islands, the U.S. Virgin Islands, Puerto Rico, Haiti, the Dominican Republic, Anguilla and Cuba — the devastation was nearly complete.
This was a sign of the times. Last year's hurricane season was a reminder that when you come from a small island, climate change and its effects are not an abstract concept or a slow-moving problem for another generation. Our interest in action on climate change now is literally life or death. As our Prime Minister Gaston Browne said at the United Nations after the storm, we are "the least of the polluters, but the largest of the casualties."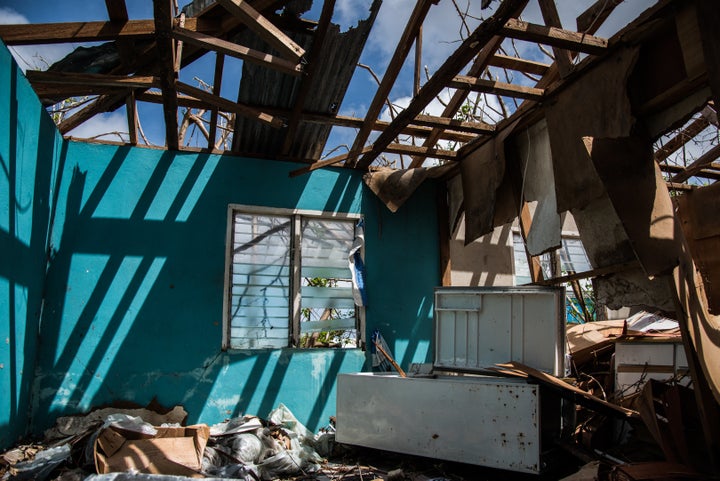 Sept. 6, 2017, the night Barbuda changed, the world went dark. We in Antigua lost contact with our sister island completely. No word as the storm raged on through the night; as day broke, still no word. When we finally regained contact the next afternoon, we found out the island was devastated. The images that emerged were of rubble where homes once stood; any structures still standing had their roofs ripped off, their walls knocked down. The people captured on video wore the stress of the night's trauma plain on their faces and in their voices. There was one confirmed death, a 2-year-old.
In the hubbub, the frigates were the last thing on my mind. And yet when months later, they began their return, a smile lit up my face, filled me with a sense of hope that the people of Barbuda, too, would sooner or later find their way home.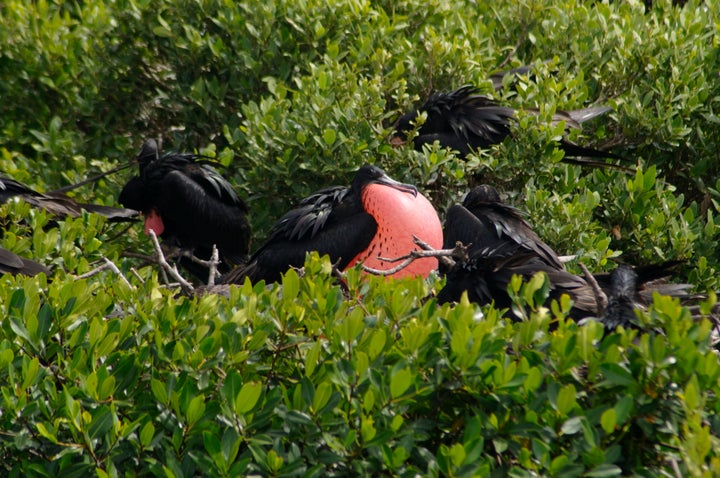 In regular times, Antigua and Barbuda is a family but a dysfunctional one, with trust issues. That trust sank to an all-time low. Barbuda's unique tradition of communal land ownership had long been a particular sticking point — that no outright individual land purchase was allowed, that Barbudans had to approve use of their land for development. The economic ambitions and maneuvers of the central government clashed with the traditions of a people whose historic ties to the land were undeniable (and yet often tested), and Barbudans feared that the government's offer of outright sale of the land at a token rate to the people was a strategic move.
It has been disappointing observing all this play out, particularly some of the language lobbed at Barbudans (described as ungrateful squatters and, infamously by Browne, "deracinated imbeciles"). In many ways, it has been the worst of us. I believe that Barbudans, still facing an uncertain future, have been traumatized by Irma and some of what has followed. I wish that we could be Antigua and Barbuda, prioritizing Barbudans' interests, working together to figure out a future that adjusts for our various shared vulnerabilities — economic, political and climate related.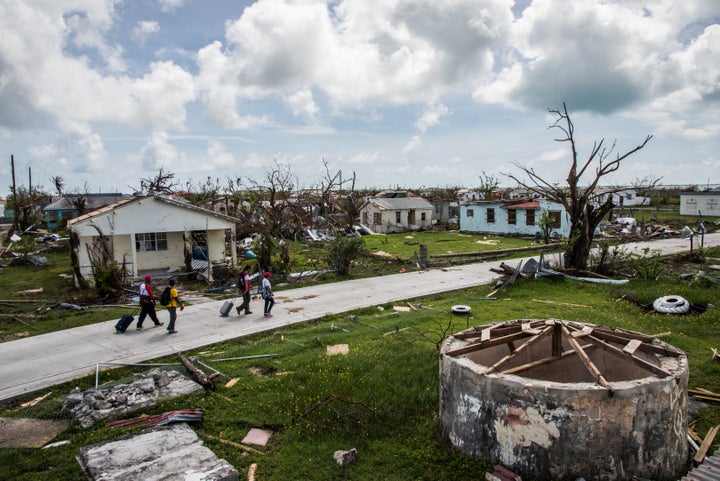 Educational infrastructure is, of course, just one part of the rebuilding of a society. Others include residential development (hurricane-resistant, of course), rehabilitation of infrastructure (electricity, water and telecommunications), and restoring institutions (from ports of entry to health to law enforcement and industry). A headline-grabbing standoff this summer between the police and the people over access to the island's fisheries complex — which needed to be prepped for the season but was still occupied by the police, whose roof had been ripped off during Irma — underscored some of the challenges.
Local, regional and international aid agencies, institutions and governments (for example, the Caribbean Development Bank, European Union and United Nations Development Program) are working independently or with the Antigua and Barbuda government (primarily through the National Office of Disaster Services), even as we in the region find ourselves in the midst of another hurricane season. The work of rehabbing the frigates' habitat is being overseen by the Waitt Institute, a nonprofit partnering with the Barbuda Council on marine conservation.
"Maybe the island cannot be exactly as it was, but I hope that to any Barbudan who has returned or wants to return, it will once again be home."
What is needed? So much still. In situations like this, money is always required, from financial contributions for recovery and rebuilding to economic stimulus, as both islands depend on tourism and are open for business. Climate change advocacy to reduce small islands' vulnerability is especially vital.
But as we are vulnerable, so too are we resilient.
This summer, Barbudans from the U.S., Canada, the U.K. and Antigua-Barbuda had a reunion event called the Barbuda Rising Homecoming. I spoke with Beverly George, one of the organizers and a lawyer from Antigua-Barbuda who lives in the U.S. and has visited Barbuda three times since the storm. After initially shipping relief supplies, she said, they realized they needed to do more, and the reunion — which included bonding activities such as a history day with presentations on Barbuda's culture — was held, reaffirming their sense of community. She noted that a number of key institutions are still not up and running, and she touched on what she described as the "powerful forces" working to break the island. But she also said, "I see gradual improvement. Shops are reopening. Most of the children have returned, bringing life and laughter back to the village. Boats are back on the seas, and the fisherfolk are trying to revive their lobster and fishing season. Homes are being rebuilt, although there are still some families living in tent pods. Barbudans are cleaning and rebuilding their lives."
The trust issues haven't settled. There is still back and forth in the press, in the Parliament, in the courts. But when George spoke, there was hope in her voice that with the people returning home, the island was beginning to sound and look like itself again. I recognized in her the lift I felt when I first saw the news of the returning frigates. Maybe the island cannot be exactly as it was, but I hope that to any Barbudan who has returned or wants to return, it will once again be home.
Popular in the Community