She then dropped the mic (or maybe fumbled it) by ending her rant with #HimToo.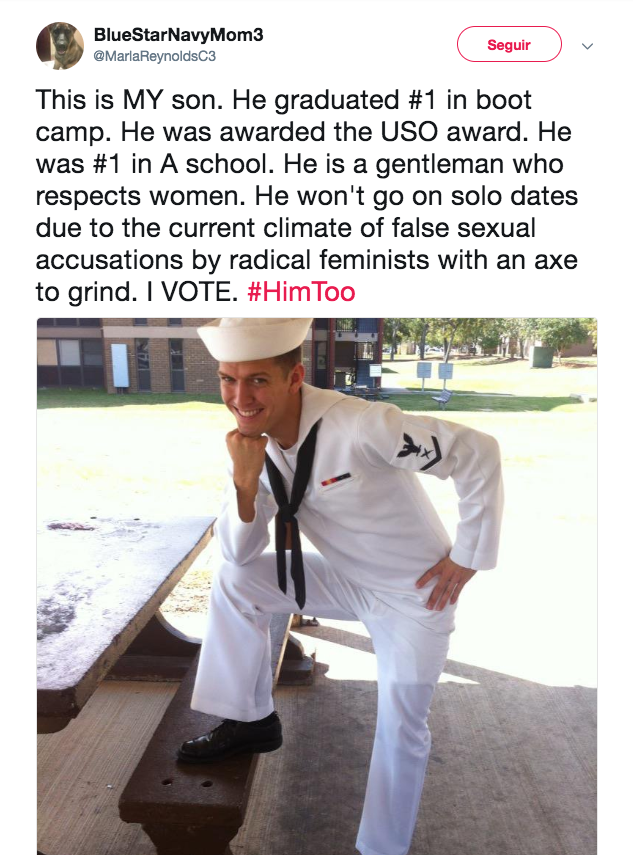 First of all, don't ever do this, moms. There isn't a single grown-ass man on this planet who wants his mother to don a cape for him on social media listing all the reasons he's afraid of dating. I guarantee it will have the opposite of your intended effect.
Thankfully, the son in question, Pieter Hanson, has a great sense of humor and is rolling with his mom's ill-advised rant, and it seems like some people are enjoying a good laugh from it.
But let's get real about this. #HimToo is the #AllLivesMatter movement of sexual assault. We roll our eyes at the hashtag and wonder how someone could fail so spectacularly at understanding such a basic concept. The narrative that the president and others in his administration are peddling these days ― men suddenly scared of angry women hell-bent on ruining their lives ― is laughable.
I already covered this in my latest advice column, but it can't be said enough: False reports of sexual assault are minuscule in number compared to actual sexual assaults. To parents who find themselves shook over the idea of their sons being wrongfully accused: Your fears would be better directed toward them being sexually assaulted themselves. The odds are certainly greater.
And why are people suddenly finding the need to rush to men's defense? No matter what side of the political fence you happen to find yourself on, it's hardly debatable that men (white men, specifically) are running the show around here. They certainly aren't the victims of radical feminists. Or angry liberals. Or the boogeyman. Or anyone else, for that matter.
Don't believe me? There are two dudes here in the U.S. who, between the two of them, faced more than 20 combined sexual misconduct allegations just prior to securing their current jobs. One is the president of the United States, the other holds the most powerful vote on the nation's highest court. So tell me again how sexual assault allegations ruin men's lives?
The same way shouting "All Lives Matter!" discounts the fact that black people are more often victims of police violence, we ignore the fact that women are far and away more likely to be sexually assaulted than men when we say "Him Too!" (Yes, I'm completely aware that boys and men are also sexually assaulted; however, that's not what the hashtag is addressing in this case.)
"These women are the ones who are affected the most by sexual assault allegations because THEY were the ones sexually assaulted."
Since the beginning of time, women's lives have been irreparably damaged not just by enduring such a despicable crime, but by feeling as if they've been assaulted all over again when they decide to make their allegations public.
It's the underage girl who confides in her parents that a family member molested her, only to be mocked by them.
It's the college student who was raped by the star quarterback, only to have the police protect him instead of her because they don't want to ruin the athlete's future.
It's Dr. Christine Blasey Ford, who, after risking everything these past several weeks to come forward with allegations against Brett Kavanaugh, is still unable to go home due to the barrage of death threats against her and her family.
These women are the ones who are affected the most by sexual assault allegations because they were the ones sexually assaulted. Many Americans have speculated on social media these past several days that fewer sexual assault survivors will come forward with their stories now, given the way Dr. Ford was treated. Hell, can you blame them?
For me, the most disturbing part of this whole #HimToo thing is watching women ― and yes, that means mothers ― kick dirt on other women who are brave enough to come forward with sexual assault allegations. A female friend of mine once told me she confided in her mom the day after she was raped in high school.
Her mom's response? "Please don't say anything. I don't want you to ruin that boy's life."
Needless to say, she is not on speaking terms with her mother today.
As a man, it shouldn't even be possible for me to be more pissed off than certain women when it comes to how Dr. Ford, our daughters and all women in general are being treated. Yet here I am.
This #HimToo nonsense needs to stop before it's given enough oxygen to fully ramp up. Believing women must become the default response to sexual assault allegations ― because as society has shown us, they have a hell of a lot to lose by lying about it.
Doyin is a father, husband and author dedicated to creating and celebrating a world of great fathers. Follow him on Twitter or Facebook at @daddydoinwork or ask him a question for a future "Ask A Dad" column at askdoyin@huffpost.com.
Support HuffPost
The Stakes Have Never Been Higher
Popular in the Community