I woke up anxious the morning after Donald Trump's inauguration a year ago ― the same weekend as the 44th anniversary of Roe v. Wade. For six weeks following Trump's election, I observed the growing excitement about a march on Washington. A march where women would come together to protest not only Trump's election but systemic misogyny and sexism, as well.
Anticipation of the march was a bright spot in an otherwise dismal environment as we contemplated our lives ― and our country ― under a Trump administration with Mike Pence as vice president. On the freezing cold morning of the Women's March, the stakes felt inexplicably high, and it was hard to know how the day would play out.  
The number of women and allies who showed up that day was inspiring. It was the largest single-day public demonstration in our country's history, and it did not stop at our borders. People marched in multiple countries in addition to all 50 states. I expected large turnouts in big cities like New York, Chicago and Los Angeles, but when images started pouring in from the marches in small towns, I knew something profound had been unleashed. Singer-songwriter Carole King helped lead a march in Stanley, Idaho: population 63. From Carbondale, Colorado, to Longville, Minnesota, to Greenville, South Carolina, the energy was palpable, and the message was clear. The resistance was alive, thanks to women ― and allies ― all over the world.
And thrust into a lion's den, we were.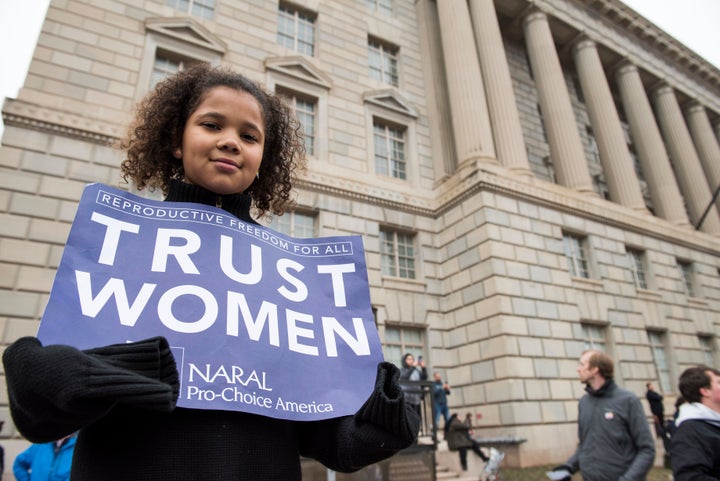 From my vantage point as president of NARAL Pro-Choice America, it's clear 2017 was the year the horrors we'd watched creep across the country through red states and small towns found a welcome home in our federal politics. Newly empowered anti-abortion organizations and their representatives in Congress advanced multiple abortion bans. President Trump put an anti-abortion justice on the Supreme Court and stacked our nation's lower courts with right-wing ideologues who will continue to reshape the country in Trump's image for generations to come. And leaders of a dangerous and out-of-step anti-abortion movement took up residency in multiple federal agencies, working quietly to undo some of our most reliable protections. For years, women have had to battle for their rights; each day of 2017 felt like war.
But on this historic 45th anniversary of Roe v. Wade, we see widespread proof our resistance last year, anchored in the Women's March, created a new feminist movement, one that NARAL ― and our more than 1.2 million members ― were made for. Through grit, determination and optimism in the face of overwhelming threats, pro-choice women actually made 2017 a year of progress on abortion rights. We didn't just resist, we persisted, and we actually advanced and expanded reproductive freedom across the country.
Nevada passed several pro-choice measures, including laws requiring health insurance plans to cover a 12-month supply of contraception at once ― all in a state with a Republican governor.
Oregon enacted truly revolutionary legislation that enshrines women's constitutionally protected right to abortion through Roe v. Wade into state law. The state also passed legislation requiring insurance companies to cover FDA-approved contraceptives and abortion services without cost sharing, greatly expanding access to affordable care.
The 2018 midterm elections will be the most important day of political reckoning in my lifetime.
Like Nevada, Washington state also enacted a law requiring health insurance plans to cover a 12-month supply of contraception at once, giving women more control over their bodies and lives without worrying about how to access birth control on a regular basis.
Delaware passed landmark legislation codifying a woman's right to access abortion and repealed the state's unconstitutional ban.
NARAL's Missouri chapter helped pass a groundbreaking non-discrimination law in St. Louis that would prevent employers and landlords from punishing women because of their reproductive choices. This was one of our most significant victories of the year ― and proof we can organize effectively in a red state.
Looking back on 2017, I am heartbroken for those most impacted by Trump's hateful agenda and enraged at the way he drags our country's reputation through the mud. 
It brings me hope when pro-choice-elected officials, at all levels of government, fight diligently, not just to resist the bad policies coming from the anti-abortion movement but to pass and strengthen good policies that protect and expand reproductive freedom. It brings me hope when advocates unite in their activism across generations, religion and race. And it brings me hope when this country-wide movement, from Oregon to Maine, results in multiple pieces of landmark legislation that protect the right to an abortion and birth control access in anticipation of attacks from Trump and his fellow anti-abortion colleagues.
The fight for women's rights isn't just about access to reproductive health care. It's about a fundamental fight for our freedom. Journalist Jill Filipovic nailed it when she wrote, "Opposition to abortion appears to be not so much about fetal life, as about controlling women. It's about discomfort with the female power and progress facilitated by abortion rights."
The 2018 midterm elections will be the most important day of political reckoning in my lifetime. After a series of candidates won in 2017 by running on their values and not shying away from abortion rights, women must remain steadfast in our support for candidates who trust us and hold out-of-touch, anti-abortion politicians accountable when they fall short. And as anti-abortion legislators and organizations continue to feel emboldened in their efforts to eliminate access to abortion and contraception, women ― and the legislators who stand with us ― must continue to push pro-active, pro-choice policy in state houses across the country.
We face the most righteous struggle of our time. Women's freedoms are under unprecedented attack, but they are also the igniting spark of unity, momentum and change. Last year, our challenge was to turn the energy of the Women's March into tangible action. Our job in 2018 is to turn our success into accountability for all those who challenge our rights and freedoms.
Ilyse Hogue is president of NARAL Pro-Choice America. She serves on the board of Bend the Arc: A Jewish Partnership for Justice and on the editorial board for The Nation.
This piece is part of HuffPost's brand-new Opinion section. For more information on how to pitch us an idea, go here.
REAL LIFE. REAL NEWS. REAL VOICES.
Help us tell more of the stories that matter from voices that too often remain unheard.