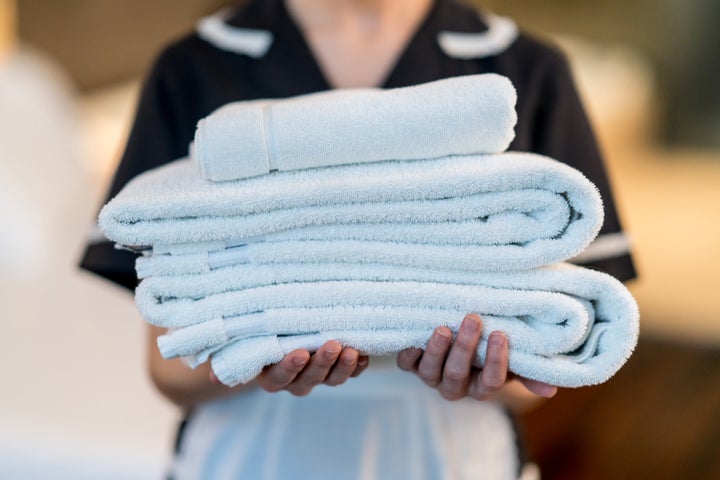 Two-fifths of these immigrant women workers fill low-wage jobs earning $20,000 or less per year. The largest numbers are maids and housekeepers, nursing, psychiatric, and home health aides, cashiers, registered nurses and janitors and building cleaners. Immigrant women comprise more than half of all workers in the grading and sorting of agricultural products, 42 percent of maids and housekeepers, 39.5 percent of textile and garment pressers and 39.5 percent of sewing machine operators. Limited English Proficient women are much more likely than their English-proficient counterparts to work in service occupations. People depend on these jobs in order to live their daily lives. However, because these jobs tend to be poorly paid, women workers are often overlooked in conversations around workplace safety and sexual harassment.
As the Me Too movement has highlighted, sexual harassment and assault is prevalent in workplaces across the United States. Some industries, such as domestic work, agricultural, hotel, janitorial or food service work, where workers are disproportionately made up of women of color and immigrants, have working conditions ripe for sexual harassment and assault to flourish. These include workplaces where there are not centralized management structures and human resources departments, or where contract workers are frequently used. Domestic work frequently takes place behind the closed doors of private residences, where women are isolated and out of view of the public, or without co-workers. Farmworkers are similarly vulnerable and isolated, working far-off in remote fields and packing houses away from the general population.
"In a changing economy, the percentage of workers being hired to work as independent contractors is only expected to grow."
Recognizing that immigrant victims often fear seeking help from the authorities due to fear of deportation, Congress created the "U" crime victim visa in 2000, for victims of certain serious crimes, including rape, false imprisonment, fraud in foreign labor contracting, trafficking and stalking, among other crimes. However, the annual 10,000 U visa allocations have been reached every year since 2010, resulting in over 201,000 pending U visa applications in the pipeline. Both the backlog of pending applications and the shortage of immigration adjudicators have resulted in over four-year delays in processing times for applications to determine the initial eligibility for a U visa, meaning that victims who might be eligible for such protections are left without any reassurance that they won't be detained or deported while their applications are pending.
In a time when immigrant victims are more fearful than ever to reach out for assistance, it is critical that the number of U visas are increased, as well as resources prioritized for the timely processing of crime-victim visas, so that victims' fears that they will be deported if they report their harassers are assuaged.
In addition to addressing the gaps in immigration laws protecting victims, other federal laws need to be extended to protect vulnerable workers. For example, Title VII of the Civil Rights Act of 1964, a federal law that prohibits employers from discriminating against employees on the basis of sex, race, color, national origin and religion, needs to be extended to apply to all employers, large and small, as well as apply to workplaces that use contract workers. Title VII of the Civil Rights Act is limited to employers who have more than 15 employees for workers to be protected. The effect of this provision is that a worker who experiences sexual harassment at a smaller business may not be able to take action against her employer. Domestic workers, like nannies, who usually work for one family, or home care workers working for small agencies, are not protected by Title VII. Neither are farmworkers who work on small farms that employ fewer than 15 people, nor the thousands of workers who work for small businesses with fewer than 15 employees.
Furthermore, not all workers are protected by Title VII if they don't fit under the law's definition of "employee." Title VII applies to the employer/employee relationship but not to the business/independent contractor relationship. As workplaces are changing, more American workers are being hired as independent contractors rather than employees on staff. In fact, some businesses specifically try to avoid protections for employees like Title VII, by categorizing workers as independent contractors. Many companies reliant on immigrant workers often use non-employee contracts with workers, putting them outside of the workplace protections and tax requirements that apply only to employees and employers.
In a changing economy, the percentage of workers being hired to work as independent contractors is only expected to grow. This means that an increasing portion of the workforce will not be covered under Title VII and other federal workplace laws that protect workers from sexual harassment and discrimination. To remedy this, we need policies that ensure that all workers, whether they are employees or contractors, have access to safety and justice in the workplace.
Title VII and its protections against discrimination should be extended to cover all employers, including those with only one single employee. In addition, basic work protections against harassment and sexual assault should extend to all individual workers no matter where they work or the type of work they do. Workers need assurances that if they're going to reach out with a complaint, that it will be confidential and anonymous and that there won't be retaliation, including referrals for immigration enforcement. In an era when legal protections for workers and for immigrants are being systematically eroded, it is critical that all workers in all workplaces be protected from sexual harassment and assault, discrimination and retaliation.
Grace Huang is the Policy Director at the Asian Pacific Institute on Gender-Based Violence, a national resource center on domestic violence, sexual violence human trafficking, and other forms of gender-based violence in Asian and Pacific Islander communities.
Popular in the Community