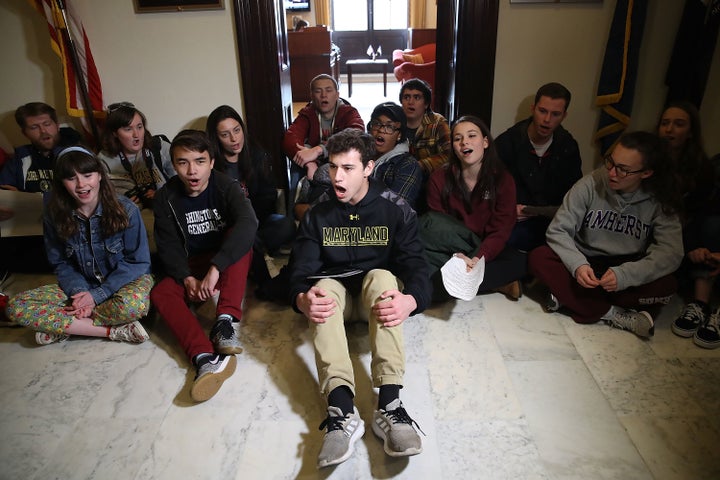 Wednesday is walkout day. The school protest marches planned are the first in a series of student-led actions, part of a massive student-planned response to the mass shooting at Florida's Marjory Stoneman Douglas High School. Seventeen people, 14 of them students, were killed in that massacre last month. Over half of the 97 mass public shootings to occur in the United States over the past 30 years have happened in schools or workplaces. The students of America have had enough.
The walkouts present an opportunity for students to express their frustration in a way that inspires actual change. At a time when civic participation is soured by public distrust in the political process, the walkouts present a chance for students to model responsible citizenship. Teachers are best suited to talk to their students about the political process in ways they can understand and empower them to engage responsibly.
Teachers already wear many hats ― educators, counselors, custodians, surrogate parents ― and starting potentially controversial conversations might create even more work. It's easy to understand why some teachers, especially public school teachers, might balk at urging their students to skip school to protest, let alone joining the protest themselves. Considering a teacher was arrested at a January school board meeting for disagreeing with the board, it is not surprising that many teachers choose to keep their political views to themselves, even if they agree with their students' stance on gun control.
But no matter their views on the Second Amendment, teachers must use this opportunity to engage with their students on the First. Nothing drives home a lesson on the Constitution like putting it to use.
In addition to giving students a platform to use their constitutionally protected voices, the national school walkout offers a wealth of lessons on freedom of speech, civic responsibility, and the history and effectiveness of protest movements in the U.S. It is incumbent on every teacher in America to find ways to talk with their students about their rights and responsibilities in protest.
"No matter their views on the Second Amendment, teachers must use this opportunity to engage with their students on the First."
There are many ways for teachers to meet this challenge. If your school welcomes the idea of class discussion ― or better still, school assembly ― on the topic of gun violence, take a lead in organizing one. If your district avoids political topics, consider hosting the discussion after school so as not to disrupt class schedules.
Consider teaming up with fellow teachers to coordinate your messaging and plans. There's strength in solidarity, and you can present a united front with fellow teachers and your students by wearing orange in support of the movement. Whatever your views on the content of the protests, this has an unparalleled potential for an experiential First Amendment lesson.
Assure your students that their personal views on gun control cannot be held against them, no matter where they stand in the debate, and that they all are entitled to join the conversation. If you need backup, print out a copy of the National Coalition Against Censorship's comic-illustrated guide for student protesters. Pop some corn and screen the American Civil Liberties Union's recent "Know Your Rights" video.
Make sure your students are aware of your school's absence policy and how it might affect them. Many university administrators have given assurances that suspensions will not be held against students pursuing admission. Still, you can show your students you support their right to free expression by offering to help them explain protest-related disciplinary actions on their applications.
"Nothing drives home a lesson on the Constitution like putting it to use."
Of course, for some students and some teachers, a walkout simply isn't a viable option. There's still plenty teachers can do to support their students in taking a stand for the issues they care about. If safety is an issue, teachers can ask students to brainstorm symbolic ways of protesting and let them vote on the top options. Whether students walk outside of their school or walk out into a hallway, the message behind their demonstration will be clear. They can also wear orange to show solidarity with the movement. The most important thing is that any action be student-led, inclusive, voluntary and peaceful.
Teachers can amplify their students' voices with pre-addressed letters to their elected officials and give them the chance to petition their demands either during class or at home.
Participation in ― or abstention from, or counterprotest of ― the national student walkout is protected speech. Wednesday's protests will present a momentous opportunity for students to exercise their First Amendment rights and take part in an important civic discourse. If the purpose of education is to prepare an informed and engaged citizenry, there may be no greater assignment this year.
Abena Hutchful is a human rights lawyer who coordinates the Youth Free Expression Program for the National Coalition Against Censorship.
Popular in the Community