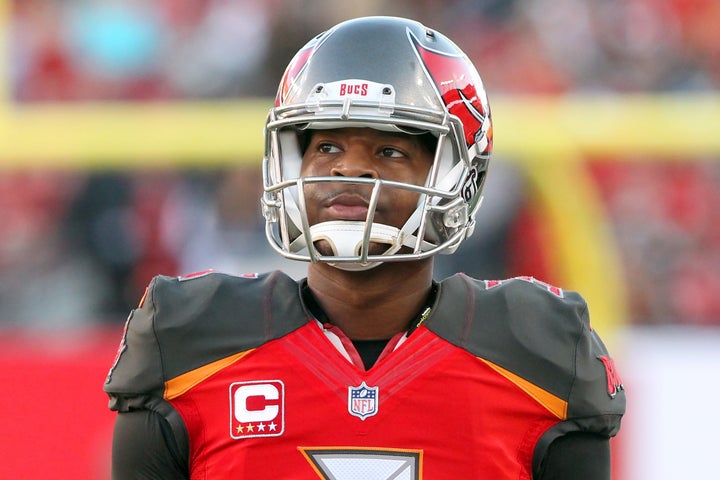 The NFL's three-game suspension of Tampa Bay Buccaneer quarterback Jameis Winston is significantly weaker than punishments meted out to people in other professions who've been accused of multiple sexual assaults. This is despite today's Me Too climate of intolerance for assault and harassment.
In March 2016, Kate (her last name is withheld at her request) reported she was driving an Uber with Winston in the front seat as the sole passenger when the NFL player grabbed her crotch as they waited for his order at a drive-through restaurant. After the ride, Kate filed a complaint with Uber, stating in part, "He is NOT safe for other drivers." In November 2017, she told her story to BuzzFeed, saying she wanted to tell the truth "about a powerful man who felt entitled to my body when all I wanted to do was my job," and the NFL began an investigation.
But this is not the first time Winston has been accused of sexual assault. The first woman to have identified Winston as her attacker, Erica Kinsman, broke her silence in our film "The Hunting Ground," and the stories of the many young survivors who spoke provided the model for our current Me Too movement. Kinsman and Winston were students at Florida State University ― where Winston led the school to a national championship ― at the time Erica identified him and reported the athlete to the police.
Why, in the Me Too era ― when perpetrators in other professions are being held accountable ― do pro athletes continue to get a pass?
In our film, Erica describes how she doesn't remember leaving a nightclub with Winston but later woke up as he was raping her in his apartment. When she cried out for him to stop, Erica said, Winston's friend came in and protested, and that's when Winston carried her into his bathroom, locked the door, pinned her down on the cold tile floor and continued to rape her.
Kate is now the third woman who has named Winston as a sexual assailant ― that we know about. Kate said she came forward in part after watching "The Hunting Ground," as reported by ESPN.
The Me Too movement is finally edging its way into the world of sports, but the NFL clearly isn't paying attention. Its seven-month investigation of Winston after the Uber incident resulted in only a three-game suspension, despite the fact that the NFL's own personal conduct policy says violations including assault, battery, domestic violence and sexual assault will earn the offender "a baseline suspension without pay of six games with consideration given to any aggravating or mitigating factors."
Why, in the Me Too era ― when perpetrators in other professions are being held accountable ― do pro athletes continue to get a pass?
Winston now has three strikes against him, and it's time for him to be out.
The authors' latest film, "The Bleeding Edge," is a Netflix original slated for release on July 27.
Calling all HuffPost superfans!
Sign up for membership to become a founding member and help shape HuffPost's next chapter