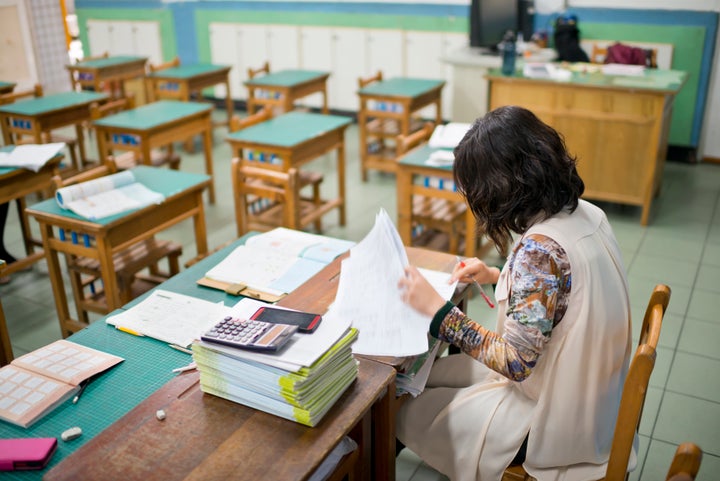 The subway ad glares at me from above during my morning commute in New York City: a mother kissing a baby boy in a sling, the father standing next to her.
"All parents deserve time to bond with a new child," it reads. Then, in smaller letters: "Starting January 2018, New York State's Paid Family Leave Policy makes sure you can get it."
But each morning I see the ad, I think: Not me. Not us. Because I'm a New York public school teacher. 
If you're curious about the NYC Department of Education's current maternity leave policy, I'll fill you in: We have none. Instead, we have to use our banked sick days if we want to continue receiving pay during leave ― the norm for most maternity leave is six weeks, or eight if a woman has a cesarean section. Many teachers do not have enough available days to cover that time, especially if it's not a teacher's first childbirth. So we end up borrowing future sick days from the Department of Education to keep an income, which sends our sick bank into negative numbers. Once we've exhausted those borrowed days, we get nothing.
The strain is enough to make many new mothers consider leaving the teaching profession altogether.
The maternity leave policies for teachers in Denver, Seattle and Boston resemble New York City's: unpaid unless you use sick time.
The irony is glaring: We dedicate our lives to taking care of other people's children, but when it's time to have our own, we have to fend for ourselves. 
Just ask Meredith Formica, a teacher whose son was born with a congenital heart defect. She had to go off payroll in order to care for him until he was old enough for surgery; she lost almost $20,000 in pay as a result.
Or ask Andrea Cardinali, who was scheduled to return to work before her premature twins' due date had even passed. She extended her leave for four weeks without pay. 
Rachel Sookram worked through the flu to hoard her sick days so she could afford to stay home for six weeks after her daughter was born.
Saphira Hendrix threw up into the garbage can in front of the school building each morning before teaching high school mathematics for the same reason — she had to save up her sick days for her daughter's birth.
After my own daughters were born, I taught while dealing with two infected wisdom teeth and strep throat. I had run out of sick days and couldn't take unpaid leave. I just didn't have the money to spare.  
Having a baby is not a sickness, and borrowed sick time is not the same as maternity leave ― it's a loan that many women are never able to pay back. Even after paying the Department of Education hundreds of dollars to try to buy back days, I am still in debt 11 sick days ― and my youngest daughter has just turned 3 years old.
In May 2017, I began a petition on change.org calling for a change to this antiquated policy (or lack thereof). Within months, it had garnered more than 80,000 signatures, and the stories began pouring in.
Having a baby is not a sickness, and borrowed sick time is not the same as maternity leave ― it's a loan that many women are never able to pay back.
My personal struggle paled in comparison with the hardships others had faced. Women wrote to me about their choice to have only one child because they didn't have enough sick days saved up to afford going off payroll for a second child. One woman had been working a second job for two years in order to save money, putting off her pregnancy out of financial fear. Several women said they were too scared altogether to start a family, because they knew it would send them into a financial free fall. 
I spoke with women who missed rent payments and feared eviction. With women who had to seek help from local charities to pay their mortgage. With women who went on WIC, SNAP and other government programs to help them through. One adoptive mother wrote that she only got paid for three days after welcoming a new infant into her home, even though she had banked 30, because the current policy doesn't recognize an adoption at all.
It's easy to forget for a moment that we are talking about New York City, supposedly one of the most progressive places in the world.
Like the subway ad states, in January 2018, the New York State Paid Family Leave law took effect. Workers under this law are eligible for eight weeks of paid time off ― at 50 percent of their average weekly wage ― to take care of a newborn or ill family member. For unionized employees such as teachers to receive this benefit, however, it has to be negotiated through collective bargaining.
Our union leader, Michael Mulgrew, has held countless bargaining sessions with the city of New York, but as of now, nothing has been done. Mulgrew, who refuses to agree to concessions, told the New York Daily News that Mayor Bill de Blasio is trying to "manipulate a process, to try to create leverage for it, to try to get something else out of those workers."
This, from a supposedly progressive mayor who has been cited multiple times as a supporter and advocate of paid parental leave, is absurd. Overworked and underpaid teachers shouldn't have to shoulder the burden in order to attain this basic human right.
"We're currently in discussion with the [United Federation of Teachers] over this very topic and hope to come to an agreement soon," a de Blasio spokeswoman responded in the same article.
As of 2016, the U.S. was the only developed country in the world that didn't have a comprehensive maternity policy.
This issue has become one of gender inequality. Male teachers often retire with extra sick days that they can not only cash in but can also use to calculate higher pension rates. When women retire, if we previously decided to have and raise children (and stay with them as newborns), we have many fewer sick days left over ― and a lower retirement payout and pension as a result.
In the era of Me Too and its emphasis on feminism, it surprises me this issue is not getting more attention.
As of 2016, the U.S. was the only developed country in the world that didn't have a comprehensive maternity policy, according to The Washington Post. And although some major U.S. cities are doing far better than New York in terms of what they offer their teachers ― Chicago, for example, allows birth mothers to take 90 total days at full or partial pay ― this problem is not specific to just the Big Apple. The maternity leave policies for teachers in Denver, Seattle and Boston resemble New York City's: unpaid unless you use sick time, under specific and often complicated circumstances. Houston teachers are actually forced to use their sick days when they take leave; they aren't even given the option to take unpaid leave and save their sick days for an actual illness.
In my classroom, there's a picture just like the one in the subway ad sitting in a frame on my bookshelf: me, my 1-month-old in a sling, my husband standing nearby. It's been three years, and I am still trying to rebuild my savings to recover from the time I stayed home to care for and nurse each of my girls.
I know I'll continue to work through illnesses and emergencies in an attempt to climb out of a negative sick day balance. And when I look at that picture, or into either of my daughters' eyes, I never doubt the choice was worth it. But I also know I was never given a fair choice to begin with. It's a choice I hope future mothers and teachers won't have to make. 
The 84,614 people who signed the petition successfully got our union's attention ― and gave it the necessary ammunition to fight ― but the stagnancy of negotiations shows that the buck stops at de Blasio. As a community, and as a nation that expects more for our working mothers, we will continue to reach out to the mayor and let him know we are watching and waiting for him to do the right thing.
Emily James is a teacher and writer in NYC.
Calling all HuffPost superfans!
Sign up for membership to become a founding member and help shape HuffPost's next chapter