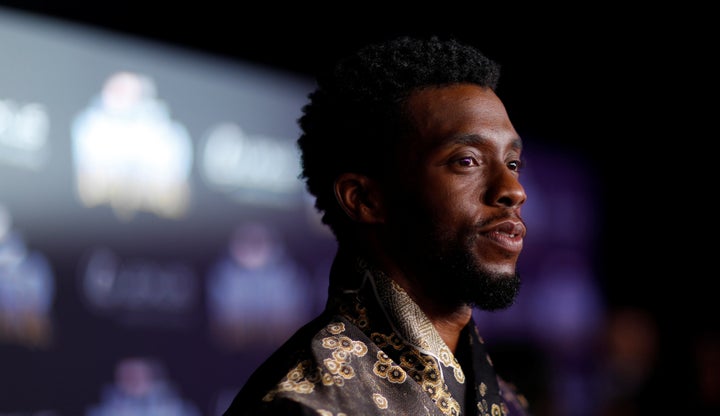 We all know the story of black pain and trauma. It is told to us over and over again, from K-12 to Hollywood. We've been the enslaved in a still constant fight to overcome white supremacy. We've been the strange fruits hanging from trees and the viral videos of countless shootings of unarmed citizens.
As important as this truth about the black experience is, it is not us in totality. We were also kings and queens and royalty in Africa. We invented products and created art that made America what it is today. Visibility and representation must mean showing the losses and the wins, the bad and the good, and, most importantly, blackness existing in all spaces, real and fantasy.
This is why "Black Panther" is "so important, and why I began the Black Panther Challenge to crowdfund money for young students to go to the movie, ensuring that our children get to see themselves as heroes, too.
The world of "Black Panther" offers a rare opportunity for black children to see characters in a fantasy world who look like them, in a story that is not only black but depicts our lineage out of Africa. The film takes place in the fictional nation of Wakanda, an isolationist country that escaped the horrors and destruction of European colonialism to become the most technologically advanced place on Earth. The nation is ruled by a kind, emotional, multilayered black man, protected by a royal guard of brilliantly skilled black women. The very concept of Wakanda is steeped in Afrofuturism, and thus could not only spark conversations about what African nations might have been without white colonization, but what they can still become.
Many of us yearned for the chance to be Batman or Superman, but only if he was black. "Black Panther" gives our children the chance to dream those dreams. It combats comments like the president's "shithole" countries, a sentiment shared by too many other people in America. Director Ryan Coogler, who also brought us the powerful "Fruitvale Station" and the triumphant "Creed," tells a story painted in blackness. It is black folks telling a black narrative through a black lens.
Whether Marvel really thought about moving the needle on representation, I can't say. What I can say is that we must take this moment and show the world why we deserve more like it.
"One of the things we know about media is that the more we consume it, the more the images that are common in it start to normalize our view of the world and what we expect to see and the way we think about other people," Darnell Hunt, a professor of sociology at UCLA, told Deseret News last year. "This is one of the reasons why stereotypes are so damaging, because they can limit the ability to literally see the humanity in other people."
I was raised in a single-parent home where positive black representation was a focal point. Starting when I was young, my mother and grandmother worked diligently to contest the stereotypes and false narratives about blackness. They were thoughtful and deliberate in not only what media I consumed, but how I consumed it. Whether that meant listening to Marvin Gaye or seeing Heather Headley play Aida on Broadway, they made sure I understood that the black experience is a spectrum. That exposure to different forms of representation helped shape my future ― and it can do so for other children.
Now, thanks to those supporting the #BlackPantherChallenge, thousands of children of all colors will be able to see the film. We have raised over $250,000 through more than 200 campaigns in multiple countries, becoming the largest overall GoFundMe campaign in the site's history for an entertainment event or experience.
Many would say this is a success, but some see it differently. They have taken issue with the fact that the money, while spent predominantly for black children, is still serving white capitalistic gain. Many have lamented the lack of traction around other campaigns meant to help people in dire need. I hear these concerns, and they weigh on me as well.
"Black children are so often instilled with the tools to survive, but when do they have the chance to live? When do we let them laugh and smile?"
We know the dangers of black visibility and representation becoming tokenized, symbols to assuage white guilt after years of wrongdoing while creating little change. We saw how then-President Barack Obama being the symbol of progress became more important than the actual systemic reforms needed to create it. I see that some of the same media outlets that have covered my "Black Panther" campaign ignored Colin Kaepernick's successful "10 for 10" initiative to fund organizations working in oppressed communities. I've heard about Kortney Ziegler's efforts to raise money and gain media traction for the app Appolition, which helps provide bail money for people who are incarcerated because they can't pay. Things like this weigh on me as the #BlackPantherChallenge continues to grow.
But we must back efforts to tear down systems of oppression and support initiatives that bring black joy. Black children are so often instilled with the tools to survive, but when do they have the chance to live? When do we let them laugh and smile? It is important that we work on all our needs, understanding that support of one cause for good doesn't diminish the greatness of other causes aimed at systemic change.
The "Black Panther" release and this challenge will come and go. Long after that, I hope the experience will continue to spark conversations and debates about representation, not only for black children, but for all children of color, women and the LGBTQ community. I plan on doing more to help these underrepresented groups amplify their voices.
For those of you who have either praised or criticized the "Black Panther" campaign, I have a challenge for you. I challenge you to actively support what you believe in, and if no one has created a way for you to do so, then create something. I challenge you to do something bigger than yourself. I challenge you to make a difference. We all deserve to smile.
CORRECTION: A previous version of this column mistakenly indicated Kortney Ziegler struggled to raise money and attention for the Appolition app.
Frederick Joseph is a marketing professional, philanthropist and media representation advocate. He is founder of the creative agency We Have Stories and creator of the #BlackPantherChallenge. He can be found on Twitter at @FredTJoseph.