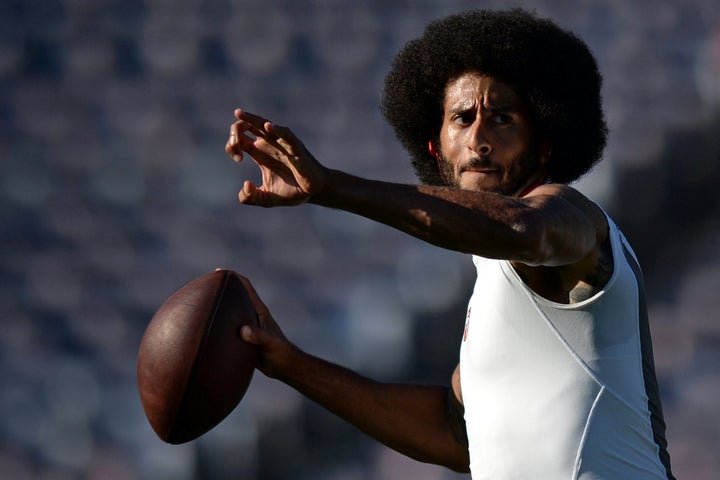 When former San Francisco 49ers' quarterback Colin Kaepernick two years ago began the peaceful protests at NFL games against racism and police brutality, outrage mounted among many football fans. Some called for him and the kneeling players who followed his lead to be dismissed from the NFL for disrespecting the flag and the game; others excoriated them with harsh, hate-filled rhetoric. Last September, President Donald Trump garnered headlines when he urged NFL owners to fire any "son of a bitch" who participated in the protests.
In May 2018, the NFL officially responded to the furor with a new policy (since placed on hold) that required all players on the field to stand during the national anthem or face fines or other consequences. As for Kaepernick, since opting for free agency following the 2016 season he has remained a man without a team ― no NFL contract has been offered him. He responded by filing a collusion grievance against the league.
His legal fight was proceeding in relative quiet when, on Monday, Nike Inc. announced it was featuring Kaepernick in an ad campaign for the 30th anniversary of the company's famed Just Do It! slogan. The ire he first sparked was ignited all over again. Some (white) people set their Nike apparel and shoes on fire and vowed to boycott the company.  
The reason for this renewed upset? Kaepernick was thought to have been silenced and put back in his place when he was essentially barred from the NFL. He stepped out of line when he sat or knelt on the grass during the anthem and he was then publically made an example of. He was supposed to disappear. But he didn't. And that disrespect to the status quo upsets some people more than his alleged disrespect to the flag.
It is an old dynamic, the attitude that black athletes (as well as black entertainers) should be seen and not heard, serving only as vessels of amusement for (mostly white) audiences.
It seems that black athletes are allowed a single role, their humanity and personal politics flattened, even erased. When they dare to do anything else besides dribble or hit a ball, the public is outraged and they are punished for simply being more than just objects for our entertainment. It is time for this to end.
It is an old dynamic, the attitude that black athletes (as well as black entertainers) should be seen and not heard, serving only as vessels of amusement for (mostly white) audiences. It speaks to a larger idea ― that there is a very particular "right" way to be a black athlete and that is to simply be a body performing a task, not a human with passions, opinions and causes.
And thus it becomes the job of athletic administrators, coaches, officials, media, the public ― all of us ― to endlessly scrutinize their actions and decisions and put them back in the boxes so carefully crafted for them by any means necessary, be it through public shaming or enacting entire policies to block a black athlete's progress both on and off the field.
Earlier this year, I wrote about how the International Association of Athletics Federations (IAAF) wrote regulations that seemed tailored to keep the South African middle-distance running champion, Caster Semenya, from the sport. Her crime? Her body ― on its own, through natural function ― produces too much testosterone, according to the IAAF's arbitrary numbers.
You may also recall that back in February, Fox News talking sneer Laura Ingraham took exception to comments by NBA superstars LeBron James and Kevin Durant. The players had discussed racist remarks by Trump (who can remember which ones at this point) during an interview on ESPN, and Ingraham responded with these now infamous words to the black players: "Shut up and dribble."
#ShutUpAndDribble became an immediate hashtag, pushing back against Ingraham's sentiment and calling her out for the not-so-subtle racism exemplified by her phrase. James is now producing a documentary by that name, coming this fall.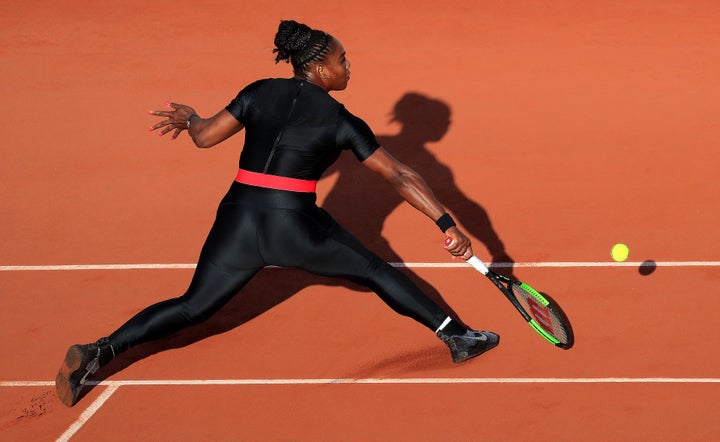 Late last month, French Tennis Federation President Bernard Guidicelli said the all-black catsuit Serena Williams wore at this year's French Open "'will no longer be accepted. One must respect the game and the place." There's no way to interpret those words except that Guidicelli believes that Williams, in wearing that suit, in showing her body, naturally, disrespected the sport and venue.
For the two decades Williams has dominated in tennis, her mere existence on court ― that she would dare to be a curvy, black woman who plays tennis and does it well ― has been repeatedly met by racist and sexist comments from officials, commentators, the media and fans. This is what is actually disrespectful given, as Lindsay Gibbs has written, that Williams' critiqued "body has taken the sport — particularly on the women's side — to new, unprecedented heights, and has made fistfuls of money for everyone in the tennis world, including the French Open. That body has won 23 major titles."
Of course, as with anything in sports, the cultural issues we've seen within it are found outside of it. And so, the scrutiny faced by black athletes extends to members of sports media.
Jemele Hill, the veteran sports correspondent and former ESPN TV host, is no stranger to how narratives are written about black people who don't tread carefully. Hill's long and illustrious career has been boiled down not to the work itself but to her suspension last October from ESPN after she called Trump a "white supremacist" on Twitter the previous month. ESPN recently bought out her contract. While Hill might be looking for new opportunities beyond what she could do at ESPN, the company, it seems, chose paying a hefty sum rather than having an outspoken black woman on its staff.
White supremacy has boxed black people in, allowing them only certain roles, or into certain places, or into certain jobs to the extent that they benefit or entertain white people.
In spite of efforts to box and silence them, these athletes (and sports enthusiasts in the case of Hill) are having each others' backs when it seems no one else will. At the U.S. Open over the weekend, Kaepernick and Eric Reid, the 49er teammate who joined him in the initial protests, watched Williams play. Afterward, when speaking about them, she said, "I think every athlete, every human, and definitely every African American should be completely grateful and honored how Colin and Eric are doing so much more for the greater good."
Just before her announced buyout, Hill tweeted about Williams and her catsuit, explicitly calling the criticism of the outfit "racist." In the teaser for James' documentary, Shut Up and Dribble, the first voice you hear is Hill's. And last weekend, James showed up in Berlin to watch Semenya race.
So much of U.S. history (and, in Semenya's case, South African history) is a story about how white supremacy (in conjunction with patriarchy, homophobia, transphobia, classism, etc) has boxed black people in, allowing them only certain roles, or into certain places, or into certain jobs, deeming them only as good as they are useful or entertaining to a white person. 
Telling black athletes to shut up and dribble, colluding to keep them out of their sport, arguing that they are not allowed to have personal or political opinions, ignoring the point of their protest to instead demonize their intent ― the message is clear and it is centuries old.
It's time to change this. We have to do it consciously, on purpose, with intent. This is a moment for sports media, the NFL, the French Open, the IAAF, officials, administrators, fans, all of us to decide that we will stop drawing these arbitrary boxes around black athletes and demanding they stay in them.
For once, stop repeating this history and instead get on the right on side of it.
Jessica Luther is a freelance journalist, an author and a co-host of the feminist sports podcast "Burn It All Down."
Calling all HuffPost superfans!
Sign up for membership to become a founding member and help shape HuffPost's next chapter