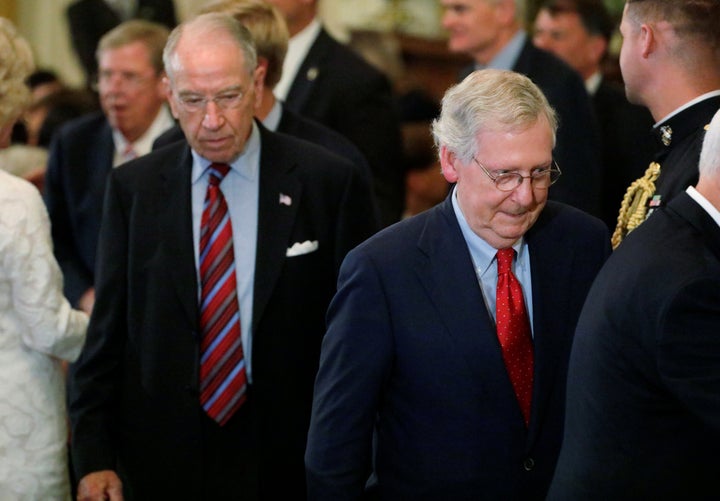 NBC News reported on Saturday that "the White House is limiting the scope of the FBI's investigation into sexual misconduct allegations against Supreme Court nominee Brett Kavanaugh." Later that night, President Donald Trump tweeted that the NBC report was incorrect and he had not placed any limits on the investigation. As of this writing Monday morning, NBC was standing by its original story, reporting that the limits placed on the investigation by the White House and Senate Republicans had not changed.
So now we've gone from a sham hearing to a sham investigation where the White House is dictating to the FBI whom they can interview and whom they can't. Is this really what Sen. Jeff Flake (R-Ariz.) had in mind when he made the deal to support moving Judge Kavanaugh's nomination out of the Judiciary Committee in exchange for reopening the FBI background check? Do Sens. Lisa Murkowski (R-Alaska) and Susan Collins (R-Maine) really feel comfortable trading their votes for a so-called investigation that ignores one of the accusers and precludes them from asking for records that would verify Christine Blasey Ford's testimony? Shouldn't the FBI, not the White House, be determining the scope of the investigation?
Would congressional Republicans accept this kind of watered-down investigation if allegations like these had surfaced about one of President Barack Obama's nominees? Of course not.
It wasn't that long ago when Republicans were chomping at the bit to investigate anything and everything. From 2009 to 2013, I was the spokesman or senior adviser for the House Oversight and Government Reform Committee and any time the duration of an investigation was called into question, we would always say that the political calendar should not dictate the pace of oversight. Looking back at some of the higher-profile investigations we conducted, the last thing anyone could say about our investigations was that they were done in haste.
In the spring of 2011, Republicans on the House Oversight and Government Reform Committee in tandem with then-Senate Judiciary Committee ranking member Chuck Grassley (R-Iowa), began an investigation into "Operation Fast and Furious." On June 7, 2017, more than six years later, the committee released its final report on the investigation.
In the fall of 2012, Republicans began an investigation into the attack on the U.S. diplomat facility in Benghazi, Libya. The investigation lasted for more than four years, concluding in December of 2016.
In 2013, congressional Republicans launched an investigation into the IRS's alleged targeting of conservative groups. The "scandal" would be an ongoing line of attack for Republicans until November of 2017 when the Trump administration declared that prosecuting the matter "would not be appropriate based on the available evidence."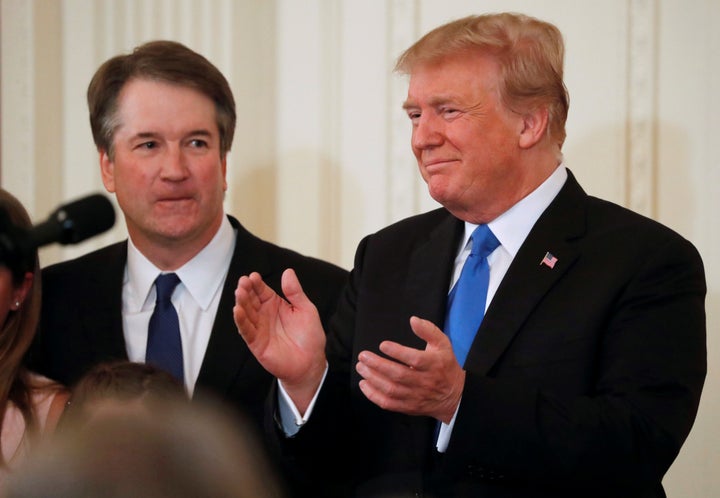 Flash-forward to Thursday and Senate Judiciary Committee Chairman Chuck Grassley. Yes, the same Chuck Grassley who partnered with us on the oversight committee, was making the case that the reason allegations of sexual assault made against Supreme Court nominee Brett Kavanaugh cannot be thoroughly investigated is because someone else knew about them two months ago.
When someone wants to rush an investigation or avoid it altogether, it demands the question, what are they afraid is going to be found?
In the few short weeks that have elapsed since Blasey's allegations against Kavanaugh became public, multiple women have come forward with accusations of their own. If Senate Republicans had their way, these women would never have been heard in the first place. Now, they have begrudgingly agreed to a one-week delay to allow the FBI to reopen their background investigation into Kavanaugh, but have expressly limited that investigation to a specific witness list that does not include one of the new accusers, Julie Swetnick, or former classmates who have said Kavanaugh lied during his testimony about his drinking habits.
Simply put, it is highly unlikely that such a limited inquiry that is being controlled by the White House is going to produce anything new that sheds light on Kavanaugh's guilt or innocence. Imagine if your child went to the authorities with an accusation of sexual assault and they told you they would conduct a one-week investigation, only talk to people cleared by the accuser's boss and then close the investigation. That's what's happening right now.
During the eight years that Barack Obama was president of the United States, Republicans would not shut up about their vigorous pursuits of truth, transparency and accountability. Now, they are bending over backward to rush through the confirmation of a man who is the subject of multiple allegations of sexual abuse and misconduct. Clearly, when it comes to investigative vigilance, Republicans have no intention of holding themselves to the standards they set for the Obama administration. It turns out Sen. Lindsey Graham (R-S.C.) was right when he said, if "you're looking for a fair process you came to the wrong town at the wrong time…"
If this were a fair process, concerned about getting at the truth, Trump and his Republican accomplices would waive the arbitrary and entirely political one-week deadline. But they won't. And that tells you everything you need to know about how serious of an investigation this really is.
The only question now is whether "swing votes" like Flake, Collins and Murkowski will look the other way as this sham investigation proceeds.
Kurt Bardella is the former spokesman and senior adviser for the House Oversight & Government Reform Committee and U.S. Sen. Olympia Snowe (R-Maine). Follow him on Twitter: @kurtbardella
Calling all HuffPost superfans!
Sign up for membership to become a founding member and help shape HuffPost's next chapter