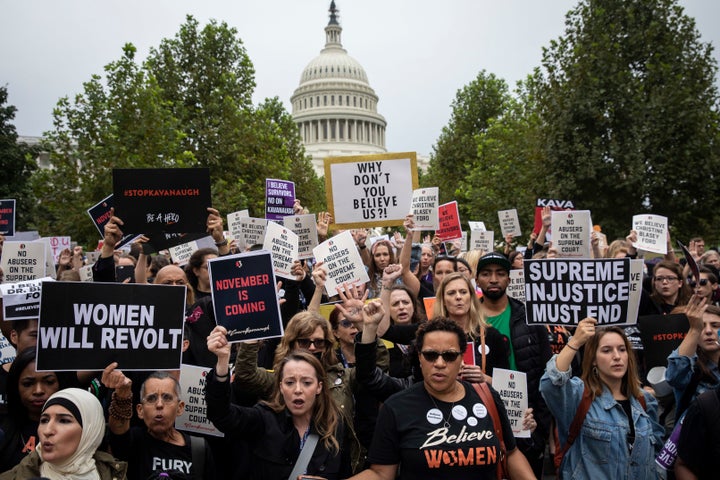 Today feels similar to the day after the 2016 election. Like many Americans, I feel sick, with a knot in my stomach, after witnessing Thursday's meeting of the Senate Judiciary Committee.
The fact that there may now be a delay on a final Senate vote to put Brett Kavanaugh on the Supreme Court changes nothing. Even if he goes down, the GOP has made its bed. And the revulsion at seeing Kavanaugh more than likely reach the Supreme Court ― after incident after incident after incident seemed to be the turning point on his nomination's demise ― mirrors the way many of us felt about Donald Trump's election almost two years ago. 
That in both cases brave women came forward ― subjecting themselves to public humiliation, harassment and threatened physical harm ― only to have angry white men push their allegations aside isn't lost on any of us.
The difference, now, is that we're ready.
We went through terrible shock and grief after the 2016 election and pulled ourselves together. We gathered forces. We marched. Then, we organized and struck back with ferocity at the ballot box. We've launched those first salvos, in special election after special election, and more often than not, we have won against all odds.
Now comes the big one in November ― and we've been preparing, working hard and waiting with anticipation.
Data has shown that progressives are turning out in big numbers, thus transforming the Democratic Party. That same data suggests we have the ability to transform Congress, governorships and state legislatures. The GOP's likely, reckless action in putting Kavanaugh on the Supreme Court will only become rocket fuel for nationwide mass mobilization at the polls. 
You don't need data, however, to see how raw pain and anger has the power to galvanize those who watched the GOP smear the women who came forward to give credible accounts of sexual assault by Kavanaugh.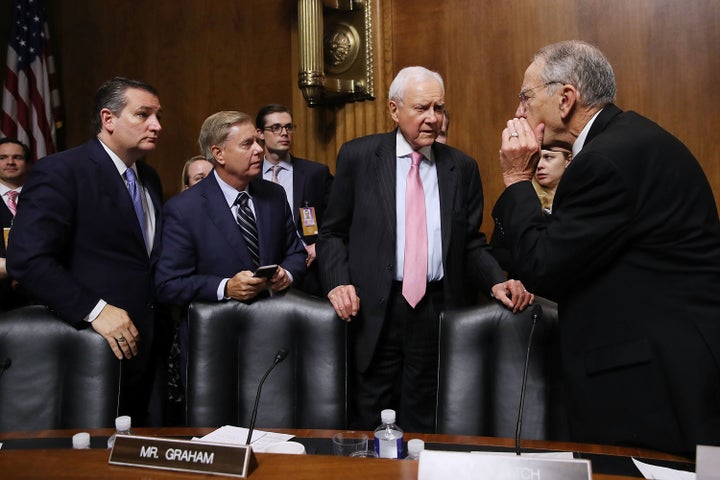 What happened this week is unprecedented. Nothing truly compares. 
The Clarence Thomas confirmation hearings in 1991, during which Anita Hill came forward with sexual harassment allegations against the nominee, led to "The Year of the Woman," which doubled the number of women elected to the House and the Senate. But this is a much more monumental moment, coming at a time when a record number of women are already running for local and federal office. And whereas Hill charged Thomas with sexual harassment in the workplace, a serious accusation, what we're seeing here are credible allegations of attempted rape and sexual assault.
Unlike Hill, who maintained her composure as she described intimidating and ugly incidents at the Equal Employment Opportunity Commission (where she and Thomas worked), Christine Blasey Ford was intensely emotional as she told senators how the alleged sexual assault when she was a teenager ― just 15 years old ― altered her life forever. We saw her continued pain. It was impossible to not connect with her.
And unlike Thomas, Kavanaugh is neither black nor making any kind of history on the court (nor is he even remotely popular with the public, having the lowest support in polls of any Supreme Court nominee of the last 30 years). Kavanaugh is a privileged white man who attended prep school and ran with the kind of crowd many of us knew in high school and college: teens and young adults who believed they could do whatever they wanted, treating women, people of color and LGBTQ people with disregard.
As Blasey spoke, I recalled a high school incident that's come back to me in recent days (and that I tweeted about) in which I was bullied at a party for being gay (and like most people, I couldn't tell you much if anything about 99 percent of the parties I attended in those years). I was betrayed by my best friend, who joined up with the "in" crowd that night, some of whom then drove me to a beach and left me there. I can't tell you what date it was or at which house it happened. But I can tell you every single person who was there.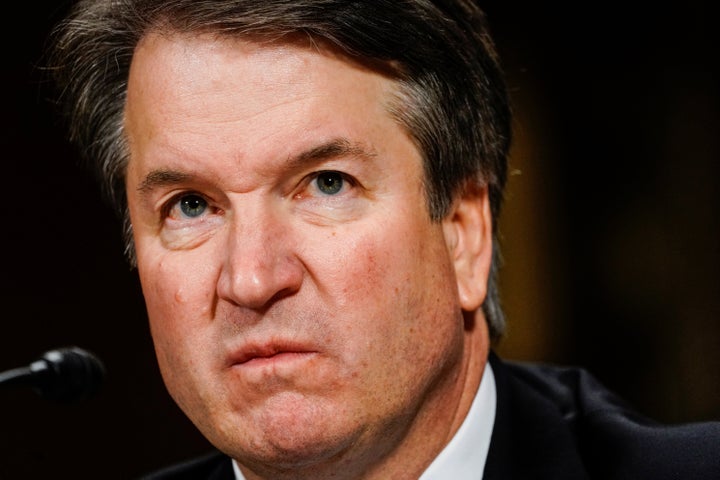 The image of Kavanaugh in sheer rage, yelling during his opening statement (a complete meltdown, whether it was also partially or totally a performance) and interrupting senators, several of them women and people of color, is ― to use a word from Blasey's testimony ― indelible.
Equally so are the unhinged performances of each and every one of the white male GOP senators on the Judiciary Committee, including the maniacal rantings of Sen. Lindsey Graham of South Carolina. 
All of it was grotesque theater playing to one man: the authoritarian president, who himself is playing to his racist, extremist base. None of us who've been paying attention, who've reported on events and organized for the last two years, is going to forget it.
But more than that, millions of Americans watched Blasey's testimony ― glued to TV screens in their homes, in their offices, in shops, in airports and in restaurants around the country ― and believed her, even if they might have  previously been doubters or on the fence. They also watched the GOP's brazen, ugly display. This has surely jarred Americans and activated them, even if they might have been somewhat apathetic or previously uninformed. 
There is no question our lives will be altered in ways that right now are immeasurable if Kavanaugh sits on the Supreme Court. All of the gains we've made (and that we've already seen eroding) for civil rights for women, people of color and LGBTQ people will be rolled back by this extremist-dominated court. There is no question about that. The power of money in politics will be further unleashed. Unions will become even more vulnerable after already suffering crippling blows from this court. The environment will be degraded as regulations are stripped away. Big business, and its greed, will be rewarded. The authoritarian president's power will be protected.
We've known all of this was at stake since the day Donald Trump was elected ― just as we knew it the day he nominated Brett Kavanaugh. We know the enormous task that lies before us. We're shellshocked, yes, but we're prepared.
This brutal, horrendous action only gives us more drive and passion. And it will help us make the case to millions of other Americans that we must take our country back in the midterm elections. 
Calling all HuffPost superfans!
Sign up for membership to become a founding member and help shape HuffPost's next chapter