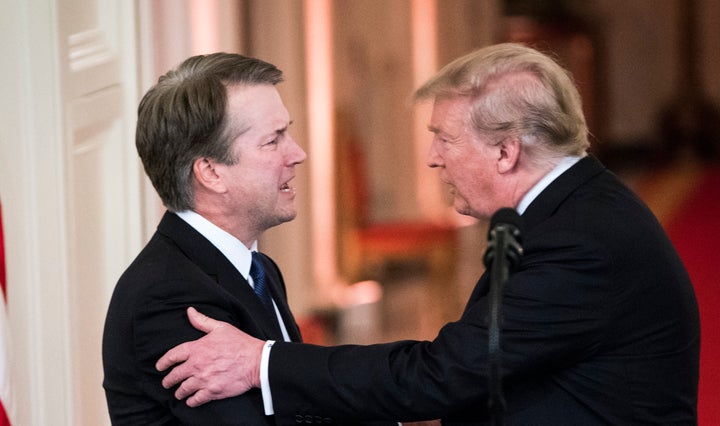 Of course, this came from experience. Trump was caught on tape saying, "When you're a star, they let you do it. You can do anything ... grab them by the pussy. You can do anything." Separately, well over a dozen women have accused Trump of varying forms of sexual misconduct. Trump denied them all. Republicans stood by Trump anyway, and elected him president of the United States.
Last year, multiple women came forward and shared stories of sexual harassment and misconduct by Alabama Republican senatorial candidate Roy Moore, including his courtship of a 14-year old girl. Roy denied all of the allegations, and the Republican National Committee stood by Moore and continued to help fund his campaign.
Now, with an explosive allegation of sexual assault threatening to derail Brett Kavanaugh's nomination to the Supreme Court, Republicans are deploying the Trump playbook once again.
"Republicans ― you know, the ones always talking about God, family values and morality ― have become the party that enables sexual harassment and protects accused sexual predators."
On Friday, a day after it was revealed that Sen. Dianne Feinstein (D-Calif.) had referred "information from an individual concerning the nomination of Brett Kavanaugh to the Supreme Court" to federal investigators, Judiciary Committee Chairman Charles Grassley (R-Iowa), released a letter of support for Kavanaugh signed by 65 women who "knew him while he attended high school between 1979-1983."
The Grassley letter read, "Brett has stood out for his friendship, character, and integrity. In particular, he has always treated women with decency and respect … Many of us are not lawyers, but we know Brett Kavanaugh as a person. And he has always been a good person."
As if someone who had committed an act of sexual aggression would broadcast that to all the girls he knows in high school. Grassley is clinging to some absurd fiction that sexual harassers are identifiable on sight by everyone who knows them, or that survivors of assault would gleefully share their trauma with their high school classmates.
But that was just the opening salvo.
Next came the Republican attacks on the accuser's motivations for coming forward. Sen. Orrin Hatch (R-Utah) was quoted saying, "The claims are wholly unverifiable, and come at the tail-end of a process that was already marred by ugly innuendo, dishonesty, and the nastiest form of politics."
So, basically, Hatch's argument is that because the timing is politically inconvenient for Senate Republicans, the accusations must be politically motivated and therefore untrue. Never mind the fact that the only reason Hatch and his fellow Senate Republicans are rushing this confirmation is because they are afraid of losing their Senate majority in November.
Turns out it's not at all hard to imagine why any woman would think twice about coming forward about her experiences with sexual harassment and misconduct.
Nevertheless, on Sunday, the accusations were given a name and a face when Christine Blasey Ford, a professor at Palo Also University, told her story to The Washington Post. She recounted the night when a "stumbling drunk" Kavanaugh sexually assaulted her while his friend watched.
On Monday morning, an attorney for Ford told NBC's "Today" show that Ford was willing to testify about these allegations before the Senate Judiciary Committee.
Kavanaugh, perhaps heeding Trump's advice, issued yet another stern denial, saying, "I have never done anything like what the accuser describes ― to her or to anyone." Shortly after, he was seen arriving at the White House.
As of Monday afternoon, Senate Republicans showed no real signs of slowing down Kavanaugh's confirmation process, and planned to move forward with a Judiciary Committee vote on Thursday. Ironic that the so-called greatest deliberative body in the world doesn't want to spend more than a few days deliberating the veracity of such a heinous assault.
This cowardly conduct is now another chapter in the longstanding war against women. Republicans ― you know, the ones always talking about God, family values and morality ― have become the party that enables sexual harassment and protects accused sexual predators. Once again, they are following Trump's lead, choosing to put political expediency ahead of fundamental decency and respect for women.

Kurt Bardella is a HuffPost columnist and the former spokesperson for Breitbart News, and Reps. Darrell Issa (R-Calif.), Brian Bilbray (R-Calif.) and Sen. Olympia Snowe (R-Maine). Follow him on Twitter: @kurtbardella

Support HuffPost
The Stakes Have Never Been Higher
Popular in the Community