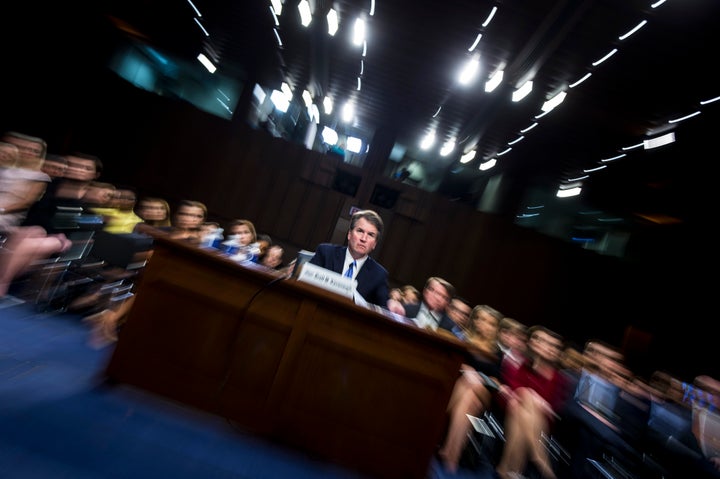 Law has long been an old boys club on par with Hollywood. Nothing salacious that has emerged in Hollywood, or anywhere else, is unimaginable in the legal profession. How might the rule-making institutions stand up to heightened anti-sexist scrutiny? Could the outrage we're seeing over Kavanaugh actually represent a tipping point?
Students in law schools across the country will soon find out. Students and staff opposed to Kavanaugh's confirmation staged walkouts at Harvard, NYU, Temple and Yale. About half of Yale Law students attended anti-Kavanaugh demonstrations on Monday, and some 30 professors canceled classes to accommodate students who traveled to Washington, D.C., to join with like-minded others in the capital.
Among the protesters' grievances were the allegations that Yale professors had groomed would-be clerks to present themselves in ways Kavanaugh might find physically appealing. (Amy Chua, one of the accused groomers, has denied allegations against her.) Students were equally outraged that Yale had continued to pump clerkship applicants through the pipeline to Alex Kozinski ― a 9th U.S. Circuit Court of Appeals jurist who stepped down in the face of credible sexual harassment charges ― despite his reputation for inappropriate behavior.
"Being a 'nice guy' from Yale was (supposed to be) enough for Kavanaugh to sail through virtually unscathed. But then there was Me Too."
That Yale is an epicenter of this uprising is significant not only because it is Kavanaugh's alma mater, but because it signals a deeper interrogation of the typical ways that students, faculty and alumni of elite law schools have uncritically celebrated the elevation of their problematic alums to the Supreme Court.
A Yale Law degree is more than a feather in one's cap. Matriculating through Yale Law School is an elevator ride to the very epicenter of power in the legal profession. Supreme Court nominees who hail from Yale's halls are routinely celebrated by the institution, and alums trudge to the capital to swear to their good character and intellect. Elitism compels its beneficiaries to prioritize brand enhancement ― even if that means overlooking the potential negative impact of a justice's ruling on issues that they care deeply about.
A collateral consequence of the brand-enhancing orientation of elite law schools like Yale has been the now-standard sing-along that fellow alums are conscripted to perform in the face of probable ideological opposition to a nominee.
Kavanaugh's supporters, anticipating a bumpy ride to confirmation based on his judicial record, bubble-wrapped the nominee with a statement signed by dozens of women and a photo op featuring a girls basketball team ― all attempts to send the message that he is a "nice guy" to women. For all the concerns that his confirmation will constitute an end to reproductive freedom as we know it, being a nice guy from Yale who is beloved by countless women was (supposed to be) enough for Kavanaugh to sail through virtually unscathed.
In an earlier period, it might have been enough. But then there was Me Too.
The great brilliance of the Me Too movement is that it pulls the cover from nice guy narratives and brings daylight into the darkened pathways through which misogyny and male power become naturalized through law.
It's still too easy to wrap up smarts, sometimes wit, and legal acumen into an unassailable package labeled "character" ― as though no man who can impressively dissect and reinvent legal doctrine could, at the same time, be ogling his clerks, harassing his secretary or abusing his wife.
"Those who create and interpret the law are themselves violators of it."
Law is placed "above" the fray. Smarts are seen as somehow an antidote to predation rather than a rationalization of it. Those who create and interpret the law aren't seen as violators of it, and even those who do violate the law are still elevated. All of this factors into why the legal profession is obscured as a site of sexual abuse.
One-half to two-thirds of female lawyers in the U.S. have experienced or observed sexual harassment, and the problem is not unheard of in U.S. law schools, either. Three law school deans have stepped down after accusations of sexual harassment from both colleagues and students. The significant power imbalances from which judges benefit (where federal judges are appointed for life) and the importance of reputation and word of mouth mean that people who suffer abuse find it incredibly difficult to come forward.
Given the career-destroying costs of speaking out against sexual assault, it is amazing that anyone ever talks. When they do ― either to tell a story of abuse or to offer credibility to those who do ― it is against enormous odds.
As it is on the casting couch in Hollywood, those who hold the power in law school and in courts can exact a high price for the opportunity to achieve fame and fortune in their chosen profession. The closed circles, the fear of earning a bad reputation for not going along, and even genuine respect and affection for abusers themselves all tip the scales in favor of silence, and even lying, in the face of accusations.
"If Me Too takes hold in the world of law, judges will topple, SCOTUS pipelines will be disrupted and enablers will be exposed."
The Me Too movement has broadened the discourse in Hollywood beyond harassment, bringing into critical view the wider terrain of male dominance in institutions that shape what we see and think about the world.
If Me Too takes hold in the world of law, judges will topple, SCOTUS pipelines will be disrupted and enablers will be exposed. But beyond the Weinstein effect on the powerful few might come a long overdue scrutiny of sexism in legal institutions and in laws themselves. One can't begin to fathom the consequences of such an interrogation of gender in the law ― of the pay gaps, the hostile workplace conditions and the obstacles to power that shape the experiences of women ― for law schools, law firms, the Supreme Court, and even the very content of legal doctrine itself.
Republicans' disregard for even the appearance of taking sexual harassment seriously is a singular marker of the strength of a culture that enables rather than constrains male power. The sharp confrontation with this reality during the Hill-Thomas hearings spurred the Year of the Woman, but the deeper structures of gender subordination that have been enabled and practiced within legal institutions have escaped significant scrutiny.
This time could be different.
The institutions that produce legal professionals and regulate what we call sex equality exist within the same culture that has produced sex discrimination, harassment and abuse. Should the Weinstein effect take hold, the wider picture of the individual costs to women imposed by the rituals and reward structures within elite legal education ― and their embodiment in the law itself ― will become more fully legible.
Should Kavanaugh's confirmation come to pass, the newly minted right-wing majority will provide many opportunities for a discerning public to connect this end-game victory to the gendered dynamics that made it possible.
Kimberlé Crenshaw is a professor of law at UCLA and Columbia Law School. She is a leading authority on civil rights, Black feminist legal theory, and race, racism and the law.
Related
Popular in the Community