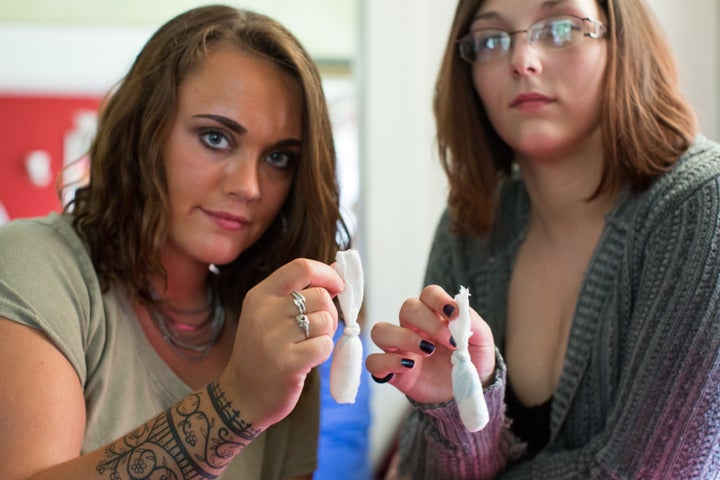 After weeks of public pressure to improve access to feminine hygiene products for incarcerated women, the Arizona Department of Corrections announced a new policy late Wednesday afternoon. Now, ADC will provide at least 36 free pads or tampons to female prisoners every month. The department had previously insisted that 12 pads were enough, until formerly incarcerated women, our allies and a social media campaign — #LetItFlow — collectively and appropriately shamed ADC into action.
We are proud to have helped effect this change. It wasn't easy for any of us involved, especially those of us who chose to relive our trauma in order to educate the patriarchy.
Earlier this month, we testified before the all-male Military, Veterans and Regulatory Affairs Committee of the Arizona State Legislature and made the case for House Bill 2222, menstrual equity legislation drafted by state Rep. Athena Salman (D).
HB 2222 would provide access to unlimited feminine hygiene products for women who are incarcerated at Arizona State Prison Complex ― Perryville in Goodyear, Arizona, where we cumulatively spent over a decade of our lives locked up inside, suffering the trauma of menstrual inequity and abuse alongside our sisters.
Being incarcerated and not having enough pads to move through your menstrual cycle is embarrassing, degrading and precarious. Without access to adequate hygiene supplies, we were forced to rely on other women to help make up the deficiency. We were frequently at the mercy of male corrections officers, who often used their power to make us wait a full day to receive an additional pad. Meanwhile, we sat in our own fluids, risking infection and the humiliation of bleeding through our pants. In fact, ADC frequently issued us bloodstained undergarments — evidence of the lack of access to adequate sanitary supplies.

Standing before a committee of nine men and describing our experiences in Perryville, we felt as if we were opening a door we had been knocking at for years while incarcerated, and our voices were finally heard. The bill narrowly passed the committee with a 5-4 vote. And we — women who lived in and survived Perryville — breathed a sigh of relief for the women still inside.
"It would be naive and irresponsible to place the well-being of a vulnerable population solely in the hands of the Arizona Department of Corrections."
Menstrual equity legislation for incarcerated women became part of the national conversation last summer, when Sens. Cory Booker (D-N.J.), Elizabeth Warren (D-Mass.), Kamala Harris (D-Calif.) and Dick Durbin (D-Ill.) introduced the Dignity for Incarcerated Women Act into Congress. Access to free pads and tampons was a central component of the legislation. The federal Bureau of Prisons responded to the introduction of the bill by issuing a policy change that allows women access to a diverse range of feminine hygiene products, including tampons (regular and super), maxi pads with wings (regular and super), and panty liners (regular), all free of charge.
When we testified in support of HB 2222, we hoped to effect similar change here in our state's prison system. But state Rep. T.J. Shope (R), the chairman of the Arizona House Rules Committee, announced last week that he would not allow HB 2222 to move to the full legislature because ADC informed him that it would correct the policy within the prison code itself. This is the same ADC, led by Director Charles Ryan, that faces hundreds of thousands of dollars in fines every month for failing to provide adequate health care for people incarcerated.
ADC has a long track record of medical abuse. In 2012, the American Civil Liberties Union filed a lawsuit against ADC on behalf of 33,000 people incarcerated in Arizona. Systemwide failures were found throughout the department's health care system, and its use of solitary confinement was found to be excessively punitive. The subsequent settlement, reached in 2014, outlined various performance measures for ADC. But even under state scrutiny, ADC refuses to comply under its own terms. The department has demonstrated an inability and unwillingness to meet the basic human rights of incarcerated people.
While ADC's new directive to increase access to feminine hygiene products is a net positive, it would be naive and irresponsible to place the well-being of a vulnerable population solely in the hands of the department. Time and time again, ADC has proven it cannot be trusted to treat its prisoners humanely.
The majority of women currently incarcerated at Perryville have limited incomes, and once their free pads are exhausted, some resort to using socks, washcloths or tampons they make from cotton swabs held together by floss, which can lead to bacterial and fungal infections. Incarcerated women face degradation and the fear of retribution should a guard feel put out by the request for additional pads or tampons. Unsurprisingly, many women will not ask for what they need to manage their cycles.
As is the case in most prisons in the U.S., women who are incarcerated at Perryville can, in theory, purchase tampons, toilet paper and additional pads from the prison commissary. But again, ADC has made it nearly impossible to do that. Prison wages start as low as $0.10 per hour. Incarcerated people are subject to personal property regulations, and if they are found to be out of compliance, for any reason, they can be issued citations and lose privileges, including phone calls, access to commissary or recreation and exercise. Minor violations of ADC policy — such as having 50 pads among one's personal property — may result in the loss of these privileges for weeks.
At the time of the BOP policy change, Booker correctly noted that it would be ineffective unless properly enforced. Codifying HB 2222 into Arizona's statutes would hold otherwise-insulated prison officials publicly accountable. There is no oversight of ADC beyond Gov. Doug Ducey (R), who is ultimately responsible for the misogyny and human rights violations that occur behind prison walls. Ducey, in his 2018 state of the state address, committed himself to re-entry work. It is up to him to serve all his constituents, including women incarcerated in our state prison system.
The challenges incarcerated women face when they are menstruating are not unique to Arizona. Nationally, incarcerated and formerly incarcerated women are amplifying the urgency of this issue. Mitigating the trauma that women experience while they are incarcerated increases their chances of success once released from prison, which is ostensibly the goal of the justice system.
Adrienne Kitcheyan and Tuesday Brauer are formerly incarcerated native Arizonans and members of American Friends Service Committee's Reframing Justice project, which works to effect sentencing reform and end mass incarceration.
Popular in the Community