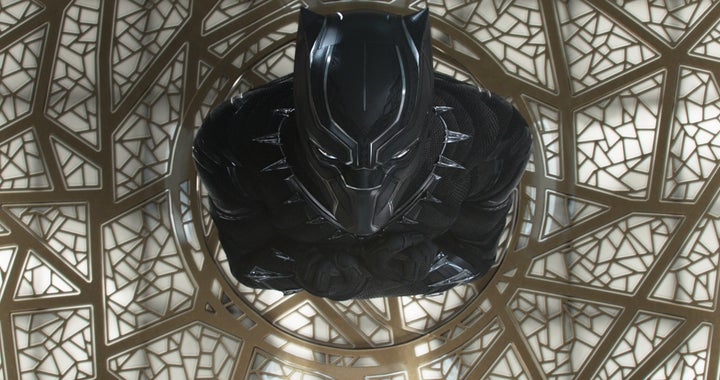 "Black Panther" star Lupita Nyong'o recently told "Good Morning America" that we can better see ourselves when we can see ourselves in others. She said that she grew up only being able to see herself in white superheroes ― and it's high time the reverse is happening.
And it's happening in record-breaking numbers. "Black Panther" has grossed $400 million at the U.S. box office alone. It just had the second-biggest second weekend gross of all time (not adjusted for inflation), pulling in $108 million ― ahead of the $106.5 million for "Jurassic World" and behind the $149 million for "Star Wars: The Force Awakens." The film has made $704 million worldwide.
As the pervasive Hollywood myth would have it, black-led entertainment doesn't do well overseas. Can non-black folks really see themselves in black people?
Yes. And the overseas numbers for "Black Panther" and other films, like the black women-led "Hidden Figures," are bucking the conventional wisdom that a movie needs a white male protagonist to perform well in international markets. 
There are a number of elements in "Black Panther" that could resonate with anyone regardless of race: father-son relationships, compassion versus individualism, tradition versus innovation, and a good ol' fighting spirit. 
As an Australian proudly born to parents of Vietnamese, Chinese and Singaporean descent, a few of the film's themes leapt out at me.
Own Your Origins ― Unapologetically
Maybe it's because one of the opening scenes features a news report on the 1992 Rodney King riots playing in the background. Maybe it's because Okoye, played by Danai Gurira, throws off her wig mid-fight while trying to disguise herself in Korea. Maybe it's because the needs-an-Oscar costume designer, Ruth Carter, celebrates the diversity of African history and textiles in every fiber of the characters' clothing. Carter told WPGC 95.5 that she's been waiting for a project like this to express her pride for her ancestral background, for her community and for young people. The message: Love where you're from. 
'Black Panther' has taken off the pressure to water down my Asian-ness in order to fit in or be understood.
If Congresswoman Maxine Waters was reclaiming her time, director Ryan Coogler is reclaiming blackness, and, in turn, inspiring others to reclaim whatever-you-are-ness. Coogler explained to Hot 97 the tensions people face when their color prohibits a full sense of belonging in their home country and their upbringing excludes them from a connection to their motherland. How many African-Americans haven't been to Africa? How many Asian-Americans haven't been to Asia? Does that make us less African or Asian? 
Gurira told ET that once Wakandans (the citizens of the fictional African nation Wakanda), figure out how to do something, they automatically feel that it is the only way it should be done. I take this to mean: Dress the way your people dress. Speak the way your people speak. Eat the way your people eat. Through "Black Panther," Coogler has taken off the pressure to water down my Asian-ness in order to fit in or be understood. That time is over.
Embracing Identity
Wakanda may be fictional, but the film uses a real language. Wakandans speak in Xhosa, Nelson Mandela's language. Xhosa people are members of the second-largest cultural group in South Africa, after the Zulu, and their language is one of the country's 11 official languages, spoken by over 7 million people. In one scene in which Okoye is skeptical about the process of Agent Everett Ross (played by Martin Freeman), she speaks exclusively to T'Challa (Chadwick Boseman) in Xhosa, leading the white agent to interrupt, "Does she speak English?" Not missing a beat, Okoye leans in with, "Only when she wants to."
Almost anyone from a non-English-speaking background, especially non-white folks, can relate to this othering. Both in my own childhood and in what I observe with my students, young people have had to play translator for their parents. This is not always just because their parents couldn't speak English, but sometimes because their parents were made to feel less than or unworthy of meaningfully being part of the conversation.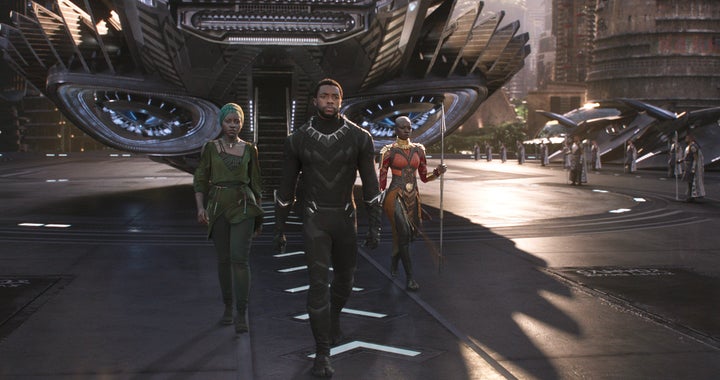 What used to be frustration toward my parents because they insisted I order for them at restaurants (knowing full well that they could) has morphed into empathy. Whether they keep trying to fit in or give up, they'll still be the other. What used to be disappointment over low participation at parent-teacher conferences has turned into empathy, because nothing is more infantilizing than requesting the help of translators to learn about your child's education.
Another example in the film that hits a nerve for those of us who've been raised on "White is right" (or as I like to say, "Pasty is power"), is when we're introduced to the edgy denim-donning Erik Killmonger (Michael B. Jordan) at a British museum. He strikes up conversation with not just any white woman, but the museum's "expert" in West African artifacts. The scene reminded me that sometimes the imperializing of ideas and the colonization of cuisine is so relentless, it's hard to wake up from the nightmare of white folks taking over your cultural artifacts.
A common question or instruction throughout the film is Who are you? and Tell them who you are. Each character is able to proudly exclaim their full name and family lineage.
Even in 2018, many of my immigrant students feel forced to use a different name for the convenience of others. Being able to say your full name with confidence is not an easy feat for some, and "Black Panther" gives gravity to this issue. While it may be a two-second question, for many of us, it's meant years of therapy, bullying and doubt. 
The Boys Behind The Men
The men in "Black Panther," even the anti-heroes, are the ones in their feelings and working through their daddy issues. T'Challa, the Black Panther, grapples with his father's past decisions and later confronts him. Erik Killmonger and his father, Prince N'Jobu (Sterling K. Brown), also deserve some cheers for their tears. Both men shed a single tear in an emotional scene in the ancestral plane. 
There was no room for shame in this film.
What a breath of fresh air. As the effeminization of Asian men persists, I, like my peers, have worked blindly to overcompensate for this supposed shortcoming. In addition to minimizing our emotions, we've altered our voices, dress and demeanor. Coogler gives men of color permission to be in their feelings.
On the flip side, he elevates women to positions of certainty and steadfastness. When Okoye is challenged to choose between romantic love and patriotic responsibilities, she has no qualms about her decision.
Jordan told "The View" that the beautiful thing about attending press junkets for the film's release in Asia was seeing journalists show up in their country's traditional dress. No matter where you are from, "Black Panther" is a celebration of your origins.
There was no room for shame in this film. Whatever makes you who you are should be shouted from the Vibranium mountaintops ― be it your political views, family, dress or name. "Black Panther" empowers us not to half-ass who we are.  
Calling all HuffPost superfans!
Sign up for membership to become a founding member and help shape HuffPost's next chapter