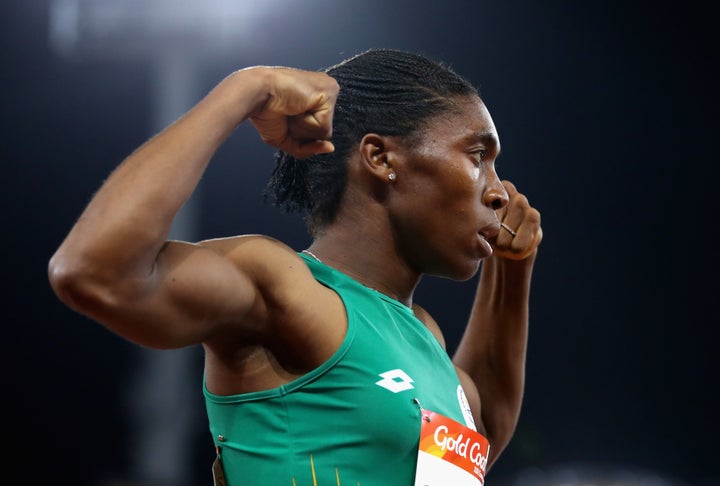 Sport has historically been a space for white cisgendered men to compete against each other. But over the last century, this has slowly changed. Black and brown athletes have broken down racial barriers one by one, though it's still possible in 2018 to have the cops called on you if you are black and playing golf too slowly. It took a federal law in the United States ― Title IX, passed in 1972 ― to begin to repair the vast disparity in athletic opportunities and resources between men's/boy's and women's/girl's sports, and we still have a long way to go.
Over the last few years we have seen the visibility of transgender, intersex and non-binary athletes ― all those who push against the rigid boundaries of "male" and "female" ― rise, though the resistance to their participation remains immense.
At the intersection sits one of the best female middle-distance runners ever, South Africa's Caster Semenya who's been under the scrutiny of the International Association of Athletics Federations since 2009 for having what some consider an "unfair advantage" over the competition.
Semenya's so-called advantage is that her body produces a higher level of testosterone than the arbitrary upper limit allowed by the IAAF. Last Thursday, the IAAF released new regulations that in all events from the 400-meter dash to the mile, women with naturally high levels of testosterone must lower their levels via medical intervention or else not compete in various women's races, even though they are women. This is all in the name of "fairness," stripping a very particular set of athletes of the natural athletic advantage they have.
We should all simply feel lucky that we are able to witness elite bodies do elite things.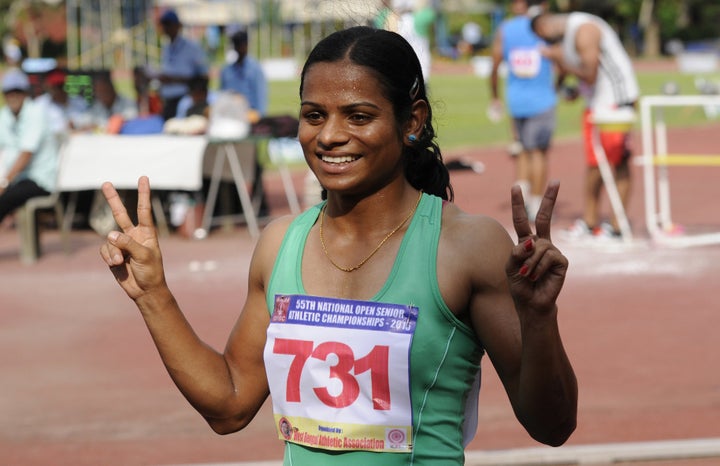 India's Dutee Chand, a runner who competes in sprint distances like the 100 and 200 meters, successfully challenged the IAAF's previous guidelines after appealing her case to the Court of Arbitration for Sport. It found no scientific evidence to back up the claim that women who produce naturally high levels of testosterone have a performance advantage that deems medical intervention necessary to lower those levels. The IAAF had to suspend their guidelines and the CAS gave it two years to return with the science that would win the case. Instead, the IAAF has these new guidelines that do not cover Chand's distance and, therefore, close her case.
The science around all of this is dubious, at best (which is why Chand won her case at the CAS). It's not clear that these women have the particular advantage for which they are being punished. But beyond that, we need to pause and really take in what the IAAF is doing here.
These are women whose bodies produce whatever level of testosterone they produce. Even if one was to concede that this gives them an advantage over their competitors, so what? Then it would seem they were born into the right body to be great at their sport. So are Michael Phelps or Chloe Kim or LeBron James. Why are we not sitting in awe of Semenya's greatness as we have done with Usain Bolt? We should all simply feel lucky that we are living to witness her elite body do elite things.
Advantage comes in many forms that have nothing to do with someone's hormones.
But Semenya is a black woman from a country located in the global south who does not fit western ideas of the "feminine," and so she must be stopped to make the playing field more fair for other competitors ― apparently the IAAF thinks it can decide for whom the field should be level. Joke's on them, though, because there is never a fair playing field. Assuming you can achieve one through this specific curtailing of a person's natural hormone level is ignorant and arrogant.
Advantage comes in many forms that have nothing to do with someone's hormones. Athletes from wealthier countries will most likely have access to coaches, training facilities, nutrition and equipment that other athletes do not. Athletes of color will face the ongoing physiological burdens that come with living in a racist world. Why are we not making sure that all of that is measured and manipulated to equalize everyone's chances when they step up to the starting line?
Katrina Karkazis and Rebecca Jordan-Young write at The Guardian that there is a specific reason for the new IAAF rules. "This is a regulation to exclude women from middle-distance running events, the events in which women from the global south have excelled for decades." In response to criticism like this, the IAAF has tweeted that "the rule is neither racist nor sexist."
The IAAF has reminded us all that the status quo for sport is exclusion and that powerful institutions will bend to that precedent
But people in South Africa have no doubt about the motivations of these guidelines. The African National Congress has called them "blatantly racist." On Sunday, Speaker of the National Assembly Baleka Mbete and Chairperson of the National Council of Provinces Thandi Modise said the regulations are "unjust, sexist, dehumanizing and should be condemned by all human rights proponents in the world." Parliamentary spokesperson Moloto Mothapo added that "physiques of African women have and continue to suffer unjustified and racially humiliating scrutiny and mockery. This must stop."
It must stop. It must. There's little doubt that these regulations are targeting Semenya, but this is not only about her. It is so much bigger than her because this is not what women's sport should be. As Jennifer Doyle has argued, "If women's sports has one job that really is different from men's sports, it is the destruction of sex/gender difference. Men's sports (with a few exceptions which prove the rule) reinforce ideologies of gender difference. Women's sports destroy them."
The IAAF has reminded us all that the status quo for sport is exclusion and powerful institutions will bend to that precedent. We must call out those who are using sport to keep people ― women ― out. We must support Semenya and all athletes who will be targeted by these guidelines. We must resist this exclusion in women's sport.
Jessica Luther is a freelance journalist, author and co-host of the feminist sports podcast "Burn It All Down."
REAL LIFE. REAL NEWS. REAL VOICES.
Help us tell more of the stories that matter from voices that too often remain unheard.