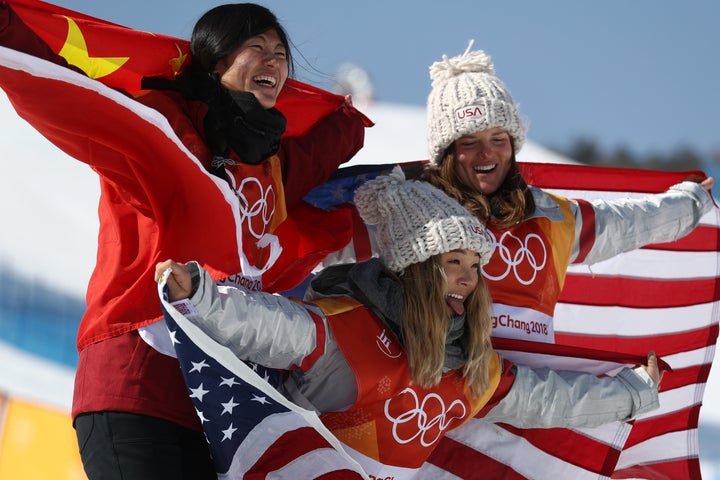 We are in the middle of two glorious weeks that only come around every four years. It is the Winter Olympics, and now more than usual, female athletes matter a whole lot. The back-to-back 1080s of snowboarder Chloe Kim, the speed of skiers Lindsey Vonn and Mikaela Shiffrin, and the triple axel of figure skater Mirai Nagasu are covered and celebrated broadly. What a blessed two weeks we are in.
And yet, it's not exactly an equality utopia. While women make up 43% of the athletes in Pyeongchang (a record), they have six fewer medal events than the men do. In ski jumping, women compete only on the shorter of the two hills and do not have the opportunity to participate in the Nordic combined event. For long-track speed skating, the biathlon and cross-country skiing, old ideas about what women can physically endure means that women race shorter distances. In the bobsled events, women are competing only in the two-person (called the "two-man") one, which means that there is a huge disparity in the breakdown of who competes in this sport: 125 men and 40 women.
This disparity makes sense when you consider that the International Olympic Committee Executive Board was all men until 1990. And today, out of the 15 members on the board, only four are women. The numbers are more bleak when you look at leadership for national Olympic committees and international federations. It matters who is making decisions about how money is allocated and which sports get resources and attention.
On top of all of this, there's the media around the Olympics. When the Olympic Games are not on, the most striking thing about women's sports is how rarely they are covered. But even in these moments when female athletes are shown almost as much as male ones, we have to contend with deeply embedded sexist ideas that permeate that coverage.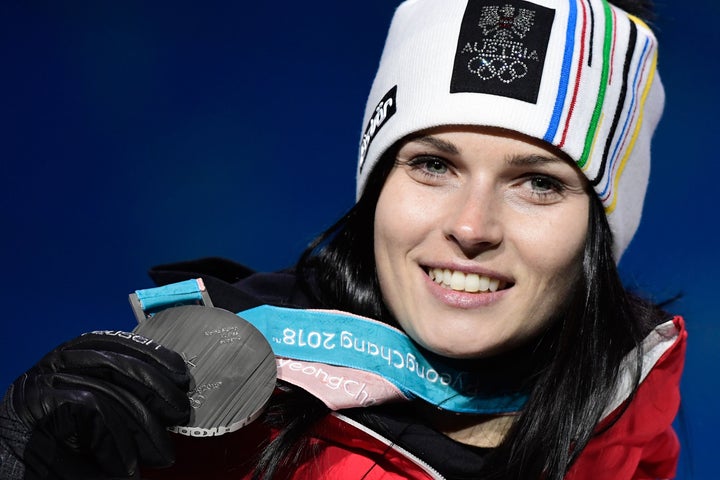 Even at the Olympic Games, women are not immune to sexism. As a San Francisco sports radio host reminded us all last week when he called Chloe Kim a "little hot piece of ass" after she won gold in the snowboarding halfpipe (he was fired). As NBC commentator and former Olympian Bode Miller reminded us when he suggested that Anna Veith, an Austrian downhill skier, had been struggling because she recently got married and "it's historically very challenging to race on the World Cup with a family or after being married." He apologized within the same telecast. As Canadian commentator Don Cherry reminded us when he compared the appearance of the Canadian women's hockey team to the U.S. team, suggesting the Canadians looked like "fashion models" and the Americans like slobs. And so it will go.
There is a cottage industry of pieces that pop up with every successive Olympics (you're reading one right now) that point out these issues. But they continue to be needed because the problem persists. According to Lindsay Gibbs at ThinkProgress, "the number of microaggressions against female athletes in the media increased by a staggering 40 percent" from the 2012 to the 2016 Games. And it was worse for female athletes of color.
The only women worthy of the spotlight have to fit into normative roles.
"The narratives and stories we tell about female athletes are much different than the stories we tell about men in ways that suggest a kind of hierarchical difference between male and female athletes," Cooky says. Female athletes are "very rarely depicted in terms of their athletic competence [or] their accomplishments." Instead, the media tries to "fit [them] into heterosexual-normative roles, either as mother or girlfriend or wife, or the focus is on their hyper-femininity in terms of their appearance."
That, in turn, creates an exclusive group that is highlighted because the only women worthy of the spotlight have to fit those normative roles. That often leaves out "women of color, lesbian women, [or] not conventionally attractive women," Cooky notes. Additionally, we infantilize female athletes, referring to them as "girls" instead of "women."
In short, female athletes are women first, to be desired and lusted after, and athletes second.
But then the Olympics comes around again and suddenly it's Team USA, all the way! Our nationalism readjusts how we relate to female athletes, Cooky says. "Within the Olympics, the viewer or the fan is positioned as cheering for the country. So the competitive element isn't American female athlete A competing against American female athlete B, but it's rather American female athletes competing against Canadian female athletes. You're not cheering for women; you're cheering for America."
Female athletes become athletes first (athletes representing a particular nation) and women second, if only for a brief period of time.
Cooky reminds us that the type of change we need to see is not linear, and we shouldn't expect it to be. "These moments of progress or moments of pushing toward equality are happening alongside these other moments where we're seeing sexual abuse cases in Olympic sports, [where] we're suppressing conversations about male athletes and their potential sexual violations."
These are the best weeks to see female athletes perform, to participate in conversations about them and to see them praised for their abilities and accomplishments. But all of that comes with an inevitable, sexist price. We have a long way to go ― both within sports and without ― before we no longer have to pay it.
Jessica Luther is a freelance journalist, author and co-host of the feminist sports podcast "Burn It All Down." 
Calling all HuffPost superfans!
Sign up for membership to become a founding member and help shape HuffPost's next chapter