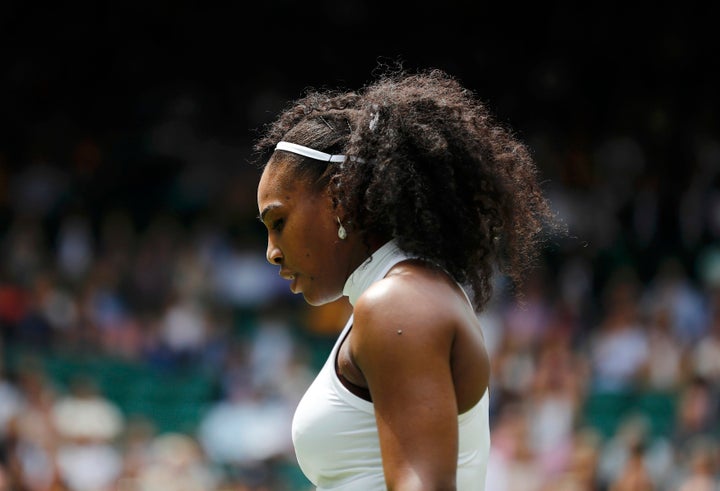 Serena Williams, tennis extraordinaire and one of the greatest athletes of all time, announced earlier this month that she would not be making her postpartum Grand Slam return at this year's Australian Open. She won the tournament last year, beating her sister Venus Williams in the final while pregnant with her first child. With that championship, Serena became the first tennis player to win 23 (!) Grand Slam titles during the Open Era.
That's not enough for Serena, though.
"After performing in my first match after giving birth, I realized that, although I am super close, I'm not where I personally want to be," Serena wrote on Snapchat while explaining why she won't be in Melbourne this year. "My coach and team always said, 'Only go to tournaments when you are prepared to go all the way.'"
I had a moment of panic upon hearing this news: What if she never again feels prepared to go all the way? What if Serena doesn't return to the game? There's no indication of this right now ― she's just taking a well-deserved break. And I understand logically that her retirement is inevitable (although, if she never retires, I will happily eat all these words until one of us dies).
But beyond asking if Serena will retire: Can she?
"What will be left in Serena's wake when she hangs up the racket for good?"
In some sense, we fans feel like we own her and she owes us. Play soon, play more, play better, be the best, be gracious, be tough, be beautiful, be humble, be calm, be happy, be serious, entertain us, win, win and win again. She is incredibly popular, known the world over. She is the highest-paid female athlete on the planet. She's also, easily, the most scrutinized, as black women always are.
The prominent position that Serena holds as a black woman means she faces an unfair amount of hate and criticism in a media landscape that can be both racist and sexist. Her anger on the court is heavily criticized, often disproportionately when compared to men or non-black women on tour who exhibit similar behavior. And it's not hard to find other black female athletes who face similar scrutiny: Gabby Douglas for her hair, Brittney Griner for her gender or Caster Semenya for her speed. We expect these athletes to perform, to be beautiful (in very specific, racialized ways), and to meet our gendered expectations at the same time. It's an impossible task.
Serena matters, then, both because of what she does on court and who she is off of it, how she manages and responds to the racism and sexism she faces in both places, and the grace with which she does it. She is a touchstone in black American culture, carrying meaning and inspiration well beyond the court. Serena and Venus never fit the narrative we knew in tennis or had the bodies we were used to seeing. Now, they've rewritten all the rules and inspired generations of players behind them. What will be left in Serena's wake when she hangs up the racket for good?
All of this speculating is probably for naught right now.
"Maybe this goes without saying, but it needs to be said in a powerful way: I absolutely want more Grand Slams," Serena said in a recent Vogue cover story. "I'm well aware of the record books, unfortunately. It's not a secret that I have my sights on 25."
I believe her and I believe in her.
"Everyone, including Serena, deserves space to follow their own path, go their own way."
It's not easy, though, to come back at 36 and as a new mom. Serena is trying to return from a birth that had dangerous postpartum complications, including blood clots (something that nearly killed her a few years ago), a large hematoma and six weeks of bedrest. There are moms on the tour who work hard to be professional tennis players, but it's a sport that rarely sees mothers winning Grand Slams. Kim Clijsters won the U.S. Open in 2009 and 2010, becoming the first mom to do so since 1980. She's also the last...so far.
When the time does come for Serena to exit the tour, women's tennis will move on; it always does. Out of sight, out of mind is cliche for a reason: Once you are no longer playing, you are no longer part of the 24/7 media cycle in the same way. Still, it will take effort from the young ones coming up behind Serena to carve their own paths.
After Serena left the tour early last year, we were introduced to Sloane Stephens. She has often unfairly been tasked with following in Serena's footsteps because she is also a black woman. Stephens slid onto the scene and beat her fellow Americans, Venus Williams and Madison Keys (both black women), to win her first championship at the U.S. Open.
Back in 2013, Stephens addressed how it feels to play in Serena's shadow, telling HuffPost: "I do feel a little bit of pressure, but I'm just thankful that Serena [Williams] is still playing, and people can still put a lot of pressure on her and expect her to win. Obviously she's such a great champion that I don't think anyone would replace her but I think that she's still playing is a good thing for me. It relieves some of the stress for myself."
It's hard to imagine that Stephens, an up-and-coming player of color, will ever be able to get away from being compared to Serena; it's possible that every female tennis player in the U.S. will be billed as "the next Serena," and black players in particular will face constant comparison. We tend to have one-dimensional ideas about women and to shoehorn them into narratives with which we are already comfortable.
So maybe instead of asking if Serena can retire, perhaps the right question is: Can we let go of the idea of her, allow others to blossom and achieve in their own ways, and allow Serena to do the same? Serena's legacy shouldn't be that we need more Serenas (although I'll take more Serena, let's not lie) but rather that everyone, including Serena, deserves space to follow their own path, open a door and then go their own way. Let's stop making them fight for every inch of that path the way we have with her.
Jessica Luther is a freelance journalist, author and co-host of the feminist sports podcast "Burn It All Down."
This piece is part of HuffPost's brand-new Opinion section. For more information on how to pitch us an idea, go here.
Popular in the Community