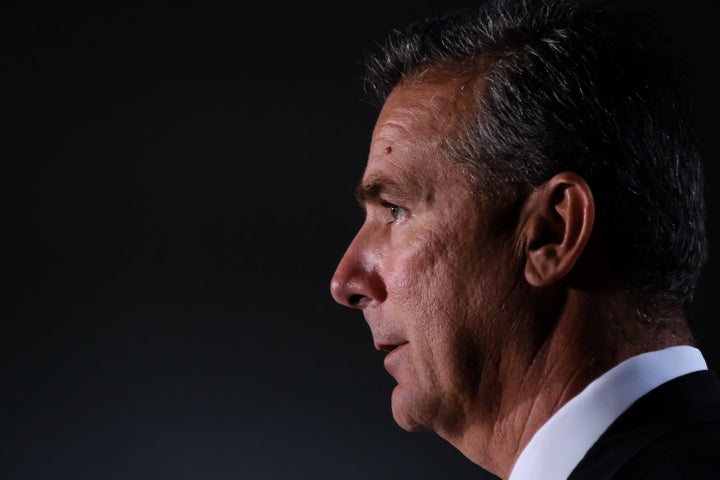 Late last year, Rachael Denhollander, the first woman to publicly report that former USA Gymnastics and Michigan State University doctor Larry Nassar had abused her, said this about enabling gendered violence: "Enabling doesn't usually look like someone saying, 'Oh, you're a rapist and rape is okay, so we're gonna let you keep on raping.' ... Enabling looks like deliberate indifference. It looks like extreme negligence. It looks like silencing the victims. It looks like an immediate presumption of innocence toward the perpetrator."
These are the words that have echoed through my mind over the last week as news swirled around what Urban Meyer, the head football coach at Ohio State University, did and did not know and what he did and did not do following multiple reports of domestic violence against a long-serving assistant coach of his, Zach Smith.
Last month, Meyer fired his wide receivers coach and recruiting coordinator, Zach Smith, after news broke that Courtney Smith, Zach's ex-wife, had filed for a domestic violence civil protection order against her ex-husband, following an incident earlier this year that led to Zach Smith being charged with misdemeanor criminal trespass.
This might have been a small story that would have only interested die-hard Buckeyes fans except that this wasn't Smith's first brush with the law or with being reported for domestic violence, and this wasn't the first time Meyer knew about it.
In this long Me Too moment, ... we must zero in on the enablers of abusive behavior.
Smith has known Meyer almost his whole life, as Smith's grandfather, Earle Bruce, was a former head coach at Ohio State and mentor to Meyer. Smith also played under Meyer when Meyer coached at Bowling Green State University. In 2009, when Smith was a graduate assistant working under Meyer at the University of Florida, he was arrested for aggravated battery on a pregnant victim. The pregnant woman was his then-wife Courtney. In 2012, Meyer hired Smith to his staff at Ohio State. In 2015, police investigated Zach Smith for felony counts of domestic violence and felonious assault against Courtney Smith.
The day after all of this news broke and Meyer fired Smith, Meyer, one of the highest-paid and winningest coaches in the game, told reporters that he knew about the 2009 incident, that "what was reported wasn't actually what happened," and that he and his wife had advised the Smiths to go to counseling. About the 2015 incident, he initially said, "there was nothing ... I don't know who creates a story like that," but then later that day changed his story to say he had only learned about the incident the previous day.
Last week, the college football reporter who broke this story, Brett McMurphy, published a piece wherein Courtney Smith said about the 2015 incident, "all the [coaches'] wives knew. They all did. Every single one." Along with her words, McMurphy posted photos of her and text messages she passed along that she says document not only what Zach Smith did to her physically but evidence that Meyer's wife and others knew about it.
In response to the public uproar and the distinct possibility that Meyer had lied about what he knew, Ohio State placed him on paid administrative leave and created a panel to investigate.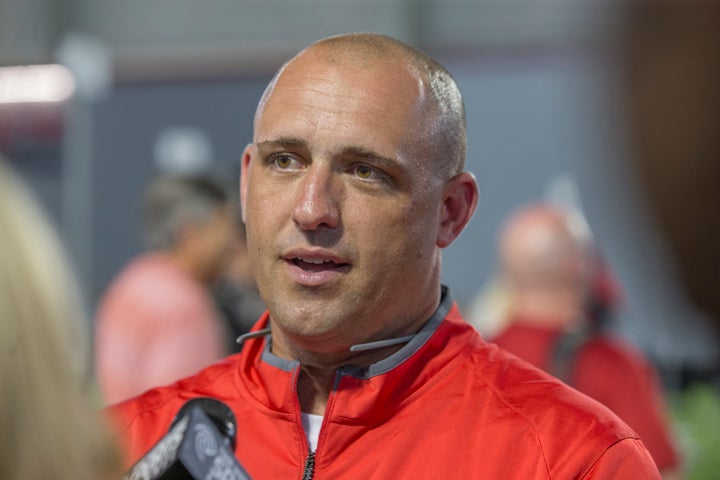 Meyer then released a statement contradicting what he said in July, acknowledging that he did know about Smith's report in 2015 and claiming now that he "followed proper reporting protocols and procedures." Third time's a charm when it comes to getting your story straight, I guess.
For his part, Zach Smith denies everything (he was never prosecuted or convicted, though over the past three years, Courtney Smith has received both a restraining order and now a protective order against him). He also says that Ohio State's athletic director, Gene Smith, knew about the 2015 incident and did nothing. According to The Columbus Dispatch, Smith's "performance reviews ... make no mention of the accusation or any actions taken as a result."
If this feels like a story you've heard before, there's a good reason for that. This mirrors closely what happened last year with University of Colorado football, except the head coach there, Mike MacIntyre, escaped without punishment despite not reporting the abusive behavior of his assistant coach. Perhaps you're thinking of similar stories of enabling from Penn State or Baylor or Texas A&M or Michigan State.
Or perhaps you're thinking of one of many stories to come out of Ohio State itself over the past few months. There are the more than 100 former students, including many former male wrestlers, who have reported that team doctor Richard Strauss sexually abused them while he worked at Ohio State between 1979 and 1997. There is the diver who is suing the university because she was repeatedly abused a few years ago by an Ohio State diving coach. There is the school's recently shuttered Sexual Civility and Empowerment unit, the one tasked with assisting sexual assault victims that was found, instead, to be mishandling reports and bullying students. There are the ongoing federal Title IX investigations at the university.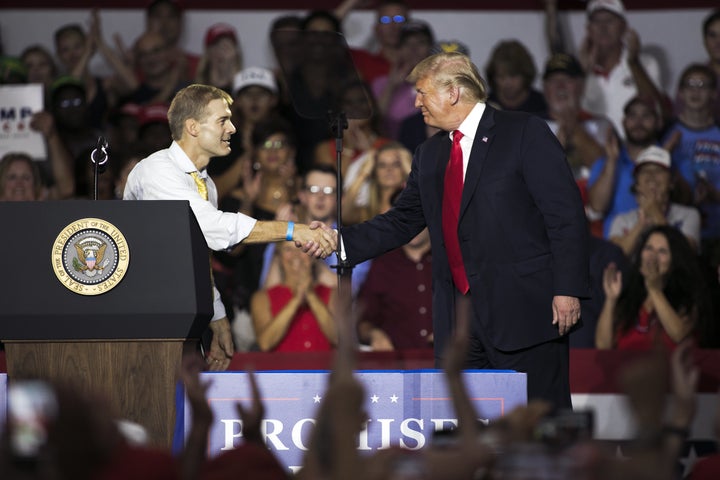 And within all of these tales of abuse and misconduct, there are enablers. The best-known example is Jim Jordan, the congressman from Ohio who wants to be the next speaker of the House and who was an assistant wrestling coach at Ohio State when Strauss was there. Multiple wrestlers have said Jordan was one of these people who knew and did nothing. Jordan has denied it.
Two wrestlers say that retired Ohio State wrestling coach Russ Hellickson has pressured them to recant, an enabler helping an enabler. And over the weekend, Jordan's latest enabling of a sexual predator happened on stage in Ohio when he embraced President Donald Trump.
In a recent interview with The New York Times, Eszter Pryor, the diver who is suing Ohio State, said, "if [the people who protect those reported for abuse] continue to hide the problem and protect themselves from bad publicity, they are just as bad as the perpetrator."
We might never know what all Meyer knew and when, or why exactly he made the choices he did (same goes for Jordan or athletic director Gene Smith). But it does feel like there is change afoot if, even in the upper echelons of our society's most prized collegiate sport, men might have to answer for enabling those around them.
The people who do physical harm are not the only ones to blame for this ongoing cultural disease. It is also those people Denhollander mentioned: the ones who look away, who excuse the behavior or refuse to believe the behavior possible, who quiet victims. In this long Me Too moment, as we grapple with how exactly to heal what ails us in a country that has a problem with gendered harassment and violence, we must zero in on the enablers of abusive behavior.
Our ability to tolerate indifference, extreme negligence, silencing the victims or the immediate presumption of innocence toward the perpetrator, is waning. Finally. But not fast enough.
Jessica Luther is a freelance journalist, an author and a co-host of the feminist sports podcast "Burn It All Down."
Calling all HuffPost superfans!
Sign up for membership to become a founding member and help shape HuffPost's next chapter