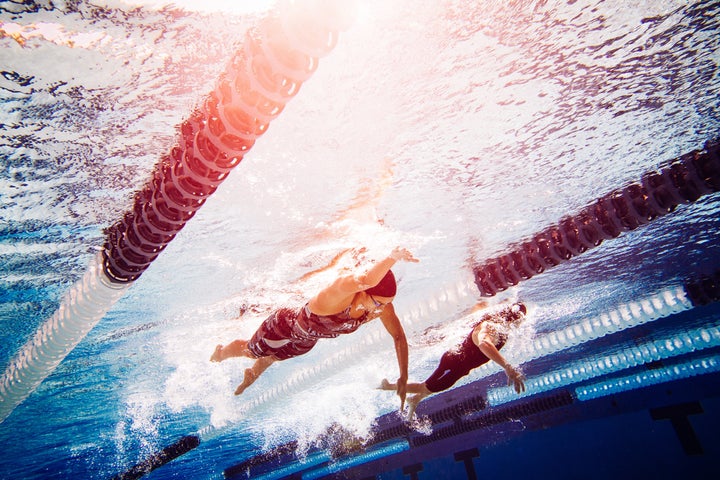 Last month, the Southern California News Group published an investigative feature about decades-long sexual abuse problems in USA Swimming. According to SCNG, over the past two decades, "at least 252 swim coaches or officials have been arrested, charged by prosecutors or disciplined by USAS for sexual abuse or misconduct against individuals under 18." There have been at least 590 alleged victims. Some were preschoolers at the time.
Not only did people at the top of the chain, including USA Swimming's former executive director and top officials, fail to take action after reports of abuse, but so did Susan Woessner, the recently resigned director of USA Swimming's Safe Sport. Safe Sport describes itself, I kid you not, as "USA Swimming's comprehensive abuse prevention program." Woessner resigned after disclosing, according to ESPN, that "she once kissed a coach she later helped investigate for an improper relationship with a swimmer."
"We have more outrage for doping than we do for the abuse of underage athletes."
You probably haven't heard much about this, but that's not for lack of reporting. In 2014, Rachel Sturtz wrote a long, harrowing piece for Outside magazine about this (predicting that the issue "may be getting a lot more national attention soon"). In a 2010 investigation for ESPN, "Sex abuse pervasive in USA Swimming," T.J. Quinn and Greg Amante found that "abusive coaches, some of whom molested young swimmers for more than 30 years, avoided detection because of a number of factors: USA Swimming and other organizations had inadequate oversight, [and] many local coaches, parents and swimming officials failed to report inappropriate contact they witnessed."
We just went through this with USA Gymnastics. But generally speaking, the abuse of young athletes by adults in the sports world does not receive the kind of wall-to-wall, sustained coverage that the magnitude and severity of the problem suggests it should. We have more outrage for doping than we do for the abuse of underage athletes.
And the knife in the heart is that the next investigative feature could be yet another report on US Speedskating or USA Taekwondo, both of which have a history of looking the other way on reports of gendered violence. Only a few days ago, a federal class action lawsuit was filed against a USA Volleyball coach, alleging that he'd sexually assaulted multiple players. That coach, Rick Butler, was initially banned from coaching by USAV two decades ago. They partially lifted the ban in 2000 before once again permanently banning him earlier this year.
Millions of children in the U.S. participate in youth sports, many of them in clubs overseen by one of the 47 National Governing Bodies (such as USA Hockey, the United States Soccer Federation or USA Swimming). Those NGBs, in turn, are housed under the United States Olympic Committee. According to The Washington Post, "more than 290 coaches and officials associated with the United States' Olympic sports organizations have been publicly accused of sexual misconduct since 1982."
To that end, athletes have been putting pressure on the USOC to take responsibility for its lax oversight of the NGBs. Athletes have actually been doing this for years. But for the most part, they've been doing it alone.
"It's not enough to say this is someone else's problem."
Famously, Olympic gold medalist Aly Raisman, during her victim impact statement in the Nassar case, said: "I have represented the United States of America in two Olympics and have done so successfully. And both USA Gymnastics and the United States Olympic Committee have been very quick to capitalize on and celebrate my success. But did they reach out when I came forward? No." She has now filed suit against the USOC.
Last week, the USOC announced that Scott Blackmun, the group's CEO since 2010, was stepping down for health reasons, and that the committee was undertaking "additional reforms and new initiatives designed to protect athletes from abuse and [to] respond quickly and effectively when issues surface." Despite being announced in the same press release, the USOC maintains that these two events were not linked. Blackmun's departure, the USOC says, is not related to the failures that have come to light regarding young athletes being sexually harassed and abused by coaches and other adults in positions of power. There's no claim of responsibility, even on the way out.
After Blackmun stepped down, Nancy Hogshead-Makar, a former gold-medal swimmer who is now CEO of the advocacy group Champion Women, said in a statement that "Blackmun's career will be defined by his unwillingness to protect children and athletes from sexual abuse within club and Olympic sports."
"We call on Congress to open the Sports Act," Hogshead-Makar said in that statement. "Structural changes are imperative."
Hogshead-Makar and other advocates recently helped push through legislation requiring NGBs to report the abuse of children to law enforcement, and to create a way to report to an independent entity outside of an NGB. There are more holes to fill between the USOC and NGBs, and both the USOC and NGBs like USA Swimming and USA Gymnastics can all make changes, starting now, to protect children who play sports.
Here's one way the future can go: More children will be abused. Eventually, there will be another report detailing high numbers of assault, lists of the adults who harm and a longer list of the adults who don't care to do anything about it. It will all feel familiar. We'll be outraged, shake our heads, and continue cheering on our favorite athletes.
But USA Swimming doesn't have to be a rinse-and-repeat of USA Gymnastics. It's not enough to say this is someone else's problem. Yes, these are the children who will become our national athletes and represent us on the international stage. But more importantly, these are children, full stop. And for them, we must reckon with the culture of silence we've built up around assault. Each of us ― parents, coaches, reporters and fans alike ― must start holding the people in power responsible for protecting them.
Jessica Luther is a freelance journalist, author and co-host of the feminist sports podcast "Burn It All Down."
Popular in the Community