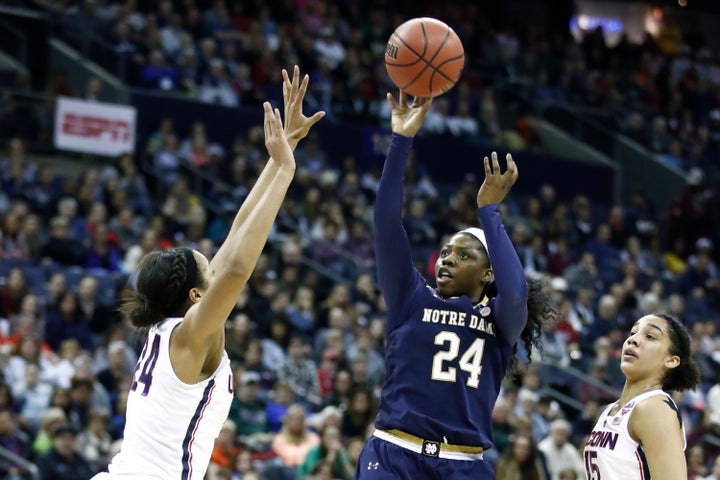 There were three seconds left in the game and Notre Dame had one last chance. Tied with Mississippi State, they struggled to get the ball inbound, but then it reached the hands of junior guard Arike Ogunbowale. Ogunbowale had already had her shining moment two days earlier when, in overtime, she hit a deep two to end the University of Connecticut's undefeated season and to propel her team to the championship game.
On Sunday, she caught the ball and dribbled a few steps down court. While still moving (she'd fall to her right as soon as she released the ball) and with the hand of Mississippi State's Victoria Vivians in her face, Ogunbowale squared up and shot. The ball swished through the net less than a second later, followed immediately by the flash of the end-of-game red lights on the border of the backboard. Notre Dame had won it all, and Ogunbowale had become a legend whom you'll probably hear little about after this week.
In fact, you probably know more about Sister Jean than you will ever know about her.
If you followed the men's March Madness tournament, you're well aware that Sister Jean Dolores-Schmidt is the 98-year-old team chaplain for Loyola University Chicago, the 11th-seed Cinderella team that made a remarkable run to the men's Final Four this year. That Sister Jean received more extensive coverage during one tournament than Ogunbowale will likely receive over her entire basketball career is not a slight on the luckiest nun alive, but rather a way for us to take stock of how we tell stories and where we choose to direct our attention.
"If you love sports but you've limited yourself to just men's sports for whatever reason, you're missing out on a lot."
Most of the discussion around women's basketball in March was spent this year, as it is spent every year, with some people in sports media explaining why no one wants to watch women's basketball. That is met with, and rightly so, other people in sports media going into great detail about the systemic factors (misogyny and patriarchy, in short) that lead to less coverage for women.
We do this annual reckoning and rehash every March because the two tournaments exist side by side, and unlike in the Olympics where female athletes grab a lot of the spotlight, it's obvious there's not parity for women's basketball coverage. Even basic things, like figuring out where you can fill in a bracket for the women's tournament, can be a challenge.
After a women's tournament and a Final Four like those we had this year, the excuses for not watching ― that the basketball is not high enough quality, that there isn't enough drama, that the athleticism is lacking, that no one dunks ― are harder to make. In truth, it would seem people don't watch women's basketball because they have sexist ideas about who counts as basketball players and what version of the game is legitimate.
These conversations inevitably lead to the chicken-egg argument around media coverage: Is it that not enough people watch women's sports to warrant better and more sustained coverage? Or do people not watch because there isn't better and more sustained coverage?
I'm siding with the head coach of the WNBA's Minnesota Lynx, Cheryl Reeve, on that debate (and yes, the caps are all hers): "THE MORE WOMEN'S SPORTS ARE COVERED, THE MORE POPULAR, AND MAINSTREAM, THEY WILL BECOME."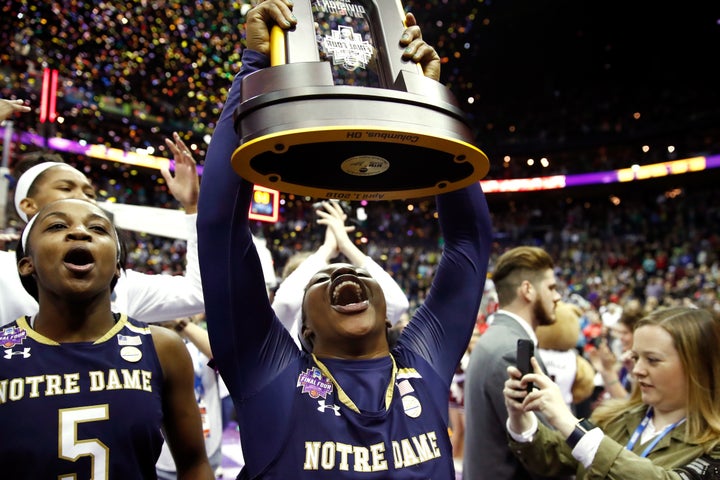 Here is what we know: Lots of people love watching women's sports and that number is always growing. But it's still harder to be a fan of women's sports because they don't have anywhere close to the same media infrastructure as men's sports. While we have unprecedented access to so many women's events these days, if you want to be an engaged and informed fan, you have to actively search out where to get news about your sport or team and where you can watch (or, really, how to stream) games.
It does help that there are now some sites dedicated to women's sports, like The Equalizer (soccer), High Post Hoops (basketball), The Victory Press (hockey, mainly but not exclusively) and, of course, espnW. Social media also gives people the ability to build networks that allow them to follow certain reporters and have conversations with other fans.
But it remains fundamentally different from following men's sports. Often, it feels like the mainstream media pay attention to women's sports chiefly when women's sports are struggling. But the postmortems that analyze what went wrong leave out the media's own role in the demise (this happened recently in Boston when the professional women's soccer team folded).
If you love sports but you've limited yourself to just men's sports for whatever reason, you're missing out on a lot. That makes me sad for you, but also for those athletes, coaches and teams who give so much to the games you say you love. We can't change the media coverage in the past, but we can certainly change it moving forward.
We are in the midst of the National Women Soccer League's season and the WNBA's season is around the corner. I want profiles of the players and coaches, recaps of games, and sustained coverage that I can easily find on the homepage instead of having to click around for five minutes until I find it buried deep on the site. I want reporters to stop ignoring the women's teams in the cities they cover whenever they're talking about the number of titles or teams the city has. I want editors of sites to stop acting like there is no interest in women's sports and instead roll up their sleeves and do the work of building audiences. These are untapped markets and we are waiting.
I want better and more extensive coverage of the women playing the sports. Give me Sister Jean but, my God, I want Arike Ogunbowale more.
Jessica Luther is a freelance journalist, author and co-host of the feminist sports podcast "Burn It All Down."
Popular in the Community