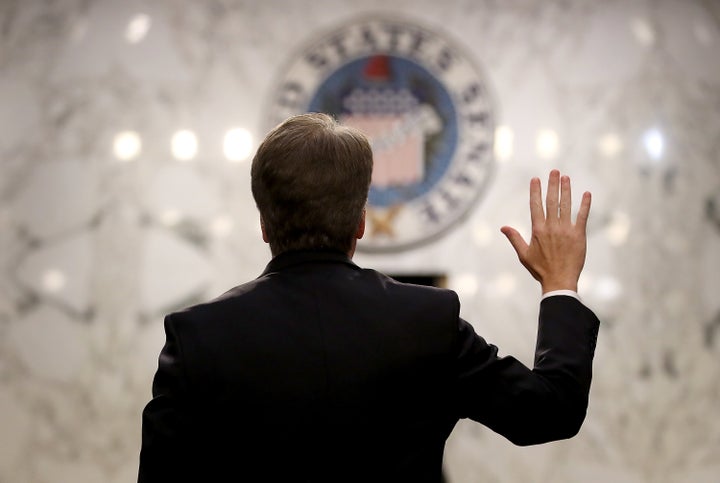 There's one person Christine Blasey Ford says was in the room when she was allegedly sexually assaulted by Brett Kavanaugh while they were in high school ― and he appears to publicly back Kavanaugh's denial that any sexual assault took place.
It's the kind of testimony you'd think the White House and Senate Republicans would be eager to have. More than that, why wouldn't Judge, a classmate and friend of Kavanaugh's during his years at Georgetown Prep in Maryland, himself want to help clear his old high school buddy's name?
Judge responded after being contacted by reporters by telling The New Yorker on Friday that he had "no recollection" of any such assault. Later that day, he told The Weekly Standard the accusation is "absolutely nuts," and claimed, "I never saw Brett act that way."
Still, Judge wrote a letter to the Senate Judiciary Committee on Tuesday in which he stated he had no intention of cooperating with the committee in any way, while reiterating he had "no memory" of the incident Blasey described.
Here's Judge's chance to come to the aid of Kavananah, whom he proudly referred to in a Facebook update shortly after his school chum was nominated to the Supreme Court in July (quipping that Kavanaugh has "the same hair as the night I met him" in 1981). But he's completely backing away. Why?
That the question has to be asked at all is the reason why Judge, as well as others who were present at the party Blasey described, must be subpoenaed by the Judiciary Committee to testify.
Judge may repeat under oath that he has "no memory" of any sexual assault by Kavanaugh. But he can also be asked questions about Kavanaugh's behavior in high school, including his drinking habits and partying (Blasey said both Kavanaugh and Judge were drunk during the alleged assault) and whether he and Kavanaugh drank so much in those days that they might not remember a sexual assault.
Judge has written several memoirs, including, Wasted: Tales of a Gen X Drunk, in which he discussed being a blackout drunk in high school and attending wild parties with his classmates. His testimony is critical to understanding what happened back then.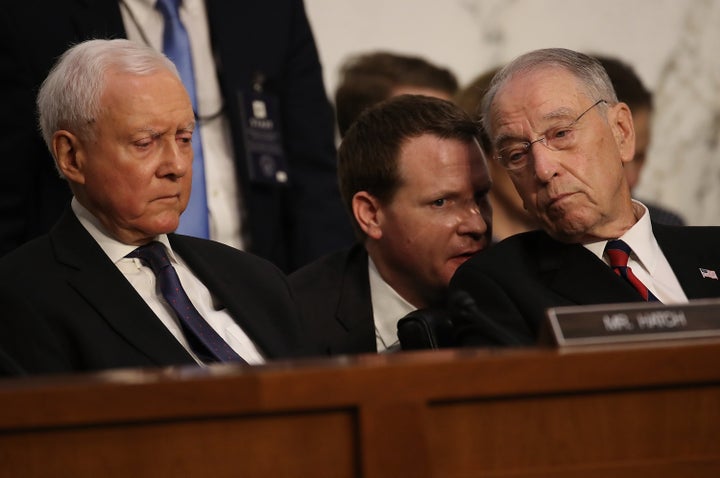 Tuesday night, after GOP Senate leaders resisted Democrats' calls for additional witnesses, Blasey announced she'll only testify after the FBI investigates her accusations. Her attorney, Debra Katz, had said on Monday that her client would be eager to testify, but didn't want to be part of a "bloodletting" ritual. She clearly wanted a real investigation, rather than to simply be used as a fig leaf for the GOP. Judiciary Committee Republicans almost immediately responded by saying that if Blasey didn't accept the invitation on Monday, they would proceed with a vote on Kavanaugh's nomination anyway.
Regardless of whether there is an FBI investigation, and whether Blasey testifies before the Senate committee, Judge must be subpoenaed. According to Blasey, Judge was part of the assault, laughing "maniacally" ― an alleged accomplice who watched and even jumped on Kavanaugh and Blasey while Kavanaugh molested her.
What seems evident, however, is that Republicans on the committee know that Judge would be a disaster as a character witness for Kavanaugh. Not only would there be much focus on his writings about being highly intoxicated at high school parties, but it would open Kavanaugh to questions about the slew of other offensive things Judge has written. For instance, his piece on how some women dressed in a way that might provoke rape ― even though there's "never any excuse for rape."
In a 2006 piece called "Gay Sex," Judge trafficked in the most base anti-gay stereotypes, asking, "Why are they still getting AIDS, the most preventable disease since alcoholism? Why were 90 percent of the priest abuse cases involving priests with teen-age boys?"
He went on to further compare homosexuality with alcoholism and compulsion, speculating "that along with the genetic or hormonal hardwiring that makes someone gay comes a level of pathological compulsiveness. It's there waiting to explode the way alcoholism is, and requires a constant struggle to tamp down."
Were Judge and Kavanaugh friends all through these years since high school, and does Kavanaugh share some of these bigoted views? Those aren't questions Kavanaugh or Republicans want the media to dwell on.
But protecting Kavanaugh from tough questions shouldn't be the priority here. If Senate Republicans actually cared about getting to the bottom of what happened, they would want Judge's testimony.
The fact that they don't, and their rush to make Blasey testify, speaks volumes.
Michelangelo Signorile is an editor-at-large for HuffPost. Follow him on Twitter at @msignorile.
Popular in the Community