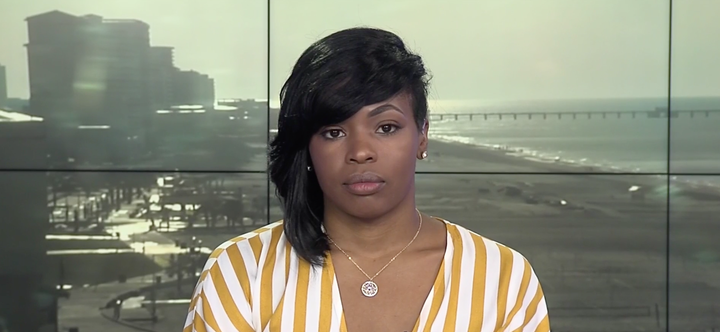 In a now-viral video, officers can be seen threatening the young black woman inside a Waffle House in Saraland, Alabama. Her mere questioning of why the restaurant was charging her for plastic utensils quickly escalated into a violent police encounter.
Just one week prior, two black men were unnecessarily arrested at a Philadelphia Starbucks. Rashon Nelson and Donte Robinson had been waiting inside the coffee shop for a friend when the store manager felt they'd taken too long to order and called the police, who arrested them.
Despite the similarities between the two incidents, the Starbucks arrest received far more media attention than the encounter at Waffle House, resulting in a quick corporate response and a plan of action. Waffle House and the Saraland police maintain they followed protocol.
This disparity is part of a larger, startling pattern of violence against black women being overlooked when it comes to police brutality targeting black people. We must remember that the racial biases in policing that lead to black men being victims of violence also apply to black women, even though their stories are less visible. Black women bear a double burden ― carrying the weight of a weaponized skin color and the invisibility of a silenced gender.
There is indeed a long history, dating back to slavery, of police regulating black women's behavior and punishing their social defiance through force and sexual violence. During the civil rights movement, police used force to intimidate black women activists. In her speech at the Democratic National Convention in 1964, civil rights activist Fannie Lou Hamer described the police beating she received as punishment for advocating for voting rights and openly challenging white supremacy. She spoke of how the officer purposefully pulled up her dress to expose her.
In today's social justice movements, similar treatment continues. The documentary "Say Her Name: The Life and Death of Sandra Bland," which premiered at this year's Tribeca Film Festival, chronicles the life of Sandra Bland, an outspoken racial justice advocate who was arrested in July 2015 during a traffic stop in Waller County, Texas, and found dead in her jail cell just three days later.
Video footage from the traffic stop shows her asserting her legal rights to former state trooper Brian Encinia, who responded with increasing aggression. He later claimed he arrested Bland because she assaulted him. However, video footage showed that he ripped her from her car seat, slammed her to the ground and kneed her in the back.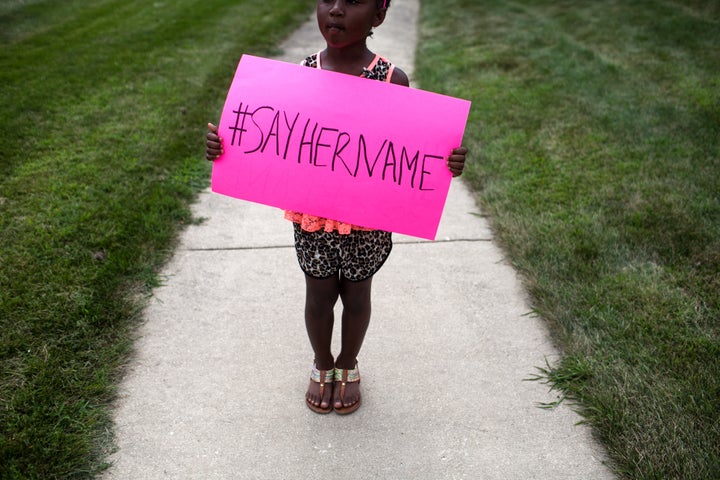 Intersectional biases lead to extreme punishment and force against black women and girls alike. In June 2015, 15-year-old Dajerria Becton was apprehended after white neighbors called the police to complain about black teens enjoying the community pool. Though Becton was wearing only a bikini, officer Eric Casebolt slammed her to the ground, mercilessly kneeled on her back and gripped her bare skin while she cried out for her mother. Neither her youth nor her gender provided her protection from the abuse.
A 2014 report released by the NAACP Legal Defense Fund found that although black and white girls have similar rates of misconduct, black girls are subjected to arrest far more often. These disparities result from and perpetuate false stereotypes that black girls are inherently aggressive, sexually deviant, threatening and dangerous, and not deserving of empathy, nurturing and attention.
Research from the Georgetown Center on Poverty and Inequality also shows that adults perceive black girls as needing less nurturing, protection and support than white girls of the same age. Researchers hypothesize that these negative perceptions lead adults to believe that black girls deserve harsher punishment.
"Black women bear a double burden ― carrying the weight of a weaponized skin color and the invisibility of a silenced gender."
But it's not enough to recognize the racial bias in policing that affects black women and girls. We must uplift their stories. While the national discourse acknowledges how stereotypes can lead officers to grossly overestimate the perceived threat of black boys and men, the relative radio silence on policing black girls and women may mean that they are left out of burgeoning police reforms.
The "Say Her Name" movement was formed for this very reason: to demand recognition of the police killing and abuse of black women. Too often, racial justice movements and women's movements such as Me Too under-acknowledge police violence against black women and girls, and fail to recognize the sexual harassment and assault they experience at the hands of police officers.
Perhaps the most chilling aspect of these videos of police brutality against black women and girls are the strangers who witness the violent scenes while doing nothing. Indeed, a clear pattern has emerged from each story, each tragedy: the rendered invisibility of black women.
Popular in the Community