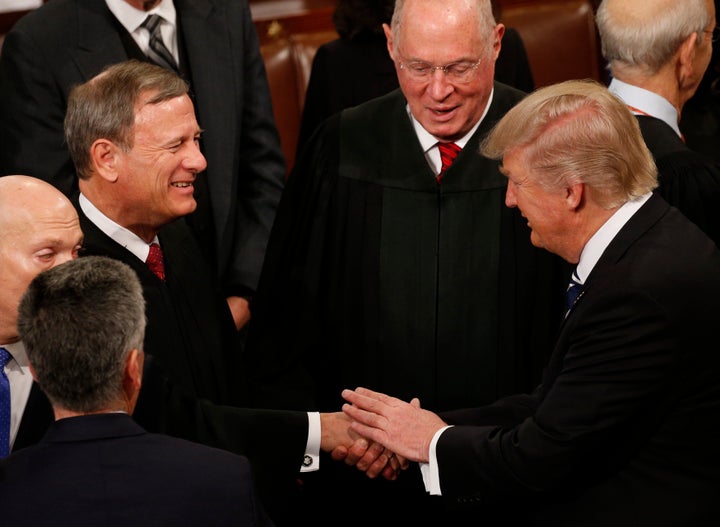 On issues from racial justice and reproductive freedom to money in politics, the U.S. Supreme Court has been a key impediment to progressive goals.
Despite all this, Republicans are far more mobilized on the court than Democrats, something true among both the general public and activist elites. Despite his rank incompetence in every branch of government, Trump has managed to create an efficient pipeline of far-right judges to the federal bench, filing it four times faster than Obama through his first year. However, even as the court has become a reactionary institution, my analysis of Cooperative Congressional Election Studies reveals a disturbing pattern: Democrats mostly have positive views of the court and see it as a centrist institution rather than one that explicitly seeks to advance the Republican agenda.
Progressives Are Misguided About The Court
For the last several years, the Cooperative Congressional Election Studies survey has asked individuals to place various institutions, including the Supreme Court on a 1 to 7 scale, with 1 being "very liberal" and 7 being "very conservative." As the chart below shows, there was a recent spike in the share of Democrats believing the court was "middle of the road," increasing from 2014 (28 percent) to 2016 (43 percent), with "don't knows" excluded.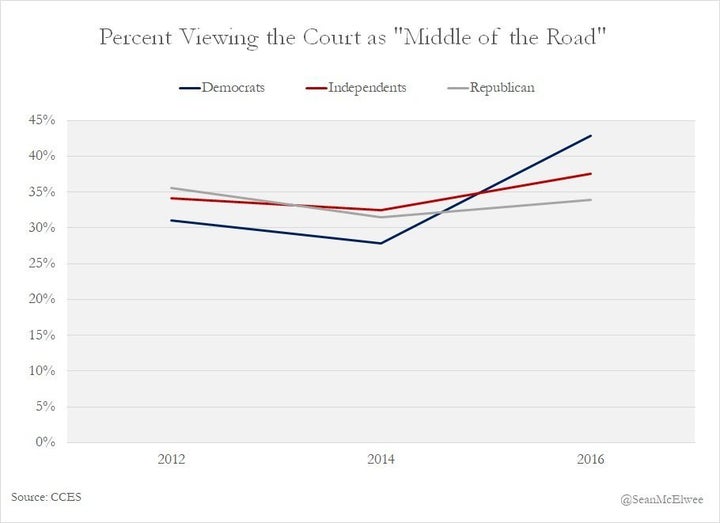 The chart below shows the full spectrum of attitudes toward the Supreme Court's ideology in the most recent survey (2016), with individuals who said they were "not sure" excluded (Democrats were somewhat more likely to say they were not sure, and independents were far more likely). Democrats are much more likely to indicate that they believe the court is a centrist institution. In addition, while a quarter of Republicans see the court as "very liberal" or "liberal," only a fifth of Democrats see the court as "very conservative" or "conservative." Given that the court is majority Republican appointees and most scholarly assessments place it to the right of center, these results suggest a strong partisan asymmetry in views toward the court. Republican voters believe the court is working against them and are willing to fight against it, while Democrats mostly see it as a neutral arbiter of law (though this survey was completed before Neil Gorsuch was added to the court).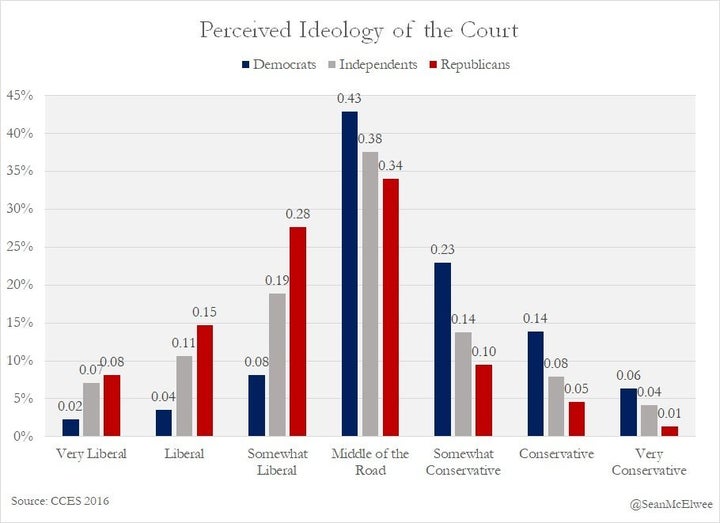 This dynamic extends to partisan approval of the court. Even as the Supreme Court struck down much of Obama's first-term agenda and decided the Hobby Lobby, Citizens United, Shelby County and other cases anathema to progressive values, there was a durable pro-court approval gap. Democrats were more likely to approve of the court than Republicans by an average of a 14 point margin from 2010 to 2014. This gap increased only to a 32-point margin in 2016 (the chart excludes "don't knows"), even while the court decided cases like Trinity Lutheran, in which the court required the government to subsidize churches.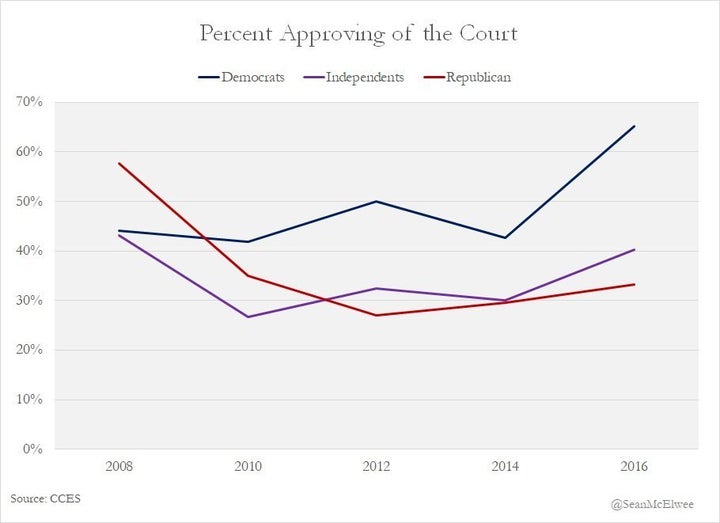 Young Democrats are more likely to approve of the court, with 69 percent of 18- to 29-year-old Democrats favoring it (excluding "don't knows") compared with 55 percent of Democrats 70 or older. Even among "very liberal" Democrats, the court has strong approval.
Fight Fire With Fire
In the meantime, we can demystify the court by demanding same-day audio for all arguments; currently, the court releases audio only on Friday afternoons, when the news cycle is over. Same-day audio has been granted for just two cases in recent years, Obergefell and the Trump travel ban case. If progressives called on media to routinely request same-day audio, the court might feel compelled to comply.
Conservatives have powerful, well-funded organizations, such as the Federalist Society and Judicial Watch, that seek to create another generation of conservative justices. The Federalist Society, for instance, is largely responsible for the rapid clip of Trump appointees: Behind the scenes, they vet and prep Trump nominees and grease the wheels on the process. They have gone as far as to fund college programs to create a new generation of conservative judges. Progressives have institutions like the American Constitution Society that are meant to replicate the Federalist Society, but these institutions tend to be less explicitly partisan. Progressives need an institution like Judicial Watch on the right that can be an attack dog, combing Trump judges for inappropriate quotes, calling out conservative judges acting improperly, collecting the offensive and homophobic statements by judges like John Roberts and documenting the partisan nature of the court.
We are in a second Lochner era, in which the court threatens to strike down a progressive agenda with the slightest pretense. There is some evidence this is changing, with the rise of groups like Demand Justice that aim to mobilize Democrats on court issues. These groups need attention from Democratic donors and activists, because there is a real chance that whatever progressive gains on voting rights, health care or gun control Democrats create post-2020 will be rolled back by an emboldened court.
The court feels comfortable because they are seen as a nonpolitical institution. Voters must understand that judges are politicians in robes, and that, right now, conservatives have an unchecked majority. It's time for progressives to start taking the court seriously.
Popular in the Community