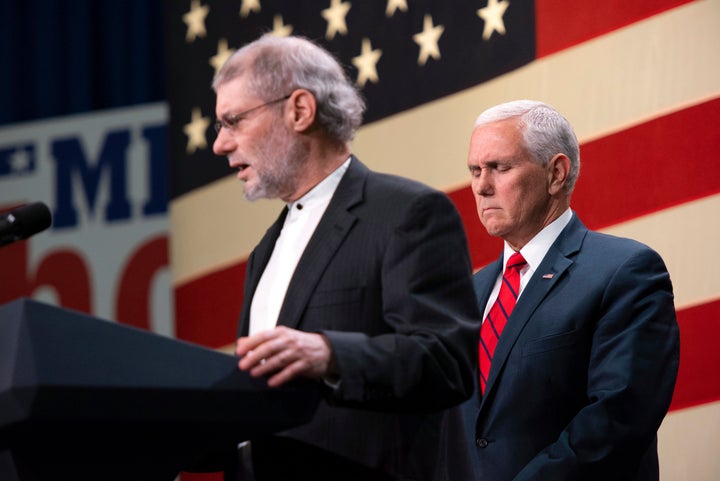 At a campaign rally in Michigan on Monday, Vice President Mike Pence invited Rabbi Loren Jacobs to the stage to pray for the 11 people who had been gunned down just two days before while worshipping at the Tree of Life synagogue in Pittsburgh. In usual circumstances, having a rabbi offer a Kaddish, or a prayer for the dead, would seem the respectful response to the heinous murder of 11 Jews, although one might say a far more generous move would have been to cancel the political event altogether.
But the Trump administration rarely chooses generosity. And when it comes to showing respect to America's Jews, they are far more likely to take the opportunity to dog whistle to their white evangelical base.
That was certainly evident in the appearance of Rabbi Jacobs at Monday's event. Rather than any number of Orthodox or conservative rabbis who might have offered a prayer, instead the one chosen was Jacobs, a "Messianic rabbi" who believes that Jesus is the messiah and that Jews who have not accepted him as such will go to hell.
Jacobs' beliefs and practices place him and other Messianic Jews like him outside of traditional Judaism and much more in line with Pence's faith, evangelical Christianity. Given that, his prayer to open the event not surprisingly expressed Christian pieties. It also focused more on boosting Republican candidates than mourning the Jewish dead.
Offering his prayer to "God and Father of my lord and savior, Yeshua, Jesus the messiah," Jacobs then asked for God's blessing on Trump, Pence and the Republican Party. Instead of saying the names of each of the 11 killed in Pittsburgh ― the normal observance in a Jewish prayer for the dead ― Jacobs listed several Republicans running for office in Michigan, praying that God "might grant them victory in this election."
Rather than a commemoration, Jacobs had offered up a campaign commercial. Later, when Pence spoke, he invited Jacobs back to the stage, referring to him as "a leader in the Jewish community," and bowed his head while Jacobs once again offered a prayer "in Jesus' name."
Understandably, Jacobs' appearance and prayer elicited outrage on Twitter and across the internet over Pence having brought out a "Christian rabbi" to pray for the murdered Jews. Predictably, Pence's team has denied the vice president had any role in selecting Jacobs for the event, although there was no denying that he had invited him onto the stage.
"In more ways than one, Pence has provided important religious cover for Trump to conservative evangelicals."
But far bigger than the fodder Jacobs' prayer provided for scuffles on Twitter and cable news, the event in Michigan demonstrates yet another example of how in every way ― even after the anti-Semitic killing of 11 innocent Jewish worshippers ― the Trump administration conceives of the country as a Christian nation and only imagines its citizens as white evangelicals.
Ironically, that attitude has perhaps been most apparent in the Trump administration's treatment of Israel and its handling of Jewish issues. Most notably, Trump often characterized his promise that he would move the U.S. Embassy in Israel from Tel Aviv to Jerusalem as intended to realize Jewish desires, but in reality the proposal was targeted to conservative evangelicals who believe it had to be done to fulfill biblical prophecy that would bring about Armageddon.
At the embassy's dedication last May, the Trump administration telegraphed that clear message to the president's evangelical base by bookending the ceremony with prayers from two conservative Christian pastors. Robert Jeffress, the Baptist preacher, Fox News contributor and close adviser to Trump who has said that Jews are going to hell, provided the opening prayer, which he concluded "in the name and the spirit of the prince of peace, Jesus our lord." The closing prayer came from the Rev. John Hagee, a Texas evangelist who once argued that God had used Hitler to return Jews to Israel.
The same tactic of using a supposedly Jewish event to advance an evangelical message had been on full display when Pence spoke before Israel's parliament in January. Threading his talk with numerous scriptural references, Pence obliquely characterized Jews as necessary pawns for the second coming of Christ, a complicated message that the Israeli newspaper Haaretz noted would be lost on most Jewish listeners but plainly obvious to his evangelical audience back home.
While Pence's coy use of Jews and Judaism to signal to his evangelical base is certainly not as brazen as Trump's loud siren calls to his white nationalist supporters, it may be just as dangerous. In more ways than one, Pence has provided important religious cover for Trump to conservative evangelicals, using his exaggerated righteousness to distract from the president's own louche character and shady personal life.
It's grossly offensive to use another's religion, especially in such a tragic moment, to announce one's own religiosity. But what's really destructive is the message beneath the message, to both Trump's evangelical base and those who might carry out further anti-Semitic violence, that to this administration, there's only one religious faith that really counts.

Neil J. Young is a historian and the author of We Gather Together: The Religious Right and the Problem of Interfaith Politics. He hosts the history podcast "Past Present."
Popular in the Community