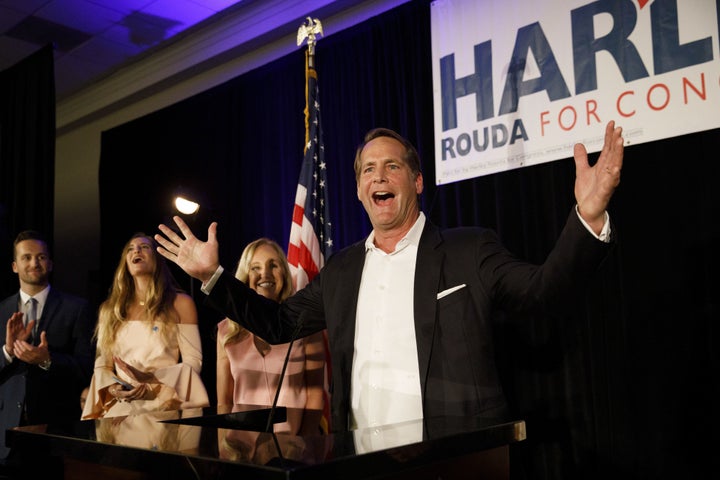 In the two years leading up to Tuesday's midterm elections, progressives from all over the country activated like never before, captivated one another's imaginations and inspired each other to think big in taking on President Donald Trump and his hateful, racist, authoritarian agenda.
A downside to that ― if it can even be called that ― is that expectations ran sky-high as Election Day approached. Democrats expanded the playing field massively, and we wanted to win big everywhere. More than that, some potential victories became larger than life, only to evaporate before our eyes.
In particular, some of the people who inspired us the most ― Andrew Gillum in Florida, Beto O'Rourke in Texas ― were narrowly defeated. And we saw that Trump's blatant use of racism, fear, lies and distortions still has great utility in America's reddest places.
"Imagine what we'd be saying today if Democrats had lost the House. Just ponder where the country would be headed."
But we can't let these deeply disappointing losses allow Trump or anyone else to distort the truth about this major win: Trump has been rebuked and will be restrained. Democrats accomplished what they set out to do by flipping the House of Representatives. A clear majority of voters has saved American democracy from falling into the abyss, at least for now, by providing a check on Trump.
Imagine what we'd be saying today if Democrats had lost the House. Just ponder where the country would be headed. Imagine how Trump would be crowing if the situation was reversed and the GOP won the House, even if Democrats stopped the GOP from expanding the Senate, and even if we won the Florida governor's race?
No matter what happened, Trump would call it a win. But he must know that this outcome means his presidency is now completely different.
After the 2016 election, the primary goal for progressives and Democrats became winning the House. Even that, in those early days, was seen as a daunting and perhaps unrealistic task, in no small part because of rampant gerrymandering that had created a congressional map incredibly friendly to Republicans.
At the time, Trump and some in the GOP were thinking they might even win 60 seats in the Senate, because of the poor map for Democrats in 2018. The GOP thought it could grab every red state on the map, including those states that Trump flipped in 2016: Ohio, Michigan, Pennsylvania and Wisconsin.
In the end, all of those states' Senate races stayed safely Democratic, and Democrats took the governorship in three of the four, flipping two of them. Scott Walker's defeat in Wisconsin is a major prize. The flipping of Kansas' governor's seat, defeating voter suppression villain Kris Kobach, seemed unlikely at the start of the cycle. Flips in the Nevada and Maine governors' seats are an important boost as well.
Not only did Democrats win the House by flipping 30-plus seats, they did it with record numbers of women (over 100!) and people of color winning those seats. And taking the House in that way is a massive repudiation of Trumpism and its racist, sexist underpinnings.
The wins didn't just happen in urban and suburban East and West coast metropolitan areas, either. Democrats reached deep into Trump-won country, into rural and small-town upstate New York districts, such as New York's 19th, where attorney Antonio Delgado, a Latino man in a county where only one in five people are not white, beat GOP Trump backer John Faso in a district Trump won by 8 percentage points. They moved far into the heartland that had embraced Trump: Sharice Davids became the first Native American lesbian elected to Congress, defeating GOP incumbent Kevin Yoder in Kansas. These sorts of historic firsts were repeated over and over in races across the country.
There's no question that some of the losses were heartbreaking, and that Senate pickups by Republicans create deeper challenges. But the fact that Democrats were even competitive in Texas and Georgia (in the governor's race) said a lot about the unprecedented organizing.
This is just the beginning. Trump is already running scared, warning Democrats against investigations and making empty threats. Democrats, empowered with progressive new faces, will push forward.
It won't just be about investigations, but about passing legislation protecting Americans from Trump's excesses and brutality. Those bills will show America what can done to stand up to the threat of Trump ― even if, as expected, the Senate takes up none of that legislation.
Tuesday's wave was the first step in ending the nightmare of Trump as president. Democrats in the House and in statehouses across the country are now well positioned to set the party up for 2020, when, if we continue, we'll win again.
Popular in the Community