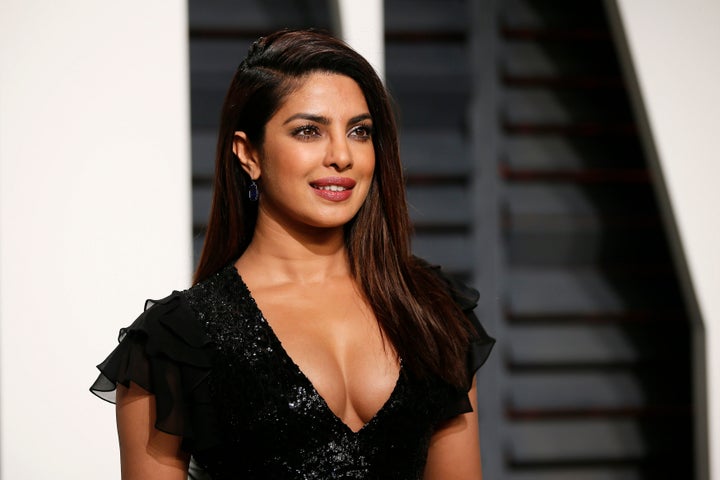 I get excited every time I see a brown woman on TV. I can't help it. I can remember the handful of times it's happened, because, let's be honest, it doesn't happen much.
I remember way back when my sister called to tell me there was a brown girl, Mindy Kaling, in the second episode of "The Office." Or the first commercial I saw for "Quantico," with Priyanka Chopra in the lead, even though she was being accused of terrorism (something we are familiar with). Or when I saw Lilly Singh for a minute in "Bad Moms." That one moment literally made me do a happy dance in my seat, because the only time you see a brown woman on TV is if you're watching a channel from overseas.
And when I say "brown," I mean South Asian ― people from countries such as Pakistan, India, Bangladesh, Sri Lanka and the like. We refer to ourselves as "Desi," and there is an extreme lack of the portrayal of Desi women in the media, the entertainment industry and even politics in the West.
It's not that we're not there, or that we don't exist. There's actually about 6 million South Asians in the Unites States alone. But even with so many of us, we are lacking representation.
The only way people relate to us is either through Manju from "The Simpsons" or Bollywood actresses, wearing bright-colored skirts and breaking out into a choreographed dance at the drop of a hat. I can assure that is not the case for most Desi women (though I can bust a move at the occasional wedding if I'm in the mood).
None of us has the space we need to celebrate our South Asian heritage in the West.
For too long, people of color have been lumped into one large group. It's always been white people in one group and people of color in another. And the problem with that is that there isn't just one type of person of color.
In today's political climate, minorities of all sorts are starting to come to their own, and it's about time. Women, especially, are standing out in their own groups, while pushing intersectionality. Black women, women in the LGBTQ community, Latina women ― they are making space for themselves, space that wasn't there before. And this is the time that Desi women have to do the same thing. We cannot ride the backs of other communities who are pushing for their rights. We need to be front and center as well.
Here's the problem for Desi women: We are often grouped with either black or Arab women. While some Desi women do identify as black or Arab, some of us don't fit in either category. And none of us has the space we need to celebrate our South Asian heritage in the West.
I have faced the confusion of trying to blend in with black or Arab women, but not really being either. I've attended Black Lives Matter protests and fundraisers for Syrians and Yemenis ― but always as a spectator, wary of adding my opinion because I don't want to overstep. I am always invited, but never fully involved. I have noticed that the women in my community feel rather left out of major conversations and movements because of this. It can be a slippery slope of fitting in, being an ally and having our own voice.
Yes, many of the issues in communities of color are overlapping, but there are issues that are specific to the South Asian community. For example, the Desi community in general often expects a woman to be silent sufferer. We cannot talk about domestic abuse or sexual abuse because the issue is so taboo. I know countless South Asian women who have been sexually harassed, but even at this time would never dare to join the Me Too movement, knowing they would be shunned from their family and community. And God forbid a Desi woman gets divorced, regardless of how abusive that marriage was; chances of ever getting married again are slim to none. It's time for us to also stand up and represent ourselves the right way, because no one is going to do it for us. 
I'm tired of being portrayed as a two-dimensional character, with no other ambition but being married and taking care of my children.
Brown men, such as Hasan Minhaj and Kumail Nanjiani, are now starting to scratch the surface and come into the entertainment industry. The irony is that even brown men who are in the industry seem to jump on the bandwagon of showing Desi women in a negative manner.
When Desi women are mentioned, like in the movie "The Big Sick," it's often as a butt of a joke. The brown girl is either an uneducated housewife or a woman with a strong accent who isn't as beautiful and amazing as her white counterpart. The audience sees the brown man as being forced to be with a woman from his own country, while actually wanting someone better, someone more beautiful, someone well-rounded ― in other words, someone white. And you know what? I'm tired of that narrative. I'm tired of being portrayed as a two-dimensional character, with no other ambition but being married and taking care of my children.
Brown women are much more than that. We have women like Laiba Zaid representing major beauty brands, and bloggers like Farah Dhukai, Deepica Mutyala and Ruma Begum taking the internet by storm. Or activists like Malala and Muniba Mazari pushing for women's education and rights. We have amazing women who can't even fit into one box, like Bali Bassi, an activist, model and so much more. We have writers like Rabia Chaudry and Samira Ahmed sharing our stories and showing our potential. Or lawyers like Zahra Billoo and journalists like Sana Saeed up to their knees within the political movement of today's society. Desi actresses like Lilly Singh and Melanie Chandra are representing us in TV and movies. We have female South Asian politicians like Pramila Jayapal and Kamala Harris. The list goes on, and so does our potential. This is why we need better representation in the media and in this country as South Asian women.
I think it's time that brown women get a seat at the table, in their own space, especially when there is a movement for equality and equity for women in the West. And if no one is going to give us space, then it's time to push our way in. So can the real brown women please stand up?
Bisma Parvez is an American, Canadian and Pakistani writer and poet from Detroit.
REAL LIFE. REAL NEWS. REAL VOICES.
Help us tell more of the stories that matter from voices that too often remain unheard.