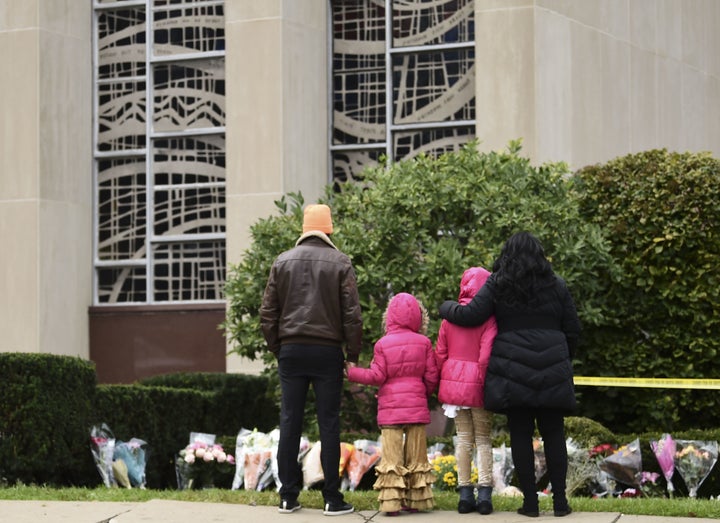 I understand what Pennsylvania Gov. Tom Wolf was trying to do with his statement immediately following Saturday's mass murder at Tree of Life Synagogue in Pittsburgh. When he said, "These senseless acts of violence are not who we are as Americans," he was saying that this horrific event ― a hate-fueled massacre of innocents in an American house of worship ― does not reflect our national character. And I get it. It's gut-churning to think what happened there is a reflection of all of us, as opposed to the work of a lone, depraved actor.
But here's the problem: It is who we are. Or, at least, a large part of who we are.
Now, I'm not saying every American is a gun-toting mass killer who spews anti-Semitic hatred online. But, as soothing as it is to think of the events in Pittsburgh as something outside of our national identity, this simply isn't true. Gov. Wolf's line, which he repeated in a press conference, is a statement of fantasy, not fact.
"As soothing as it is to think of the events in Pittsburgh as something outside of our national identity, this simply isn't true."
Our gun obsession and refusal to significantly regulate firearms have led ― predictably, you might say ― to a string of mass shootings in almost every conceivable public place: nightclubs, elementary schools, high schools, community colleges, state universities, military bases, supermarkets, airports, nursing homes, Planned Parenthood clinics, cafes, IHOPs, Waffle Houses, coffee shops, malls and hotels. According to Mother Jones, There have been more than 100 of these events (indiscriminate rampages in public places resulting in four or more victims) since 1982, and Saturday's attack wasn't the first mass shooting at a religious site in recent memory. Think of the 2012 attack at a Sikh Temple in Wisconsin, or Charleston in 2015, or Sutherland Springs, Texas, where, less than a year ago, 26 people lost their lives in a Baptist Church.
The Pittsburgh shooting wasn't even the only act of hate-fueled violence last week. On Friday, the FBI arrested a suspect in a hate-fueled mail bombing campaign targeting CNN and anti-Trump political figures, including two former presidents. The shooting of two African Americans by a white man in a Kentucky supermarket earlier in the week is now being investigated as a hate crime, which, if true, would make it part of a rising trend of hate crimes. This is who we are.
Again, I'm not saying that all of us are hateful and violent, or that American history is filled solely with scenes of hate-fueled horror. (Although there sure are a lot of them.) But I am ― emphatically ― saying that, in October of 2018, when a public official responds to a hate-fueled mass shooting by denying its place in our society, it defies reality. Too many people have been lost to similar acts to keep saying that; it dishonors their memory to ignore glaringly visible patterns. We need to be honest, even when it makes us uncomfortable. We are long past the time for platitudes.
Hatred and violence and firearms are deeply embedded in our national psyche. For the sake of you, me, and everyone else in this country, I wish this weren't true ― but that's different from saying it isn't true. If we truly want to become the country Gov. Wolf describes, we first need to face reality: This is who we are.

Philip Eil is a freelance journalist based in Providence, Rhode Island.

Popular in the Community