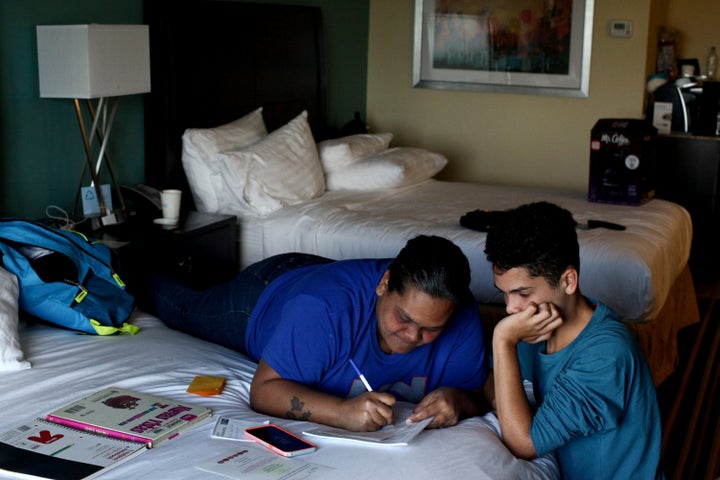 At a SpringHill Suites in Queens, New York, the Federal Emergency Management Agency's hotel stay program provided shelter for Yanitza Cruz, her husband Joel García and their two children as they began creating a new home for themselves in New York rather than returning to Puerto Rico. And at an Extended Stay America in Florida, Richard Gonzalez declined a government-funded one-way plane ticket back to Puerto Rico, instead choosing to pursue steady employment in Fort Lauderdale so he can support his family back on the island. These hotel stays have become a recurring part of America's disaster-response toolkit.
Today, 11 months after Maria made landfall in Puerto Rico, we should be applauding the success of federally funded and state-implemented programs that create job opportunities and housing options for Puerto Ricans who have chosen to make new lives – and new homes – in states like Massachusetts, New York or Florida. Instead, we are watching an unfolding legal battle in federal court in Massachusetts, where three rulings in the last three weeks have temporarily extended hotel stays for Hurricane Maria survivors still displaced to the continental United States. On Thursday, the hotel support was extended once more, this time until Aug. 7.
Yes, these legal proceedings provide short-term certainty to the more than 1,000 Puerto Rican families still displaced as of July 19. They fail, however, to address the root problem: The U.S. has a disaster system with few permanent relocation mechanisms, even if that's what the survivors themselves want.
"Programs that support the permanent relocation of families after a disaster are something governors and mayors are unlikely to request."
Virtually no elected official will advocate for survivors who wish to make a new home outside of their community, since leaders of disaster-impacted cities and states naturally try to curb outward migration. Elected officials, rightly so, want to maintain their community's tax base, population and sense of identity as they pursue a speedy path to recovery. And through the concept of local primacy, FEMA supports, not supplants, the wishes of these locally elected leaders.
While America emphasizes the need for survivor-centric recovery programs, the mayors and governors who make requests for federal support are charged with rebuilding their own communities, not helping their residents relocate elsewhere. In an October letter requesting housing support from FEMA, Puerto Rico Gov. Ricardo Rosselló described the island's citizens as "the fabric of the community," writing "it is critical that any government assistance not encourage people to relocate permanently." Similarly, nearly a year after Detroit's 2013 bankruptcy, then-Mayor Mike Duggan said, "the single standard a mayor should be defined on is whether the population of the city is going up or going down."
"Survivors should be able to choose between programs geared to returning and rebuilding and those providing permanent relocation services."
Of course, there are important benefits to keeping communities intact after a disaster. Among them is maintaining connections and providing recovery services for disaster survivors who haven't spread out. Forced relocation should be avoided at all costs. And there is strong evidence that deep social connections and a shared narrative help a community recover more quickly from a disaster. Many people want to return and rebuild their homes, and existing FEMA programs are built to support that.
But not giving survivors the choice between rebuilding programs and relocation programs precludes the possibility that a disaster survivor may have their strongest social and familial network outside the disaster-impacted area. That is why survivors should be able to choose between programs geared to returning and rebuilding, and those providing permanent relocation services.
On Aug. 6, legal proceedings in Massachusetts likely will give families still displaced by Hurricane Maria more clarity about what additional support they can get in the weeks and months ahead. But it will do nothing to create survivor-centric disaster relocation programs that could help these families the most ― programs that America's current disaster response structure is not built to support.
Michael Windle and Tim Russell are researchers at MIT's Humanitarian Supply Chain Lab – based within the MIT Center for Transportation and Logistics. In full disclosure, they have done research funded by FEMA, including FEMA's ongoing housing improvement efforts. The views and opinions expressed in this article are those of the authors and are not meant to reflect the official policy or position of any agency of the U.S. government.
Popular in the Community